Ninh Binh is the southernmost province of the Northern region of Vietnam, famous for its magnificent Karst scenery surrounding the Tam Coc village. Its beauty is also dubbed as the Ha Long Bay of land by world travelers. Ninh Binh was actually the capital of Vietnam for three significant dynasties throughout the tenth and 11th centuries, preserving their historical and cultural legacies until now. You don't need to be a history buff to fully discover it since Bao (Panda) will guide you through the Hoa Lu Ancient Capital, and Sal has also done the homework to bring you Phat Diem Cathedral. Make sure to check those articles out when you're through with this.
The city of Ninh Binh may seem like it doesn't have any notable activities apart from hanging out with the locals and settling down to visit other sights. Fear not, Tien's comprehensive one-day itinerary will help you get the most out of the city and its famous points of interest. End of the day? Eleanor will get you a nice place to spend your night before heading out exploring the rest of Ninh Binh in the next few days. Duong Next Door has already covered the green landscape – Cuc Phuong National Park and the nature reserves.
And this article of mine is going to by a unique hybrid (natural and historical) that explores the scenic site of Ninh Binh – Trang An Scenic Landscape Complex, and especially Tam Coc – Bich Dong grottoes.
Trang An Scenic Landscape Complex – A UNESCO World Heritage Site
Situated seven kilometers to the west of Ninh Binh city, this very place will have you lost in a wonderland, by just rowing a boat down the river. Karst mountains, evergreen jungles, lush rice fields, and vivid emerald rivers make up this whole area, together with endless points of interest to be discovered. What could be more ideal for an explorer? In fact, Trang An was among one of the major filming sites of the blockbuster Kong: Skull Island last year.
Technically speaking, Trang An is a Scenic Landscape Complex, inscribed as a mixed world heritage site in UNESCO's list in 2014 for its unique combination of cultural and natural value. The complex includes many national preserved sites, such as Trang An ecological park, Bai Dinh temple, Hoa Lu Ancient Capital, and the Tam Coc – Bich Dong grottoes. Check out Sal's article and also Bao's article specifically for the Hoa Lu Ancient Capital, they have these sites covered thoroughly.
A Detailed Overview of Trang An Scenery
The Natural Beauty that Represents the History of Mother Earth
Trang An has one of the most beautiful and charming karst sceneries of the world. The whole picture is composed of hat-shaped limestone mountains, covered by blooming jungles and golden rice fields that carpets the valleys in between. Not to mention the crystal-clear rivers and streams that run along these valleys, reflecting the blue sky above. These rivers are all interconnected and some of them stretch up to one kilometer in length, making boat trips a perfect way to fully savor your precious moments. Apart from the grand scenery, there are dozens of stunning natural caves that you should consider exploring on foot.
In more detail, the scenery of Trang An is actually the legacy of karst topography revolution in tropical climate from the Triassic period (250 million years ago) to the current Quaternary period (starting 2.5 million years ago). Throughout this time, constant geological collapses and movements of the Earth's crust formed these charming limestone mountains and towers, pristine blooming valleys, mysterious caves, and the complex waterway system that we look at today. In simple English, Trang An Scenic Landscape Complex is a relic of the Earth's history dating back to millions of years ago.
In addition, Trang An today showcases a spectacular transition between a plain, common karst topography and the unusual cone-shaped limestone mountains. Each of these sceneries also represent different back-to-back geologic eras of the earth. And this is the only place in the world that shows proof of the higher sea level millions of years ago (up to 50 meters higher than today). So, geography buffs, this is the place to go!
Not just that, Trang An also preserves artifacts of human culture revolution adapting to the ever- changing climate and geography conditions since the beginning of mankind.
The Cultural Charm that Shows the Close-Knit Interactions of Ancient Vietnamese and the Wild
To date, Trang An is the most influential destination for anthropology studies about human interactions and development with the nature in Southeast Asia. There is evidence of human life in the caves dating 30,000 years back, relics from the feudal ages a millennium ago, and the lovely rice paddies and sampan boats of today locals' life. These truly reflect how people have been adapting to climate change and the harsh geographic conditions throughout a 30,000-year period.
There are up to 30 archaeological sites scattered around Trang An Complex, you may see how local people and humankind, in general, have been developing since. There have been cave paintings and a variety of primitive stone tools found to be dated back to at least 23,000 years ago, showing human developed through the early stages of the Stone Age. Other specimens include pottery (from 9,000 years ago) which possesses its very own unique properties, not similar to anywhere else in the world (including ancient Viet). Excavations also discovered how deeply natives were reacting to the changing conditions (sea level went down, earthquakes, civilization, foreign invasions etc.) to build the foundation of the local lifestyle that we have today.
Apart from the caves, which are mostly excavated and their relics now transferred to museums, vivid interactions between men and the Trang An wilderness throughout the ages can be clearly seen in the pagodas, temples, and Hoa Lu ancient capital remains. And Trang An also played one of the most important parts in history, being the first capital of Vietnam in the year of 968 after nearly 100 years of warring states and the previous 1,000 years of Chinese domination.
On a vast rugged land, the first feudal Emperor – Dinh Bo Linh and his people built walls connecting the mountains, turning the area to an impenetrable citadel of the Vietnamese's nation. From here, lands expanded and cultures started to grow. Trang An – Hoa Lu remained as the capital for the next 41 years, spanning across three dynasties before Thang Long – Ha Noi became the new head of the roaring dragon in 1010.
In the 13th Century, the Tran dynasty made a return to Trang An area, turning it into a new military fort reinforcing the army against the barbaric invasion of more than one million Mongols under Genghis Khan regime. At the same time, Trang An was also chosen as the religious (Buddhism) and education center for the Kings of Tran. And since, Ninh Binh has been the cradle of culture and Buddhism of Vietnam to date.
All right, let's read on for the fun part: unique places that you must explore in Trang An Scenic Landscape Complex!
Trang An Ecological Park – Rowing in Wonderland
The Trang An Ecological Park serves as the entrance and also your first destination. Once you arrive, the tourism center will be in sight. I recommend taking either one of the three boat trips available here. In general, each of these will take you through many caves, where you will see many temples and palaces, but the best and most anticipated one is route number one, explore nine caves and three temples. Each of the stops features its own interesting story and cultural spotlights that you will not want to miss.
A lot of people call Trang An a "Ha Long on land", but I must deny this comparison. They are just too different! Trang An boasts deeper cultural and historical values. There are not any luxury cruise ships ruining the landscape, the waterways are much narrower, and the only vehicle that can traverse the land is a small sampan wooden boat. But this is the fun of it, slowly rowing through serpentine streams, between the blooming mountains and valleys. There are also spectacular transitions along the way, as you enter a dark cave and a whole new picture appears right in front of your eyes at the exit.
If you want to visit the Tran temples and the old military base Hanh Cung Vu Lam, take route number two and three. They follow similar paths with minor adjustments. These trips will take you through only four caves, but you will be visiting the most spectacular cave of the whole park – Dia Linh Cave – which is more than two kilometers in length.  And these routes also come with an optional 1.6 kilometers hiking trip across three mountains to a Tran temple, once you reach Cay Bang pier. In addition to these trips, you will have a chance to visit the filming stage of Kong: Skull Island, with reconstructed scenes, and vehicles from the movie.
There have been many poems throughout history describing how discreet and tranquil Trang An is, and I would like to try roughly translate a few, for a better depiction of the trip.
Former dynasties settled here
Heaven built walls, Earth made trenches
Deep grottoes and glooming caves
Monkeys jump through blooming mountains
Following the calm water way
– The Romance of Le Hoan King, from 10th Century
Flowers reflected down the river bed
Afternoon sun rays shine on the banks
Red autumn leaves fall silently on a thousand mountains
Blue skies weave dreams, carrying echoes of a faraway bell
– An afternoon in Vu Lam, by Tran Nhan Tong Emperor, in 1294
More information
Adult ticket: 200,000 VND/pax/route (including a boat trip)
Children below 1.4m ticket: 100,000/pax/route (including a boat trip)
Tour guide: 300,000 VND/tour
Tam Coc and Bich Dong
In history, Tam Coc – Bich Dong had the title of "the second most beautiful grotto of the southern skies". The most beautiful cave is Huong Tich cave in Hanoi, and the third one being the Dich Long cave, which is also in Ninh Binh. Tam Coc – Bich Dong is among one of the major national tourist destinations of Vietnam, which is just next to the previously mentioned park – Trang An Ecological Park. The whole area consists of a system of limestone caves and historical monuments related to Hanh Cung Vu Lam – former military and religious center of Tran Dynasty.
Once you arrive at the Tam Coc – Bich Dong Tourist Destination center, there are two boat trips available. The first one Tam Coc – Den Thai Vi – Dong Thien Huong takes you through Tam Coc caves, Thai Vi temple, and Thien Huong cave. The second route Xuyen Thuy Dong brings you to Bich Dong grotto through Xuyen Thuy cave underneath a mountain. Each of these trips is around two hours only, and they do not overlap each other so I recommend doing both for the most comprehensive experience.
More information
Adult entrance ticket: 120,000 VND/pax
Children below 1.4m entrance ticket: 60,000/pax (under three years old – free)
Boat trip ticket: 150,000 VND for a boat of two people. Extra person costs 75,000 VND for adult and 35,000 VND for children.
In order to visit Tam Coc caves, the only available way is to take the first boat trip. On the other hand, it is possible to visit Bich Dong on the ground, but the grotto is three kilometers away from the entrance.
Tam Coc – The Three Spectacular Caves
Tam Coc (three caves in Vietnamese) is a system of three caves formed by erosion as the Ngo Dong river flows through the mountains. It sounds simple enough, but in fact, the beauty of these three caves is so unique and beautiful that Tam Coc – Bich Dong area had to be separated from the Trang An Ecological Park. And not to mention the lush sceneries as you traverse on the boat trip, in the middle of golden rice fields.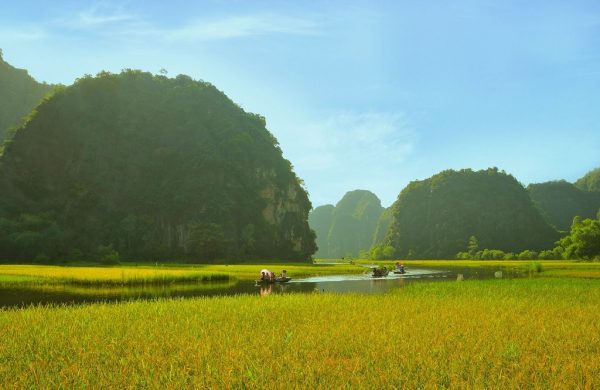 I even remember my first time on that boat when I was a kid, it was so magical that when I crossed from one cave to another, the weather changed from sunny to rain and vice versa. And those mystical limestone spears hanging down from the roof of those dark caves were terrifying and intriguing at the same time through the illumination of a kerosene lamp.
Passing through the caves, you will stop at Thai Vi temple as a part of the boat trip. This is a place where people worship and honor the Tran Emperors and the Queen Tran Thi Dung. In the past, between the mountains of Tam Coc area, the Tran Dynasty set up a military base called Hanh Cung Vu Lam to build forces dealing with the Mongolian invasion. As a matter of fact, you can trek to Thai Vi Temple across the forest or take a two-kilometer trail from the main boat wharf.
On the way from the boat stop at Thai Vi temple, you will go through Thien Huong grotto. This is a dry and bright cave inside a mountain, about 60 meters in height, 40 meters in length, and 20 meters in width. Although it is not grand in scale, the tranquility and the upward stairs somehow give you a feeling of stepping towards another world. The locals actually call Thien Huong grotto Heaven cave also!
Bich Dong – The Jade Grotto
Bich Dong means Jade Grotto in Vietnamese, named by Lord Nguyen Sam based on the jade-green shade of the whole landscape surrounding the ancient pagoda– green mountains, green jungles, green rice fields and green caves. And in the same era, Bich Dong was also known as "the second most beautiful grotto of the southern skies", as I mentioned before.
Bich Dong is actually a pagoda built inside a cave with three sections divided by three levels of the Bich Dong mountain, called Thuong (High), Trung (Middle) and Ha (Bottom).  Bich Dong pagoda is an ancient mountainous religious site, resembling Vietnamese architecture of the later Le dynasty. It was built almost 600 years ago. Its bell was also forged at around the same year, remaining until today.
You can either choose to walk from the main wharf or take a boat trip through Xuyen Thuy cave. The cave is believed to have many meaningful messages from Mother Nature. The limestone stalactites inside the cave somehow look like plants and animals. And especially at the end of Xuyen Thuy cave, upon arriving at the pier to Bich Dong pagoda, you will come across two entrances. The one on the right has a stone image of a man sitting and facing the opening to the left. And the left cave opening looks like a woman sitting and looking towards the other entrance! Folks call these two cave entrances as the Father and Mother gates. They say that you must enter and exit through both gates to pay respect to your parents' efforts of raising you.