Mui Ne is just a small beach town in Phan Thiet city's proximity. Many services usually available in places like Nha Trang and Da Nang may not be as easily accessible here. In exchange, you will have more privacy and room to explore. Are these not important for a summer vacation? It takes only four hours from Saigon by bus, and there are also a lot of other transportation options available.
In general, Mui Ne is a tropical beach destination with silky sand and crystal-clear ocean. It's much cleaner compared to the beaches in Nha Trang. With a location close to the south, Mui Ne climate is blessed with beautiful and consistent weather throughout the year, even the rain doesn't get a chance to visit. Together with other destinations that are on the rise recently, Mui Ne has also developed a lot in the last two years, providing better and better experiences the more you visit. You should check out Juliana's Mui Ne travel guide. 
After doing enough exploration or relaxing on the quiet beach during the day and getting yourself well-fed with amazing food, Mui Ne's fascinating and unique nightlife is next to be experienced! I will have that covered in this chapter of my nightlife series in Vietnam. You should also check our articles about drinking in Saigon (part 1 – part 2), Da Nang, Nha Trang and Hanoi as well, but let's get to the streets of Mui Ne right now.
Mui Ne Nightlife – Limited in Numbers but Triple the Fun!
What is the best combination for an out-of-this-world night out? Affordable and fun! As a matter of fact, nightlife in Mui Ne is a bit limited in options. You could visit most of the watering holes in just a couple of nights staying there, from bars, late night eat-and-drink restaurants (Quan nhau in Vietnamese) and hippy lounges, all located just along the beach. But these options are diverse and very unique in their own ways. There are venues with relaxing and romantic ambiences, charming interiors and hearty services, together with an exciting and vibrant partying scene.
All of these share a similar best feature that everybody desires – best value food and booze for the best price, coupled with fun-loving, friendly locals and travelers. These places also change the program every day to keep things fresh and dynamic, from cultural nights, movie showings, bonfire dancing, performances, and DJ on-the-house.
Coming up next, I will compile a list of the best nightlife spots in Mui Ne, Phan Thiet city for you. Unlike my other drinking articles which usually sort the bars and clubs based on their choice of drinks, this one will mainly categorize the locations into their respective vibes due to the shortage of craft drink varieties.
Cozy Drinking Places
Joe's Café – A Peaceful Retreat
Address: 86 Nguyen Dinh Chieu Street, Phan Thiet
Opening hours: 12 PM till late
Price: from 50,000 VND
Wandering down the street along the Ham Tien Beach, you will surely not miss this fantastic bar. Giant green canopies and grass roofs are the indicators of Joe's Café. This space has expanded towards the beach, and you can choose from either sofas, dining tables, deck lounges or beach chairs. No matter which time of the day you want to chill, you'll always be having fun! Beach, billiards, swimming pool, foosball, nice booze, a BBQ and even a playground for kids. So, if you would like to spend a day with your family on a sandy beach with green gardens and catering, Joe's Café is the place to go!
Jibe's Beach Club – A Private Paradise
Address: 90 Nguyen Dinh Chieu Street, Phan Thiet
Opening hours: All day
Price: from 60,000 VND
Even though Joe's provides absolute great private moments, the beach still belongs to the public. Jibe's Beach Club is going to fulfill your privacy with its own private sandy shore. The bar belongs to Full Moon Village Resort, offering a paradisal private beach, rooftop vibrant parties and mouth-watering BBQ buffets every night. Adding to the package, the venue boasts stylish Vietnamese architecture, with comfy sofas facing the breezy ocean. And the most special thing about the bar is the happy hours that actually last very long – 5 PM to 8 PM and 10 PM to 12 AM! Kicking drinks, surf-and-turf buffets, fresh fruit, beautiful setting, should it be your perfect choice?
P.S.: They also host on-the-premise water sports such as windsurfing, paddle boards, kitesurfing and even sailing! Woohoo!
Ratinger Löwe – Beer Lovers' Heaven
Address: 32 Nguyen Dinh Chieu Street, Phan Thiet
Opening hours: 12 PM till late
Price: from 50,000 VND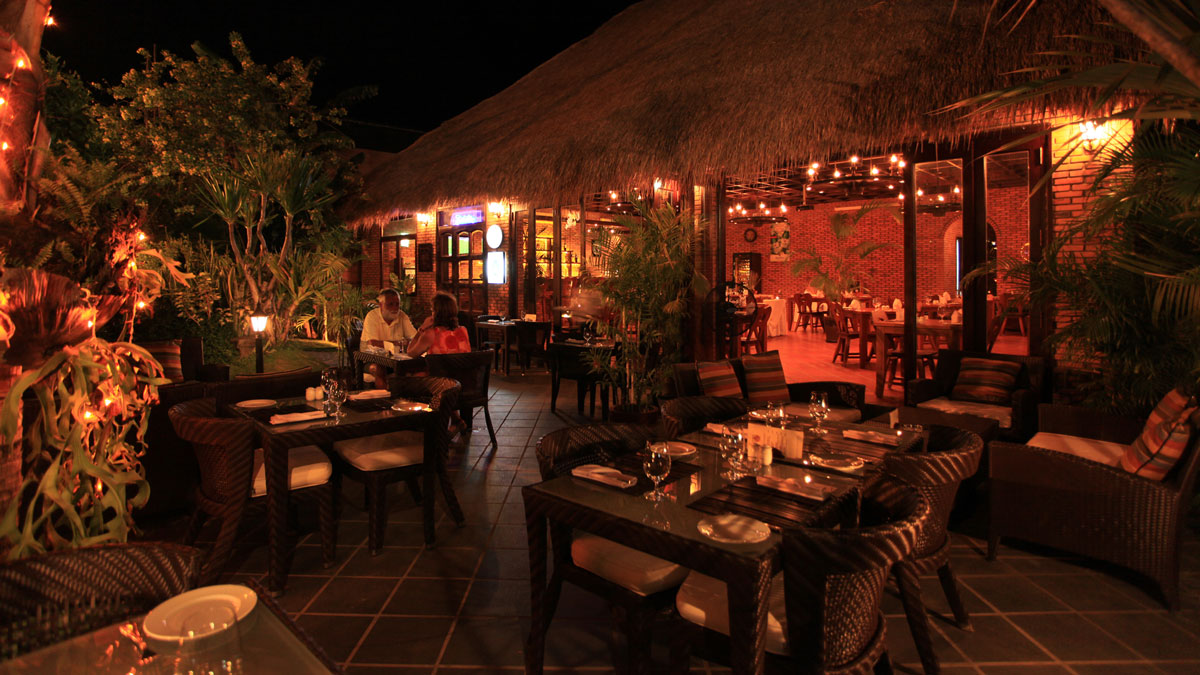 As a matter of fact, there are people who refuse to drink generic local and international beers on their vacation, and a craft or draft beer place is almost non-existent in Phan Thiet. Fear not, you will still get the best of the German traditional beers at a charming restaurant named Ratinger Löwe. The restaurant is just a 20-minute ride from the town of Mui Ne, beside the Cham Villa Luxury Boutique Resort. There is also a nice shady terrace with rattan chairs and soft cushions. Apart from the infamous erdinger, pilsner, and hefeweizen, there is also an extensive list of authentic German dishes, well-selected wines and tropical cocktails.
Old Fashioned Bar – The Only Mixology Bar in Mui Ne
Address: 151 Nguyen Dinh Chieu Street, Phan Thiet
Opening hours: 10 AM till late
Price: from 80,000 VND
The mixology trend doesn't exclude anybody, surely not a holiday destination in Vietnam. Phan Thiet – Mui Ne is the only bar that perfects the art of cocktails in the area – the Old Fashioned Bar. Set in an amazing location, surrounded by dozens of great restaurants, this should be the first bar you visit after having dinner. The name says it all, Old Fashioned Bar is such a small and cozy place that will keep you in its embrace regardless of time flying by. I highly recommend it for those who would just like to have conversations through the night.
The venues that I mentioned above are for those who enjoy casual sit-drink-and-talk experiences. Up next will be the list of fun-loving places, to just party your hearts out!
Crazy Dance Floors & Rooftop Nightclubs
Dragon Beach Bar
Address: 120/1 Nguyen Dinh Chieu Street, Phan Thiet
Opening hours: 11 AM till late
Price: from 60,000 VND
I hereby present to you the most popular nightlife venue of Mui Ne – the Dragon Beach Bar, with one of the best partying atmospheres. There is no word to describe how busy and fun this place is during weekends, with flocks of vibrant locals, tourists, and expats. The bar features a spacious dancefloor and I trick you not, an open swimming pool right in the center! That is your dose of LA-style pool party abroad. Daily, the air is filled with deep house and electro tunes, while during weekends there will be a guest DJ spinning all kinds of funky music beats, bringing everything to the climax, together with pole dancing and fire dancing performances.
Line Up Bar & Grill
Address: 122 Nguyen Dinh Chieu Street, Phan Thiet
Opening hours: 5 PM till late
Price: from 60,000 VND
Just in proximity to the Dragon Beach Bar, you will find the second-most crowded nightlife venue of Phan Thiet – Mui Ne: Line Up Bar & Grill. Rivalling the pool party-esque theme of Dragon Beach, Line Up brings you the best underground music and its sizeable list of food and drinks coming from the states and Argentina. The night performances are the best in Mui Ne, with a solid sound system and brilliant lighting setup, together with well-engineered playlists coming from talented DJs. Music, party, showgirls, shishas, fire shows, fresh beers, and rivers of champagne. Welcome to the hottest place in Mui Ne.
Déjà Vu Bar and Restaurant
Address: 21 Nguyen Dinh Chieu Street, Phan Thiet
Opening hours: 11 AM till late
Price: from 60,000 VND
Okay so if the previous places sound too generic, despite its popularity, this one will definitely be a blast with amazing unique features! Déjà Vu has the most diverse sitting areas in all of the bars in Phan Thiet – Mui Ne: a cozy artistic living room with a pool table, a romantic open-rooftop under the stars, a tropical garden with a children's playground, an air-conditioning chilling terrarium, and a huge partying yard. In addition, the restaurant and bar offer a wild selection of dishes and drinks, ranging from Vietnamese, Russian and European choices, and even a range of exotic cuisine made from scorpion, crocodile, ostrich and more. Stuff that you won't find anywhere else.
More than just that, the star of Déjà Vu is the Vietnamese Night on Wednesday, featuring wow-ing performances that reflect Vietnamese folklore, spiritual values, traditional fashion and art. This includes a thrilling dragon and lion fire dance show, Vietnamese costume show, ethnic drum performance, Kung Fu martial stunts and a whole buffet of Vietnamese exotic treats. Sound fun? One thing to note: book the ticket and your desired table in advance to enjoy a smooth experience in the Vietnamese night.
All right, there are more fun places out there, but I decided to choose only the best sites for you to consider. If these are not your first choice, just head along the Nguyen Dinh Chieu streets, there are almost a hundred more for you to choose from. And one last tip to make friends: people either cheer with "Mot, Hai, Ba, Dzo!" or "Na zdorovye" (Naz-da-ro-vje). Young Russians and Vietnamese are going to be your best partying buddies in Mui Ne – Phan Thiet.