Overview
With a total area of 70,548 hectares, Cat Tien National Park is a nature reserve located in Dong Nai, Lam Dong, and Binh Phuoc province. The park is characterized by its lowland tropical forest with rich and diverse flora and fauna. Cat Tien is also recognized by UNESCO as a "World Biosphere Reserve".
With 155 kilometers between this park and Ho Chi Minh City, Cat Tien National Park is a great place for those who want to get away from the bustle of the big city, get back to nature, stay in the middle of the forest, and go trekking. 
Best Time to Visit
The best time to visit Cat Tien National Park is around December to May. Because of the low rainfall, the dry paths in the forest make it easy to explore the natural park. If you can only visit the natural park in the months outside of the ideal time, check the weather forecast before visiting.
As always in Vietnam, dark and long sleeved clothes, a hat, jungle boots, long socks, flashlight, raincoat, binoculars, and mosquito repellent are necessary items while you explore the national park. 
How to Get There
There are two transportation options to get to Cat Tien National Park: bus and motorbike.
Bus
Kim Hoan is the name of the bus from Ho Chi Minh City to Cat Tien National Park directly. The bus runs daily from 6:50 AM to 4 PM and the ticket price is 80,000 VND.
More information:
Address: Ticket counter 5, Eastern Bus Station 292 Dinh Bo Linh street, ward 26, Binh Thanh district, Ho Chi Minh City
Phone Number: 0984 693 172 – 0917 853 383
Kim Hoan bus is usually crowded and often not as comfortable as other high-quality buses such as Futabus and Thanh Buoi bus. The route from Ho Chi Minh City to Da Lat will pass the Tourism Information Point (Diem thong tin du lich) of Cat Tien National Park. Ask the driver to stop there as you board the bus and buy another ticket to reach Cat Tien National Park (another 24 kilometers).
More information:
Futabus
Address: 274 – 276 De Tham street, Pham Ngu Lao ward, district 1, Ho Chi Minh City
Phone Number: 028 920 6564
Thanh Buoi bus
Address: 266-268 Le Hong Phong street, ward 4, district 5, Ho Chi Minh City
Phone Number: 028 38306306
Motorbike
From Ho Chi Minh City, follow the National Highway QL1A for 67 kilometers to get to Dau Giay crossroads. This highway is always crowded and full of big vehicles. The police usually stand along the highway to fine those who disobey traffic laws such as speeding. Read my article A Comprehensive Guide to Buying and Renting Motorbikes in Saigon if you want to road trip to Cat Tien National Park. After getting to Dau Giay crossroads, turn left and ride along Highway QL20 for 58 kilometers until you see Ta Lai crossroad. From this crossroad, turn left and keep riding about 24 kilometers to get to Cat Tien National Park.
What to Do and See
After paying 60,000 VND for the entrance ticket, you will enter Cat Tien National Park. You will find the prices for all tours and transportation services listed at the reception desk. You can choose to go by jeep car, bicycle, or trekk yourself. Hiring a tour guide is up to you. These tours and services can be booked directly on the website of the natural park.
Next, I compiled the outstanding places and activities below that you should explore upon arrival.
Bau Sau – Crocodile Lake
Bau Sau is 15 kilometers away from the Ecotourism Center. You will go deep into the forest, immerse in the beauty of the tropical landscape, and catch many kinds of enormous trees, reptiles, birds, flowers, and herbs along the way. You must trek the last five kilometers because the path is not fit for a car or bicycle. Then, you will arrive at Bau Sau.
Bau Sau or Crocodile Lake is the biggest wetland in Cat Tien National Park with the size fluctuating between 2,500 hectares in the rainy season to 100-150 hectares in the dry season. It is home to the Siamese crocodile and numerous plants and animals listed in the Red Book of Vietnam. With a small rowing boat, you can maneuver around the lake to enjoy the peaceful beauty of the scenery. Moreover, you can also stay overnight in Bau Sau and enjoy a big meal cooked by rangers living there.
Endangered Primate Rescue Center and Bear Rescue Center
Located on Fairy Island (Dao Tien), you have to take a short boat trip to get to the Endangered Primate Rescue Center. The center specializes in the rescue of endangered primates from the South of Vietnam which are seized from the illegal wildlife trade. You will notice that this center has created comfortable environments and conditions to facilitate primate recovery, socialization, and release back into the wild if possible.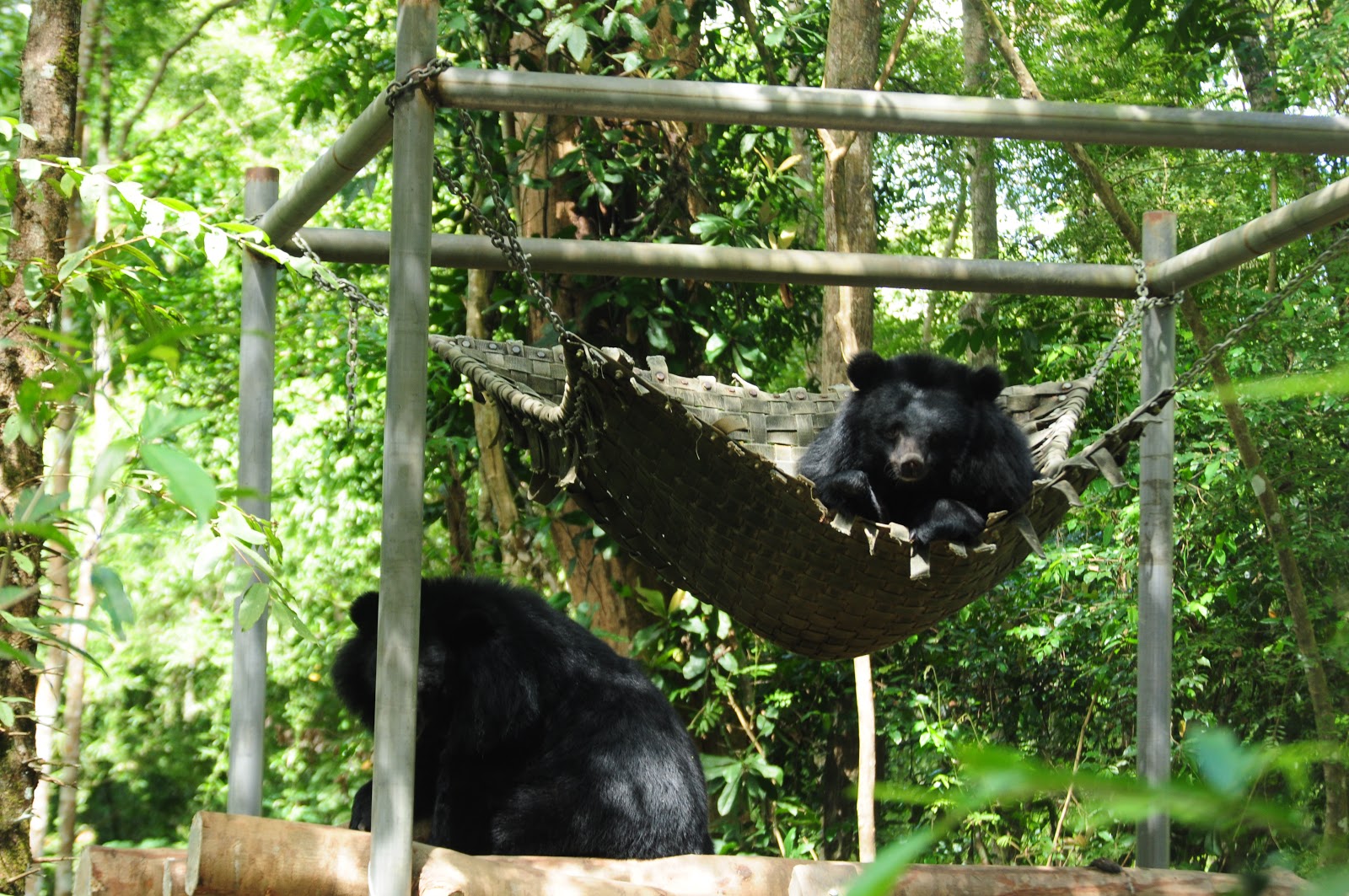 There is also a gibbon tour that starts at 5 AM. You will trek into the forest and wait to watch the gibbon's activities and hear them singing when they get up in the early morning. After watching the gibbons, you will have a break before visiting Endangered Primate Rescue Center. This combined tour can have a maximum of four persons per trip and costs 1,050,000 VND per person.
Next, the Bear Rescue Center is another rescue center that aims to protect and care for the bears which were also rescued from the illegal wildlife trade or bear bile farms. Some people in Asia believe that bear bile is good for your health so it used to make medicine. This place is worth visiting too.
Night Safari
This is definitely the most exciting and unique activity offered by this park. Night Safari gives you an opportunity to explore nocturnal animals when they come out to feed at night. An open-top vehicle will take you through the dark to see the various ways of feeding and activities of the animals. Sambar deer, porcupines, muntjac, and civets are frequently seen. The tour departs nightly at 6:30 PM and 7:30 PM, and lasts for 50 minutes.
Ta Lai Ethnic Village
Visit Ta Lai Ethnic Village and you will explore the history and tradition of the Ma, Stieng, and Tay ethnic groups. Ta Lai Longhouse is a must-see site in this area where you can learn the lifestyle and farming practices of the ethnic people. If you are interested in the effects of the American War on the area, Ta Lai memorial prison is worth seeing.
In Ta Lai, you can take a bicycle through the huge rubber plantations and grasslands. In particular, Dong Nai River is nearby, so getting a boat along the river will be a memorable experience. Besides this, not many people go trekking in Ta Lai, but you can hire a private tour guide and go trekking from the national park to the village. 
Best Accomodations
Green Cat Tien Hotel
Green Cat Tien Hotel is located in the center of Cat Tien National Park and it is under the management of the national park. If you stay in this hotel, you will receive a 30% discount on other tours and services. There are many kinds of rooms in the hotel and the capacity is from two to eight people per room. The price starts at 150,000 and reaches up to 600,000 VND. You should also think about renting a tent from this hotel instead of staying in a room.
However, do note that since you are in a national park, the room quality is not as good and the furniture is quite old, so you won't have the most comfortable experience when staying here. You can book the room directly on the website of Cat Tien National Park.