Saigon is a bustling city with many attractions to go around, you may know all the famous touristy spots in the city like Ben Thanh Market, Independence Palace and so on. But these are only the "tip of the iceberg", Saigon has a lot more to offer travelers. The Saigon In-Depth tour with Onetrip covers some of the city's best-kept secrets. Let's get going.
You may feel confused as to the real name of this city; is it Saigon or Ho Chi Minh City? In fact, you can call it both. From the moment when the Vietnamese occupied the Khmer port and trading hub as the South of Vietnam to the arrival of the Chinese in 1679, to the French invasion that renamed the capital Cochinchina in 1859, and lastly the takeover by the Americans in 1954 that made Saigon the Pearl of the Orient, this city has had a lot of names. Throughout its 300 pages of history, you can now see all of these cultural influences in every little corner and aspect of Saigon. With pride and an eagerness to show you the very best of the city to international friends, Onetrip has crafted an insightful trip around Saigon.
The Nguyen Thien Thuat Old Apartment Buildings        
The adventure usually starts at 8:30 AM and the first stop is a very old and unique apartment building locating in the heart of District 3, which most Saigonese refer to as the best district to live in. This area was completely destroyed in the Tet offensive of the Vietcong in 1968, and with the help of the United States, the southern government was able to turn it into a ten-block apartment complex for citizens and military officers at that time.
Back in the 70's, the building was considered to be one of the most modern and convenient places to live due to its location and basic equipment in each apartment. But of course, as time passed and after five decades, this complex fell into disuses and degradation. A walk around the buildings is like time-traveling way back to Saigon before 1975. You'll also see the contrast of life inside and outside of the buildings. While every neighborhood surrounding it keeps changing rapidly, life here seems to be exactly the same, like 40 years ago. Nguyen Thien Thuat apartment buildings symbolize the presence of the old Saigon standing right in the center of the modern Ho Chi Minh City, a piece of memory untouched by time.
You'll see the images of the old Saigon lurking in every corner, in every hu tieu, broken rice, and banh mi stall that has existed for decades. And look to the balconies where all the local daily routines take place, like cooking or just simply sharing life stories among neighbors, you can't get any experience more local than this.
Breakfast: Banh Mi Chao (bread served in a sizzling pan with egg, sausage and more)
After filling yourself up with stories and photos of the building, it's time to fill your stomach with some energy for more adventures ahead. If you want to travel like a local, you must eat like a local. And we, the locals, eat banh mi chao for breakfast.
The Vietnamese undoubtedly love banh mi and they have been getting creative with many different versions of this typical dish. One of my favorite ways to enjoy it is to dip the bread into sauces. With banh mi chao, the toppings usually vary from beef to sausage, you'll find your pan filled with ingredients so if you're not a strong eater, you might not be able to finish one pan. For the breakfast spot, Onetrip has chosen one of the long-standing food stalls located in the Nguyen Thien Thuat apartment buildings. The pan is served still sizzling with sausage, egg, and fish. Banh Mi Co Le sells more than 300 baguettes each day because it is well-known by a lot of locals not only around the buildings but also from other districts as well. And if you're not into bread, there are also two options for you to choose like bun bo Hue and mien ga (glass noodles soup with chicken).
Ban Co Market
It won't be a truly local experience if you miss out on the hot, busy and crowded feeling of a market and only a few steps away from the apartment buildings, is Ban Co Market—your next stop. Normally a market has a central building or a square area but here in Ban Co market, what makes it unique is the alleyways.
When you enter the market, you will notice that all the stalls are established right in front of local homes, the alleyways are so small and crowded, you'll have to sneak into every space in between people to get to where you want to buy. And speaking of goods, Ban Co market has everything to offer, from clothes, jewelry and dry goods to fresh fruits, vegetables, meat and ready-made food.
And remember, this market is so local that you'll barely see any foreigners here. Bargaining in English is not really an option, so going with a local guide is a good idea.
Cheo Leo Coffee
You can't say that you've been to Vietnam if you haven't tried local coffee. And as old as the coffee drinking custom of Vietnam is, there are some really "ancient" coffee shops that have existed for decades. Regarded as the oldest coffee shop still in operation in Saigon, Cheo Leo was opened exactly 80 years ago.
What makes this place so unique is the method. Instead of using the French drip coffee filter, which has become the iconic symbol of Vietnamese coffee, the birth father of Cheo Leo coffee, Mr. Vinh Ngo used an even older method before the metal filter arrived. Join Onetrip, and you'll get access to their kitchen and see the process of pouring coffee into the filter nets made of cloth similar to thick stockings or boot socks (ca phe vot). According to the drinkers, the coffee texture is smoother, richer in flavor and it has longer-lasting fragrance.
Weapon Concealing Bunker of The Commandos of Saigon
Hidden in a small, busy alley of Nguyen Dinh Chieu street in District 3, is a non-assuming building. On the outside it might look like an ordinary local house but the place itself holds an extraordinary secret. Back in the Tet offensive in 1968, this place used to conceal nearly two tons of weapons for the Commandoes of Saigon. As history tells it, in 1965 Mr. Tran Van Lai (or Nam Lai) worked for the Southern Vietnam government at the Independence Palace but he also secretly worked for the commandoes of Saigon. He bought the house then built the secret bunker right under it with the depth at 2.5 meters that concealed all kinds of weapons. This place is like a little Cu Chi tunnel right in the heart of Saigon.
The bunker was so well-hidden that after the Tet offensive in 1968, the enemy troops attacked the place and jailed Mr. Nam on Con Dao island, which was under the American army. But still no one knew about the existence of the weapon bunker under his home. It is amazing that even now, the bunker is still attached and not even one detail has changed.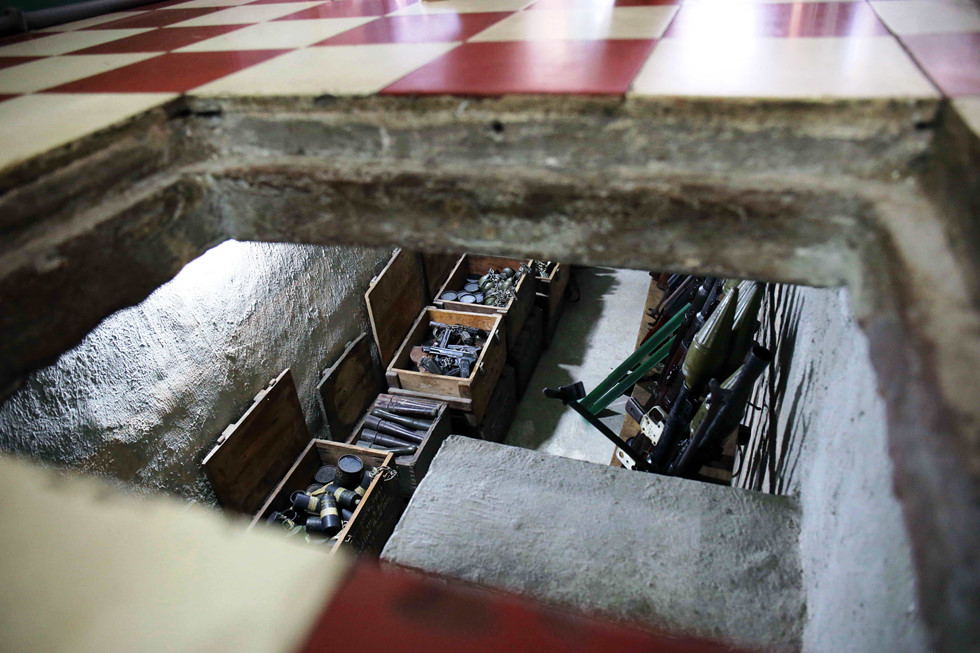 Jade Emperor Pagoda
After relaxing with some chit chat over a cup of ca phe vot, you'll hop on the bikes again with the Onetrip guides for the next stop which will get pretty spiritual. Jade Emperor Pagoda is 100 years old and it's one of Saigon's most religious buildings which is also our next destination. The pagoda was built in 1900 in honor of the supreme Taoist God (the Jade Emperor or King of Heaven). It worships both Gods from Taoism and Buddha from Buddhism.
Step into the front hall of the building and you will feel as though you have entered a very serene and spiritual world, with the smell of incense, sounds of prayers and mesmerizing rituals of worshippers. There are more than 300 wooden statues in the pagoda representing the gods in Chinese legendary life: God of Earth, God of Sky, God of Gate, God of Birth, God of Hell and so on. Most of the worshippers come to the Jade Emperor Pagoda to ask for a happy marriage, true love and fertility.
Right on the left side of the front hall, you'll see a small chamber with 20 statues that is always packed with people, this is where the faithful make their prayers and wishes. So if you're still single and looking for one true love, come here to light up an incense and tell the gods your prayers. Who knows if your wish will be granted in the future?
Sight-seeing around The Center
It is undeniable that those main tourist attractions in the city center are iconic images of Saigon as well. Your trip wouldn't be complete if there's no photo of the Post Office, the Notre Dame Cathedral or the Independence Palace to show your friends and family. With just a quick ride of 15 minutes from the pagoda, you're already in front of the Post Office with some selfies and insightful stories about the places. Hugely influenced by the French style of architecture, these buildings for a long time have captured the admiration of many wanderers passing by.
Lunch with The Local
After an adventurous morning discovering what's most authentic about Saigon, it's time for the journey to end. But wait, not until your stomach is filled with Vietnam's most delicious delicacy. A local home-cooked lunch is next. You'll get to end your trip in the most full-filling and satisfying way and have a closer look at what Vietnamese eat every day as their comfort food.
A warm welcome from the host when you first enter the house will dissolve your exhaustion just like a hug from home. You will have for lunch what every Vietnamese eats daily, the dishes are simple but are impeccably seasoned, it'll be like a party of flavors in your mouth. The platter of a traditional meal has to include three main dishes which are one vegetable dish, one protein dish and one bowl of soup. But normally people can have more than just one dish. When the food is served, the whole kitchen is filled with an irresistible fragrance and it's time you worked up an appetite for the delicious lunch.
Everyone gathers around to talk about daily things, share their traveling, and discuss their life stories over the lunch table full of food. This just perfectly replicates the heart-warming and loving custom of every Vietnamese family.
Going on the Saigon-in-depth tour is the best way to experience the quintessence of this bustling, rapidly-changing city. It's not just about sight-seeing and trying new cuisine, it's also about interacting with the guides and the locals to have a deeper understanding about Vietnamese customs and traditions. Or simply just make more new friends. We hope you have a memorable and truly authentic experience while visiting our beautiful city.
Hungry for some adventures? Wanting to discover the very best of Saigon? Book with us now!
If you enjoyed reading this article and would like some more fun info about what to see, do and eat (and a bunch of interesting cafes!) in Vietnam, follow us at the Christina's blog!
The post Discover The Very Best of Saigon: An Insightful Adventure with Onetrip appeared first on The Christina's Blog.