If you are traveling, there is a high chance that you are looking for a good time, or at least a battery-charging moment. If you know this little secret: living in an eco-friendly house makes you happier then maybe you're time in Vietnam will be a little happier, a little simpler, and definitely more environmentally friendly. There are now many accommodations in Vietnam that can deliver an eco-friendly and high-quality service, with a reasonable price. So let's go together through some of the best options that balance price and value. And along the way, you'll contribute to helping the environment retain its beautiful Vietnamese charm.
Pro tip: If you find that these eco-friendly qualified accommodations do not fit your needs, don't worry. You can book with any other service provider in town, and use the AC and water as you would at home. Being eco-friendly is a new trend, but the initial investment is costly in Vietnam which makes for more expensive stays. But trust me, many of these stays are working really hard to encourage a more eco-friendly consciousness within Vietnam. From behind the scenes garbage sorting to using straws made from grass, Vietnam is taking small steps. And the best part is, you can help by simply staying in these wonderful homes, meeting the staff, and taking part in their new eco-friendly traditions.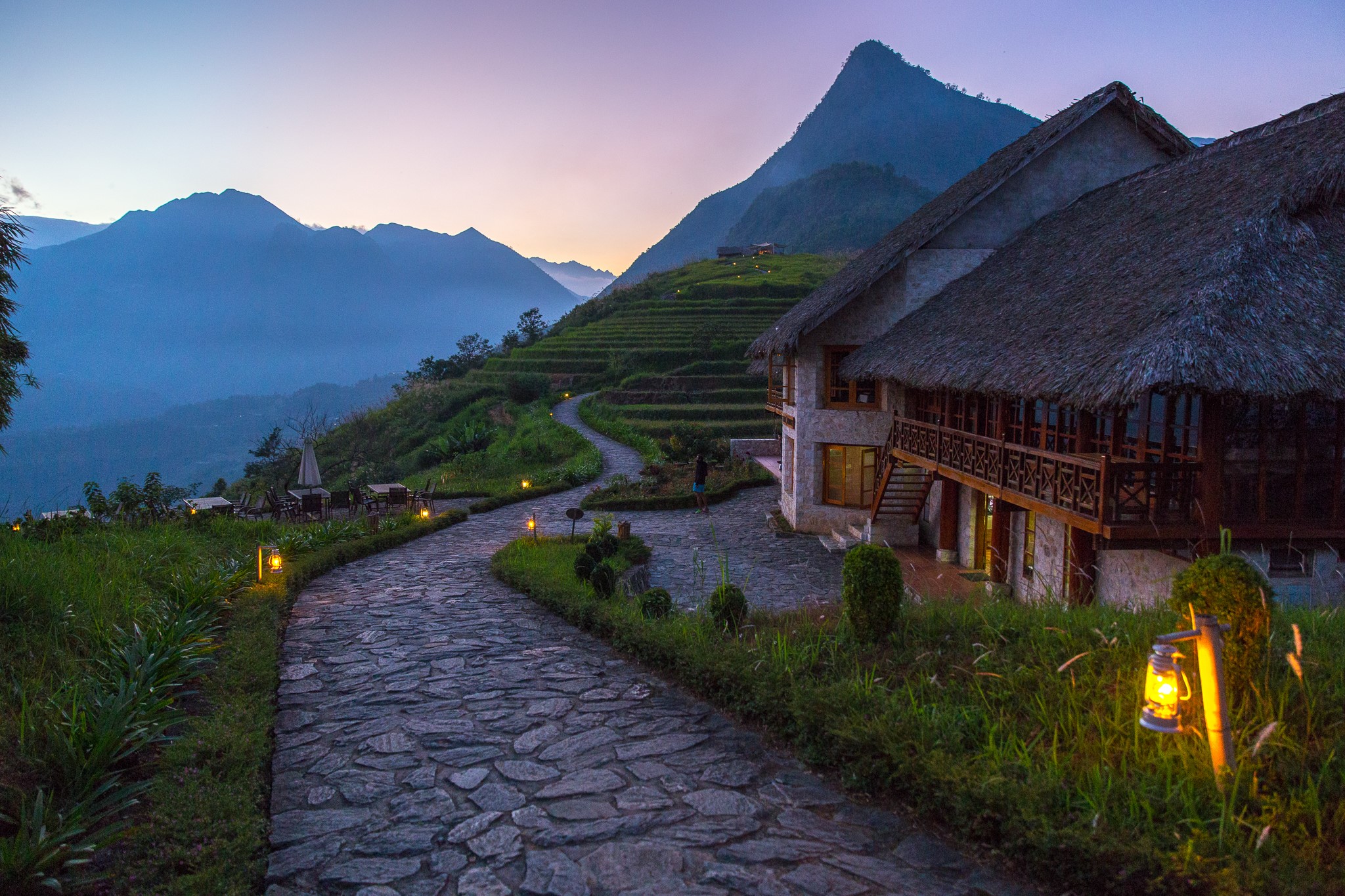 A building must meet many standards to be qualified as eco-friendly. If you take this into account and try only to find accommodations and hotels that are qualified, you will not find that many. Therefore, I'm going to show you the places that are making the most effort in bringing the balance between our environment and your good accommodation conditions, from the North to the South. Secondly, I'm going to summarize and clarify several significant standards that make a house eco-friendly, and maybe you'll even bring a few tricks home.
In The North
Topas Eco Lodge – Sapa
Committing to a sustainable business in which the company's financial health is also dependent upon the environment and the local community, Topas Eco Lodge actively makes your trip to Sapa a really meaningful one!
After your 45-minute drive in the natural landscape of Sapa, the white granite bungalow cluster appears atop a mighty hill. The surrounding mountains make these bungalows seem almost too delicate, improving and emphasizing the pristine feeling of the Sapa natural landscape. They work hard on saving electricity, water usage, and reducing waste.
There is a wide range of hiking and biking activities and you just need to pick the most appealing experience to maximize your stay. Does a couple of hours relaxing in a spa after biking sound nice? The well educated local employees can surprise you with the effectiveness of the traditional Red Dao herbal baths and massage methods! The infinity pool is also a great spot to stretch your arms in the water, and the lodge even uses a fantastic eco-friendly system to heat the water!
So if your budget allows you to, do not hesitate to pay Topas Eco Lodge a visit!
Price: from 5,550,000 VND ($250 USD)/ night/ room
Address: 21 Muong Hoa, Sa Pa, Vietnam
Website: Topas Eco Lodge Homepage
Buffalo Eco Garden – Ninh Binh
Resting so close to the Trang An complex (recognized by UNESCO as a cultural and natural heritage complex) in the peaceful desired destination of Ninh Binh, Buffalo Eco Garden is for you or your family. This is a place that exudes natural and countryside charms for you to enjoy the peacefulness of the Vietnam landscape. There are three types of rooms, all resembling a typical Tonkin bungalow (or room) and are built from natural materials: bamboo, wood, rattan, and such. If you love the lake view, choose the bamboo stilt house sitting on the bank of the large body of water. If you go with your family, the family suite lake view, built resembling a brick Tonkin house is a good choice. Otherwise, you can pick a neatly decorated deluxe room with garden views.
Each lodge has a private garden. And guess what, their AC system is particularly a plus for environment lovers, for they use eco-friendly gas. But what's more important is that the rooms are designed in such a way that you don't need to use the AC. Each room is airy and stays cool!  
Price: from 780,000 VND ($35 USD)/ night/ room
Address: Binh Khe Hamlet, Ninh Nhat Commune, Ninh Binh, Vietnam
Website: Buffalo Eco Garden Homepage
Cat Ba Ecolodge Hotel – Ha Long Bay
It takes you just a 15-minute beautiful drive to Cat Ba National Park if you stay at the lovely Cat Ba Ecolodge Hotel. The forest and the sea make a wonderful fresh environment for the hotel campus. Cat Ba Ecolodge has ten rooms delicately designed in the style of a wooden stilt house, surrounded by a garden full of plants and flowers. This lodge aims at bringing you not only a luxurious standard but also an authentic feeling. This interior setup also encourages more air flow around your room, hence reducing the urge to use AC. The restaurant serves the most fantastic local dishes in town, and welcomes you warmly even if you are not a guest of the hotel.
What else awaits you? If you are looking for a free pickup service on the island, or a free cooking class teaching local food recipes, give this hotel a try!
Price: from 1,000,000 VND ($45 USD)/ night/ room
Address: Xuan Dam, Cat Ba, Hai Phong, Vietnam
Website: Cat Ba Eco Lodge Homepage
In The Central Coast
Vedana Lagoon Resort & Spa – Hue
On the bank of the biggest lagoon of Southeast Asia (Phu Loc lagoon), this resort blends into the lines of coconut trees and tropical plants. You will stay in a Vietnamese floating village if you live here! And yes, it's a luxurious one. There are 68 bedrooms in total, divided into 55 luxury rooms, villas, and bungalows. And just in case you're looking for a community of nature seekers, awaiting you is a gathering place filled with more friends.
With such nature, the resort gives you the necessities to refuse a day of air conditioning. But again, it is your choice whether to be eco-friendly during your travels.
Price: from 4,440,000 VND ($200 USD)/ night/ room
Address: 41/23 Doan Trong Tuyen, Group 1, Phu Loc Town, Thua Thien Hue Province, Vietnam
Website: Vedana Lagoon Homepage
Eco Green Boutique Hotel – Da Nang
Elegant style, spacious areas, lovely ocean vistas, and above all, the certificate of being eco-friendly from World Bank Group and IFC (EDGE Certificate) is what you can expect from this hotel.
This hotel is a perfect example of how to implement eco-friendly equipment into a typical city house. Eco Green made the priceless effort to invest in a Solar Photovoltaic system, Variable Refrigerant Volume (VRV) Cooling system, and eco-friendly electricity facilities for example. You can check out their specific achievements here.
Price: from 1,110,000 VND ($50 USD)/ night/ person
Address: 61 Hoang Ke Viem, Ngu Hanh Son District, Da Nang City, Vietnam
Website: Eco Green Danang Homepage
Christina's Tra Que – Hoi An
Tra Que is an ideal spot for those of you who love to enjoy a peaceful countryside feeling while in Hoi An. Christina's Tra Que is on my eco-friendly list because the restaurant serves organic food. And their dishes are delicious as well as good for your body! Organic food is still a very new trend in Vietnam. And regardless of the hugely positive environmental impact it promotes, farmers still don't believe in the feasibility of partaking in this business. Team Christina's is now making the very initial but firm steps to support farmers in transitioning to organically grown produce. An additional small detail to note is the restaurant's switch to bamboo and grass straws, which reduces a considerable amount of plastic waste.
You can choose to visit Christina's restaurant, known as Joi | Kitchen & Bar, even if you are not a guest at the hotel. The alley into the restaurant is lovely, with vegetable farms on both sides. The restaurant is well located by a natural lake where you can enjoy the peaceful evening with your family.
If you are guests at Christina's Resort, rest assured you will be served a free buffet breakfast. The resort conveniently has a swimming pool and a natural lake that blows a natural breeze into your room. Notice the farmers suffering from the radiant sun as you cross the alleyway, you might appreciate the natural conditions at Christina's just a little more. Let's choose to use less AC and enjoy the natural breeze, why not?
Price: from 1,550,000 VND ($70 USD)/ night/ room
Address: Tra Que Village, An Bang, Hoi An City, Quang Nam Province, Vietnam
Website: Christina's Hoi An Booking Page
Chay Lap Farmstay – Quang Binh
You may have heard about Oxalis – the exclusive adventure tour operator of Hang En Cave. This company runs their tour so well in order to preserve the pristine beauty of nature. Now with Chay Lap Farmstay, you can access another member of their family, where the farm is just a few steps away from your house! But this isn't even the best part!
Their houses have been renovated with lovely designs. There is an outdoor swimming pool. 90% percent of the employees come from the local area and are trained properly. Biking, kayaking, and trekking tours are available. And they put a lot of effort in composting organic waste into fertilizers! There is less waste, and food is used more effectively! Be sure to also ask the front desk or employees about the lodges and their unique construction. Since this land floods during the rainy season, the houses are built to withstand the rising water.
An awesome on-site restaurant and bar also await you after a long day of exploring the caves. Sit down and relax, enjoy the natural breeze and chatting with the local employees.
Price: from 1,000,000 VND ($45 USD)/ night/ room
Address: Chay Lap Village, Phuc Tranh Commune, Bo Trach District, Quang Binh Province, Vietnam
Website: Chay Lap Farm Stay Homepage
In The South
Forest Floor Lodge – Nam Cat Tien National Park
There'll be no national park if the environment is not well preserved. Forest Floor Lodge, resting upon the Nam Cat Tien National Park, seems to know this fact very well and is making a big effort to contribute to the forest. One interesting policy that I particularly enjoy is the 'dozen for one' policy, of which they will plant 12 native hardwood trees per tree cut down due to their construction. They also run a non-commercial website that tells you a lot about Nam Cat Tien National Park.
What does Forest Floor have for you in terms of accommodation? A home surrounded by the forest, some even overlook the lovely Ben Cu Rapid! There are three types of lodges, each of which are well designed and neatly prepared. Restaurant services, trekking, and tours into the forest are also all available.
Price: from 2,220,000 VND ($100 USD)/ night/ lodge
Address: Cat Tien National Park, Tan Phu District, Dong Nai Province, Vietnam
Website: Forest Floor Lodge Homepage
Mekong Lodge – Tien Giang
Let's move away from the hustle and bustle of the city and sink into the natural charms of rivers. If you decide to spend some time in the Mekong Delta, think of this little lovely lodge as a hidden gem blending into a big fruit garden. Whether you want to taste garden-to-hand mango, durian, rambutan, etc., you'll have it all! And, it's only 100 meters to Cai Be floating market!
This resort is settled on a little island only reachable by long boat ride, and when you arrive and witness their care for our environment, you will feel grateful. The bungalows are made from eco-friendly materials and designed to produce minimum waste. Solar energy and water saving facilities are put into practice. As guests, you are given a chance to partake in eco tours and activities organized by the resort. And what else? Enjoy their colorful garden with lots of plants and flowers.
Price: from 2,220,000 VND ($100 USD)/ night/ room
Address: Dong Hoa Hiep Village, Cai Be District, Tien Giang Province, Vietnam
Website: Mekong Lodge Homepage
For more eco-friendly accommodations in the South of Vietnam, check it out here.
Easy Steps to Make a House Eco-Friendly!
Plant many plants at home. You can consider growing vegetables in your house quite effortlessly with the Aquaponic technique.

More walls and less windows: hide glass windows under the shadow of plants or a balcony to prevent long direct exposure to the sunlight.

Use LED bulbs.

Wash your clothes with cold water, or in an eco-friendly mode.

Reduce plastic wastes by not using plastic straws, less plastic bags, and using reusable takeaway cups.

Sort garbage according to your country's policies. If your country does not have policies, then try to classify your waste in these categories: recyclable items, electronic waste, compostable organic waste (if possible), and disposal waste.

Run the fan instead of AC. Don't use the AC at extremely low temperatures compared to the natural temperature. Don't turn the AC off if you only leave the room for less than one hour. If you are gone for a longer time, do turn it off.

Look for a toilet with the WaterSense label.

Insulate windows, doors, attics, and basements.

Use solar power outdoor lights.

Consider energy-efficient windows and a cool roof if you usually use the rooftop floor.

And never stop seeking ways to live green!
I hope you now see how accommodation in Vietnam is making an effort to pay back our environment. If you enjoy coffee and would love to partake in an eco-friendly coffee tour in Da Lat, check out this article. If you still haven't found the right accommodation for you, check out our series on where to stay across Vietnam in which we cover many amazing places in many cities. How about food and drinks that you can't find anywhere else but in Vietnam, they're mentioned here