As a Vietnamese myself, I am always in constant wonder by what my country can offer travelers. When you think you have had enough sightseeing, you can always learn about culture and history. If you're not such a leisure traveling type, off-the-beaten-track trips through tricky terrain will suit your needs well. Or, are you a food enthusiast? Say no more, we have three regions with unique culinary cultures that will satisfy your hungry stomach. For any type of traveler, this one-week itinerary in central Vietnam is made for you. See what you can do in five amazing cities, who knows you might stay longer than seven days!
A Brief Introduction about Central Vietnam
Through years of historic changes, Vietnam geography today is officially divided into three main regions – the North, Central, and the South. Each has its very own set of characteristics in food, art, people or even lifestyle, composing a culturally diverse country. The central region of Vietnam consists of 19 units, one of which is a municipality and the rest are provinces. This area stretches far along the coast, so there is no doubt that many of our most beautiful beaches are clustered here.
The upper part of the region – the North Central Coast has six provinces and is considered the narrowest part of the country. While other parts are joined by many adjacent provinces, the North Central Coast provinces form a straight line. Also because of this stretching feature, geography here is extremely varied. To the western side of the region, craggy and large mountain ranges are a dominant feature. Moving to the east, we can see many flat deltas which are a frequent source of alluvial soil from nearby rivers. Quite similar to the northern region, the North Central Coast is famous for many historical sites dating back to the 1900's with amazing stories surrounding them.
Next comes the South Central Coast with seven provinces and the only municipality in the region, making it a group with the greatest potential in developing economy and tourism. All of the provinces are coastal, containing the legendary Da Nang and Nha Trang beaches. The main topography consists of coastal deltas and mountains, but they are more popular than in the North Central Coast. I can name tons of marvelous beaches and bays in this area: Lang Co, My Khe, Nhat Le, Ca Na beaches; or the clusters of many islands around the coast. Not to mention the bustling cities in some provinces that provide no shortage of activities, places to visit, and food to try!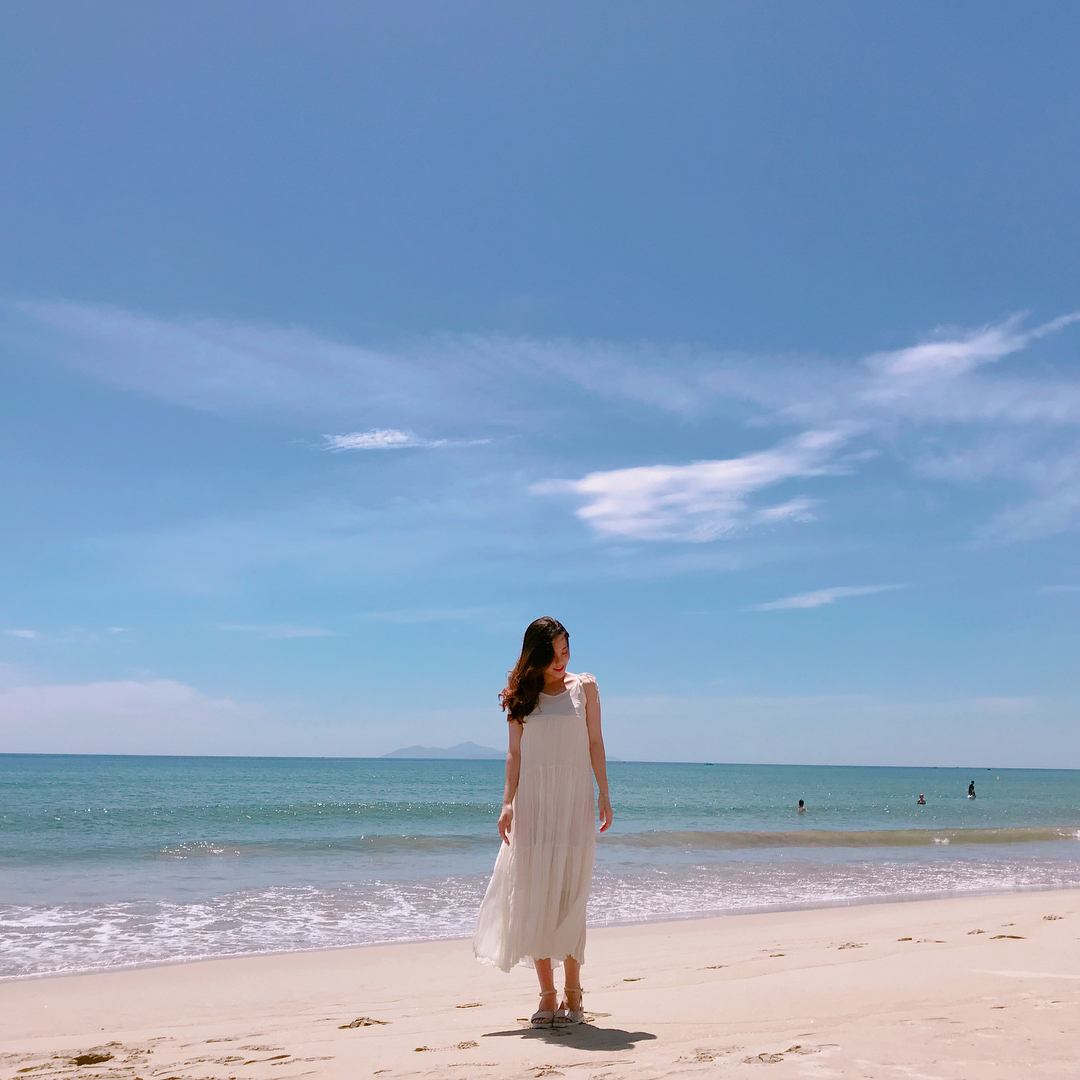 Last but not least, the Central Highlands is another unique group in Vietnam's central area. This is home to a significant number of ethnic communities in Vietnam, who each have a distinct language and lifestyle. Every characteristic of this region bears no resemblance to the other two in the area. It does not have any coastal provinces, and the whole territory is mostly mountainous with red basaltic highlands. Therefore, the main economy here is related to forestry and planting crops, most especially coffee. If you have the chance to visit this place, make sure to enjoy some incredible coffee from the Central Highlands to get the most authentic Vietnamese style coffee!
Now that I'm done briefing you on the essential things to know about central Vietnam, buckle up and we shall take a tour! Let's see what we can do in central Vietnam in one week, starting with….
Nha Trang – 2 Days
How to Get There
Since it is about 400 kilometers from Saigon to Nha Trang, it's best to take transportation services rather than conquering the road yourself. There are three ways to get to Nha Trang from Saigon, which are bus, train, or airplane.
The first option is the cheapest because it only takes you about 200,000 to 220,000 VND for a one-way ticket. But your trip can take up to 11 hours if you choose to depart in the morning, so remember to choose the evening bus that only lasts five hours. Below is a popular transportation company and a transportation booking website:
FuTa Bus Lines
vexere.com
Taking a train is slightly more expensive, but you can enjoy a more comfortable trip in around seven hours. The price is about 320,000 VND to 400,000 VND based on the available seat types. Check out official Vietnam railways website here.
Traveling to Nha Trang by air is clearly the fastest way but it also costs the most. One thing to note when you take an airplane is that it's 30 kilometers from Cam Ranh airport to the city center, so do prepare for another short trip after you land.
Where to Stay
There are a variety of accommodations from low budget stays to luxurious hotels and resorts. These are some of the best options to choose from:
Hotels under 20 USD:
Tabalo Hostel
Address: 34/2/7 Nguyen Thien Thuat, Tan Lap, Nha Trang City
Phone number: +84 258 352 52 95
Website: Tabalo Hostel website
Ccasa Hostel
Address: 40 Sao Bien, Nha Trang City
Phone number: +84 258 3838 833
Website: Ccasa Hostel website
Luxury stays:
InterContinental Nha Trang
Address: 32-34 Tran Phu, Loc Tho, Nha Trang City
Phone number: +84 258 3887 777
Website: Intercontinental Nha Trang website
Sheraton Nha Trang
Address: 26-28 Tran Phu, Loc Tho, Nha Trang City
Phone number: +84 258 3880 000
Website: Sheraton Nha Trang website
What to Eat
You can spend the first day here pursuing a food adventure since this city has so many special dishes to try!
Nem Nuong (grilled sausage):
Nem nuong Vu Thanh An
Address: 15 Le Loi Street
Price: around 40,000 VND per portion
Nem nuong 25 Le Hong Phong
Address: 25 Le Hong Phong Street
Price: around 30,000 VND per portion
Goi Ca Mai (deep herring salad):
Goi Ca Ha Ra
Address: No 166, 2 Thang 4 Street
Price: 30,000 – 70,000 VND
Hai San Nina
Address: 6 Ngo Si Lien Street
Price: 100,000 VND
Bun Cha Ca (grilled fish rice noodles):
Bun cha ca in Xom Moi market
Address: at Vo Tru Street corner, next to Xom Moi market
Price: around 20,000 VND per bowl
Bun Ca Nam Beo
Address: B2 Phan Boi Chau Apartment, Phan Boi Chau Street
Price: 30,000 – 40,000 VND
What to Do
Day two is the day for swimming and partying! I really recommend Diep Son Beach because it's a peaceful beach which is two hours away from the center of Nha Trang. It's a paradise for visitors seeking a serene lifestyle or inner peace. Or you can try Nha Trang beach for a more social vibe, as it's super convenient and suitable for everyone!
Diep Son Beach
Location: Diep Son Port
Opening hours: 8 AM – 4 PM. This is the operating hours of the port to get to Diep Son from the city center.
Nha Trang Beach
Location: Tran Phu street, Nha Trang
Opening hours: 24/7
When night falls, a little partying with the sea wind blowing through your hair is tempting! There are bars, clubs and craft beers for you to try.
Qui – Cuisine Mixology Lounge
Address: 62 Tran Phu, Nha Trang city. This bar is located just by the Nha Trang beach, so it's convenient for those who can't leave the sea!
Opening hours: 6 AM – Late
Price: 180,000 VND++
Website: Qui Website
Sailing Club
Address: 72- 74 Tran Phu, on the beach, Nha Trang city
Opening hours: 10 AM till late
Price: Average 400,000 VND – 2,200,000 VND
Pankoff Brewery
Address: 39 Hung Vuong, Nha Trang city
Opening hours: 11 AM – 12 AM
Price: 40,000 VND – 70,000 VND
Quy Nhon – 1 Day
After enjoying Nha Trang, you can move up to Quy Nhon – a peaceful coastal city in Binh Dinh province.
How to Get There
Like our starting point, you can get to Quy Nhon from Nha Trang in three ways. However, since it takes only around four hours to travel by bus and it's the cheapest way, taking a bus is a suitable choice. You can easily book tickets through vexere.com, which shows results from many transportation companies to help you get the best price.
Where to Stay
Because you only stay here for one day, low-budget accommodations are better than fancy resorts. Here are some lodging options for a reasonable price:
Life's a Beach
Location: To 2, Khu Vuc 1, Bai Xep, Ghenh Rang Ward, Quy Nhon city
Website: Life's a Beach Website
Price: from 13 USD
John & Paul Hostel
Location: 63 Chuong Duong St., Quy Nhon city
Website: John & Paul Inn Website
Price: from 10 USD
One Day Itinerary
Morning: grab a hearty breakfast with fiddler crab noodle (bun ram). In the past, it was rather difficult to enjoy this dish as you had to travel more than 60 kilometers from the city center. That's where fiddler crabs mainly gathered. Today, you can find bun ram in many places in Quy Nhon city because it is a famous local cuisine now!
Thuy Fiddler Crab Noodle Store
Address: 261 Tang Bat Ho street, Ly Thuong Kiet ward, Quy Nhon city, Binh Dinh province
Opening time: 7 AM – 9 PM
Price range: 25,000 VND – 35,000 VND
Afternoon: collect seafood and camp with your friends on Ky Co Beach. It is 25 kilometers away from the city and it has tons of fun waiting for you! After submerging in the deep blue sea, you can take a dip near the cliffs to catch sea cucumbers, shells, snails… or whatever you want. Then you can set up a cozy tent for your gang to enjoy the rest of the day!
Hoi An – 1 Day
How to Get There
Getting to Hoi An from Quy Nhon is quite tricky because this is not a popular route. It is, however, not impossible. You can travel by bus like usual and the fare is around 150,000 VND. This is the website to book a Quy Nhon – Hoi An bus.
Where to Stay
Check out these artistic homestays with styles ranging from French colonial architecture to ancient Vietnamese houses:
Maison de Tau
Address: 47/23 Nguyen Dinh Chieu, Tan An, Hoi An, Quang Nam
Phone number: +84 90 847 93 79
Website: Maison de Tau Homepage
Price: from 300,000 VND
Loongboong Homestay
Address: 172 Nguyen Tri Phuong, Hoi An, Quang Nam
Phone number: +84 98 558 24 88
Website: Loongboong Homepage
Price: from 500,000 VND
One Day Itinerary
Morning: have breakfast with banh mi – Vietnamese baguette and coffee. You can never have enough of this combo.
Afternoon: There are many activities for you to choose from. These can include sightseeing in the ancient city to relive the ancient times, getting tailored clothing made to take a little piece of the city home with you, or attending a cooking class to build up future skills!
Evening: at this time you can have a street food tour to refill your stomach. It is easy to find carts selling all kinds of food everywhere at night for only 2,000 – 10,000 VND! Major streets, such as Tran Phu, Nguyen Thai Hoc, and Tran Cao Van, are undoubtedly street food paradises. After that, going for a walk in the ancient town by night will be a perfect way to call it a day!
Da Nang – 2 Days
How to Get There
Da Nang is only 30 kilometers away from Hoi An, so it's super easy to get here from the ancient town. You can either travel by bus, motorbike services or taxi, which is increasingly expensive. For the first option, you'll take bus number 1 and the fare is around 16,000 VND. The only setback is bus services operate only from 5:30 AM to 5:50 PM. Motorbike and taxi services will cost more, but it can save you a lot of time.
Where to Stay
Again, there are two main types of stays in Da Nang city and you can review the list below:
Luxury Hotels and Resorts:
Melia Danang
Address: 19 Truong Sa, Hoa Hai Ward, Ngu Hanh Son, Da Nang
Phone number: +84 236 392 9888
Website: Melia Danang Website
Price: from 125 USD
The Blossom Danang
Address: A1 – A2, Green Island Zone, Hoa Cuong Bac, Hai Chau, Da Nang
Phone number: +84 236 362 3238/+84 236 3639 336
Website: The Blossom Resort Website
Price: from 120 USD
Budget Accommodations:
Hanami Hotel Danang
Address: 61-63 Hoang Ke Viem, Da Nang
Phone number: +84 236 3952 992/+84 236 3952 997
Website: Hanami Hotel Website
Price: from 22 USD
Brilliant Majestic Villa Hotel
Address: 123 Ho Nghinh, Son Tra, Da Nang
Phone number: +84 236 3944 488
Website: Brilliant Majestic Hotel Website
Price: from 26 USD
What to Eat
Mi Quang (Quang style noodles): These noodles are incredibly soft, glutinous, and full of genuine rich rice flavor. Many locals like enjoying this food for breakfast, but you can see people hurriedly slurping their bowl at all times of the day.
Mi Quang Ba Vi
Address: 166 Le Dinh Duong Street, My An Ward, Hai Chau District
Opening hours: 6:30 AM – 10 PM
Price range: 35,000 VND – 40,000 VND
Banh Trang Cuon Thit Heo (rice paper with pork): the secret to this dish is the sauce. It has a distinct flavor and when eaten with rolls, this combination can blow your mind.
Banh trang cuon thit heo Quynh Dai Loc
Address: 176 Nguyen Hoang Street, Hai Chau District
Opening hours: 10 AM – 10 PM
Price: 38,000 VND
Goi Ca Nam O (Nam O Fish Salad): made from fresh raw fish with a touch of chili, garlic, ginger, galangal, and fish sauce. This is a spicy dish because the spiciness reduces the fish odor.
Goi ca Thanh Huong
Address: 1029 Nguyen Luong Bang, Lien Chieu, Da Nang
Opening hours: 10:00 AM – 22:00 PM
Price range: 40,000 VND – 150,000 VND
What to Do
Nha Trang has beaches, and so does Da Nang. So what can you do here? Should you go to popular spots to swim? No, it's time for an the off-the-beaten-track adventure!
Ghenh Bang Reef: This reef is a part of Son Tra Peninsula, which is located about 20 kilometers from Da Nang city center. Since tourism is still not developed here, the wildness of the beauty from mother nature still remains. You can go for a dive and gaze at the colorful corals under the water.
Gieng Troi Waterfalls: This is truly a getaway spot as some days (especially during the week), there won't be any people here but you and your friends. Swim in the pool below the fall and let your mind float around the rocks and buzzing trees. It's a perfect afternoon!
I have to say one week won't be enough for you to discover central Vietnam. Remember to take your time and enjoy these places first. Maybe you can explore something else. Let us know your thoughts in the comments below!
Make sure to check out these articles below to get more information on traveling in Central Vietnam:
From Hue to Khe Sanh – A Ride Through History
How to Get to Pleiku, Kon Tum, and Buon Ma Thuot
A Complete Guide to Seafood in Da Nang
The post One Week Itinerary in Central Vietnam appeared first on The Christina's Blog.