Saigon is one of the fastest developing cities of Vietnam and nothing is more telling of this characteristic than the many skyscrapers around the city. There are also many bars located on the rooftops of these buildings that promise partygoers a great night with a fantastic view. If you are looking for a place to drink and dance, check out this article about the best rooftop/sky bars in Saigon for more information.
Chill Skybar – AB Tower
This is the most popular sky bar in Saigon because of its expansive glowing outdoor bar section offering views to Bitexco, the bustling backpacker area, and the busiest roundabout of Saigon. This 1,000-square meter bar comes with Western-style decoration. There is a walk-in liquor cabinet, which displays more than 300 types of brands, in the sleek dining area. It's even been home to parties lit up by famous DJs like the sexy DJ KimKat when they visited Vietnam.
Every day, a Vietnamese or international DJ plays music starting at 9:30 PM. There is also a new event every week. Check out their Facebook page for more information.
Besides drinking, you can try their amazing food. The grilled feast and seafood are said to be the best here.
Last but not least, don't forget to dress up if you decide to go to Chill Skybar as they have a strict dress code. Keep in mind that flip-flops and shorts are not acceptable here. The security has the right to not let you enter the bar if you violate the dress code.
Good news is if you travel around the world with your favorite flip-flops and don't have any other shoes, you can borrow a pair of proper shoes from the bar.
HAPPY HOUR
Every day from 5:30 to 8 PM, you can enjoy cocktails, beer, select wines, and snacks for only 88,000 VND.
MORE INFORMATION
Address: AB Tower Rooftop (Floor 26th), 76A Le Lai, District 1
Phone:  093 882 2838
Business hours:
Sunday – Thursday: 5:30 PM – 2 AM
Friday – Saturday: 5:30 PM – 4 AM
Price range: Starting at 200,000 VND
Chill Skybar website – Facebook – Tripadvisor
M Bar – Hotel Majestic
If you want to experience a romantic and retro rooftop bar with a view to Saigon river, don't hesitate to head over to M-Bar. Located in the historic Majestic Hotel (which was built in 1925, during the time the French ruled Indochina), this is a new bar which was opened in September 2018. Following the vintage decoration concept, this is a great place to chill in the afternoon and gaze at the sunset on the river.
When you dine at M-bar, you will have both Asian and Western cuisine options. Order a plate of food and sip a delicious cocktail while listening to the lively melody of Flamenco sung by a Filipino band. Experience Saigon's growing international culture scene.  
In addition, M-Bar usually hosts bartender showmanship performances to deliver a professional entertaining experience to visitors.

MORE INFORMATION
Address: Floor 8th, 1 Dong Khoi, District 1
Phone: 028 3829 5517
Business hours: 6:30 PM – 12:30 AM
Price range: starting at 100,000 – 500,000 VND
Chill Skybar website – Facebook – Tripadvisor
Glow Sky Bar
The expansive view from this skybar offers you a sight of one of the tallest buildings in Saigon. During the daytime, Glow Sky Bar offers a very chill and relaxing lounge area with a lot of tropical trees in an outdoor space. After sunset, it turns into a glamorous place with glowing objects and hip partygoers.  
They mainly serve finger food, which is very suitable with alcohol like pizza, chicken wings, French fries, tacos, and more. Besides Happy Hour, there are a lot of discount events. You can find updated information on their Facebook page.
Glow Sky Bar is where you will have a chance to meet a lot of "It" gals and men in Saigon. This place is also a popular hangout spot of the expat community.
HAPPY HOUR
50% discount on beer, spirits, wine, and cocktails from 5 PM to 8 PM
MORE INFORMATION
Address: 93 Nguyen Du, District 1
Phone:  093 887 4569
Business hours: 5 PM –  2 AM
Price range: From 100,000 – 600,000 VND
Chill Skybar: Facebook – Tripadvisor
EON Heli Bar – Bitexco Financial Tower
Instead of spending 200,000 VND (10 USD) to enter Bitexco observatory zone on floor 49, try EON Heli Bar. Drink wine and admire a better view of Saigon from there. Located on floor 52 of the Bitexco Financial Tower, EON Heli Bar offers you one of the most marvelous sunset views without the cover. Imagine seeing the daylight slowly fading, then thousands of colorful lights illuminating the city. It will be an unforgettable memory of your trip.
Sometimes live bands will play from 5 PM to 10 PM. After that, DJs will take over the stage.
HAPPY HOUR
50% discount on cocktails from 1 PM to 4 PM

MORE INFORMATION
Address: 52 floors, Bitexco Fincancial Tower, Number 2 Hai Trieu, Ben Nghe Ward, District 1
Phone: 028 6291 8752
Business hours: 10:00 AM –  late
Price range: From 100,000 – 600,000 VND
EON Heli Bar: Facebook – Tripadvisor – Website
Social Club & Pool Rooftop Bar – Des Arts Saigon Hotel
It's hard not to miss the infinity pool and the mini bar under the water at Social Club & Pool Rooftop Bar. Even in the heat of Saigon, this place makes you feel cool. On the rooftop of Des Arts Saigon Hotel lays this beautiful bar. This is also where you can find the first glass bridge in Saigon which connects the hotel and Centec Tower.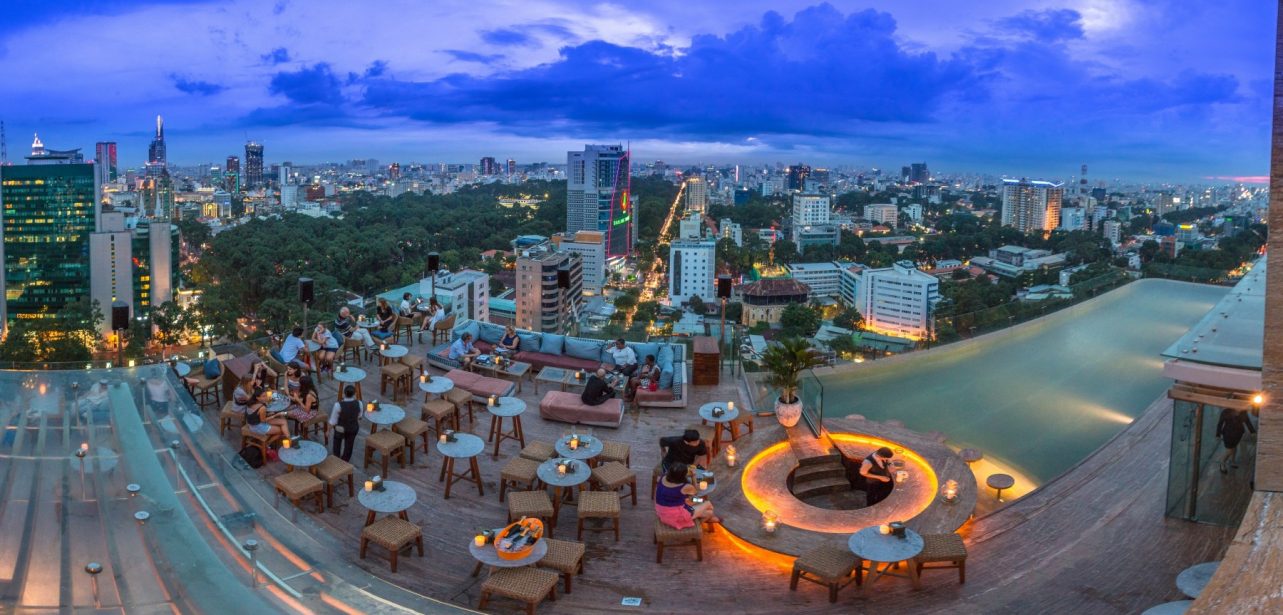 From the bar, you can look down to the buzzing streets of Saigon, watch the motorbikes rushing by and just enjoy the amazing view of the city. The music here is good and chill which makes it an excellent place to relax and drink some beer with your friends. Furthermore, this is also a good place to eat Western and Vietnamese food although the prices are quite upscale.
HAPPY HOUR
50% discount on drinks from 5:30 PM to 8 PM
MORE INFORMATION
Address: MGallery Saigon, 76-78 Nguyen Thi Minh Khai, Ward 6, District 3
Phone: 028 6291 8752
Business hours: 5:30 PM – 2 AM
Price range: From 160,000 – 600,000 VND
Social Bar: Facebook – Tripadvisor – Website
These are the best rooftop bars I recommend if you want to drink a cocktail with a fantastic view of Saigon. Check out these articles about the drinking culture part 1 and part 2 on our blog. If you like live music, this article is for you.
Don't forget to follow the Christina's Blog for more awesome articles about Vietnam.
The post Saigon's Coolest Rooftop and Sky Bars appeared first on The Christina's Blog.