When it comes to trekking in Vietnam, Sapa should be on the top of your list. With its mountainous topography and the diversity of ethnic minorities, Sapa offers the best trekking experience.  The breathtaking natural scenes and the deep understanding of the culture that awaits you will make for an unforgettable experience.
Because it is the best place to trek in Vietnam, there are various trekking spots ranging from an easy to hard level, from one day to multiple days. It can be confusing for first-timers deciding on which treks to pursue and whether they can trek on their own or join a tour. It's an impending headache.  But don't worry, this article has these problems covered. It will provide you detailed information about trekking in Sapa and make it much easier for you to decide.
Facts about Sapa
Located 350 kilometers northwest of Hanoi, Sapa is home to Mount Fansipan,  the highest peak in Vietnam. At 3,143 meters above the sea level, you will have the most impressive view of the terraced rice paddies lining Sapa's steep valley walls. It drizzles during the summer and it can get very cold and foggy during the winter. You might even see snow! Sapa has the most ethnic minorities in Vietnam, making it the most culturally diverse area in the country. There are five main groups living throughout the valleys of Sapa: Hmong, Yao, Zay, Tay and Xa Pho people. Surrounded by mountains and valleys; Sapa is a popular trekking base in Vietnam with spectacular landscapes.
When to Trek in Sapa
Weather is a very important factor during decision-making time. It is necessary to have nice weather when you embark upon your trek because it can make or break the experience. Clouds can impede your view and the mud makes it difficult and sometimes unpleasant to walk up a steep slope. The best time to visit Sapa is from March to May and from September to November. It is dry and clean with sunshine during March to May, a very comfortable climate for traveling. But if you want to enjoy the terraces, September to November is the perfect time.
Trekking Tours in Sapa
Sapa O' Chau
As the first company registered as a social enterprise in Lao Cai province, Sapa O' Chau is a grassroots community development project helping Sapa's children and young people gain fair access to education and employment. Their tour guides are ex-students and other young people from the local communities. They have a rich knowledge of the surrounding mountains and valleys as well as the cultures that pervade this area where they grew up. Sapa O' Chau does not only offer different types of tours and homestays for travelers but they also provide training courses for the community, helping it grow.
With various trekking options, you can either do a one-day trek to a nearby area or a multiple-day trek to other villages or to the whole area. Let's take a look at their trekking tours in and around Sapa:
Besides running fixed itinerary tours, Sapa O' Chau also organizes tours to other parts of Vietnam. For booking and more information, check out their website!
Onetrip
Onetrip is a social travel platform that connects local guides with enthusiastic tourists to create the most amazing travel experience throughout Vietnam. First started in Ho Chi Minh City, Onetrip is now in eight cities from the south to the north of Vietnam. Sapa has just joined this list. Onetrip tours dominate the tourist landscape because the guides provide an authentic and local experience, taking travelers far away from tourist traps and plunging them into off-the-beaten-track adventures. And while Onetrip does seek to provide top tour services, they also pay local people a higher wage so they may live better.
Onetrip's Sapa Trekking Adventure is an exceptional tour where you will be led by a Red Zhao guide to discover the mysterious life of the Red Zhao ethnic people. You will trek through picturesque rice terraces surrounded by an enormous mountain range, visit different ethnic villages where you can observe the daily life and learn to do traditional work with them, enjoy a traditional herbal bath after a tiring day, stay overnight in an ethnic family's home, and cook dinner together. When you travel, if you like to experience the local way of life with a little adventure sprinkled in, then I highly recommend this tour.
There are two options for the tour: one-day or two-day length. If you want a transfer from Hanoi, just ask and it will be set up. Book via this website.
Sapa Sisters Tour Operator
Started in 2009 by six friends, two foreigners, and four Hmong, Sapa Sisters is one of the most popular tour operators in Sapa, especially when it comes to trekking activities. With the aim of helping Hmong women improve their lives, Sapa Sisters has been doing a great job finding female Hmong guides with good English skills so they can connect with travelers. Hmong women are very strong; they were born and grew up trekking up and down the hills every single day. The mountains are their home and you should feel confident under their guidance.
Trekking adventures run by Sapa Sisters are a bit different from common tours. They have a non-fixed itinerary, you can choose where to go and what to do. By the time you finish your payment, you will receive a confirmation with your guide's information. You and your tour guide will discuss and come up with a suitable itinerary, a unique one that suits you the best. How cool is that? You won't have to worry if the trek is too intense or if you want to explore a spot a bit longer. Right now, Sapa Sisters offers a maximum of 4 days and 3 nights trekking package. Check out their pricing below: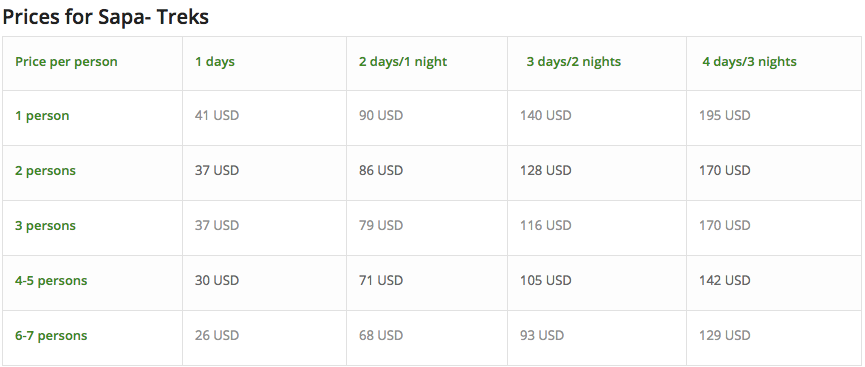 Click here to book their tour: Sapa Sisters 
Trekking Sapa Without a Guide?
Absolutely, you can do it!
Are you traveling on a budget? Maybe you're an adventure addict? Let's trek in style. As long as you have a decent sense of direction and can find your starting position, trekking on your own in Sapa should be easy and fun. Sapa is like a wonderland to me with tons of off-the-beaten-track spots that will surprise you. It might even be the most fun adventure you have yet to experience.
Is it easy to trek in Sapa on your own? Yes, it is, but it's pretty easy to get lost as well. There is no specific map or route but if you're thinking about trekking without a guide in Sapa, you have finished step one. Isn't getting lost the key to surprises and excitement?
Is it safe to trek in Sapa without a guide? Yes! No need to worry. Just keep in mind that you should return before it's dark. In the mountains of Vietnam, where electricity is a luxury, there won't be lights guiding your way. You might come across women and children trying to sell you stuff. They are not dangerous at all. If you have any intention of buying anything, make sure you have enough money to buy from everyone. Or they will never let you go.
Can you do a multiple-day trek in Sapa without a guide? Yes, you can but it will be more complicated. Normally your guide will take care of food, drinks, and places to stay during the night. Now you must plan these details out yourself. Food and drinks can easily be packed in your bags. Homestays should not be too difficult to find; Hmong ladies will ask you to stay with their families, and if you are good at using a map, you can locate a homestay beforehand. Here is our guide on accommodation and homestays in Sapa.
What should you expect while trekking in Sapa on your own? Fun and a few challenges. You will be able to explore smaller villages downhill, play with kids, walk through the green rice fields and stroll on the path less traveled, where no tourist has gone before.
If you become lost, you will encounter a few challenges. Don't be afraid. Normally there are people passing by on a trek and they can help you find the way out. Here is what I would do if I were you. Before you embark on your trek, get a local to write a note of your homestay or hostel's address in Vietnamese and probably in a local ethnic language. You then can show local people you meet on the path to help out if you do get lost. For those of you who are good with directions, it shouldn't be a big deal. It will be less difficult if you are trekking to a well-known place from Sapa such as Bac Ha market or Ta Phin village.
There are 3 levels of do-it-yourself trekking tour difficulty:
Level 1: Easy trekking. This also means play it by ear. Walk around and pick the path you feel is best and experience the plan-less adventure. Normally these paths will lead you to small ethnic villages which will give you a brief understanding of Sapa.
Level 2: Medium trekking. These treks normally lead to pretty places that you may find on the internet, but they are not easy to access by car or motorbike. These treks are long but worth it. The most popular trek in Sapa is through Muong Hoa valley with a lot of up and down hills. You will pass the Lao Chai valley, Ta Van village, or Hau Thao village on the way.
Level 3: Hard trekking. What can be harder than the trek to the top of Mount Fansipan peak? This is considered one of the most challenging treks for travelers. Normally, you will need 3 days hiking to complete the trek but it depends on what trail you take. For this trek, I recommend you find a porter to support you along the way. We have created a detailed guide on how to do this trek right.
Cons of Going Without a Guide in Sapa
You can get lost. Although it's not that hard to find your way back, it's a possibility. You should be aware of this.
You might miss all the good stuff. A guide knows where the good spots are. You might not be able to find these places because sometimes they are kept secret and you cannot access these spots on the internet.
Without a guide, you might miss out on cultural information. Guides are locals, they can teach you a lot more about the history, culture and local stories.
You must arrange your own permits, homestays, food, and carry your things.
Pros of Going Without a Guide in Sapa
It's cheaper. It's clear and obvious that it is way cheaper than joining a tour. You pay for your own tickets and food and will mostly spend nothing all day.
You can go wherever you want. The road is now yours and you are free to explore. You could be the first person who finds the second most beautiful valley in Sapa.
You can find a unique place. Even if your guide is great, he will keep bringing you to the same spots, the same way as he brought other guests the day before. If you do it on your own, you can follow your own path.
Sapa Trekking Map
As I said earlier, there is no specific map or route when you trek by yourself in Sapa. Most of the time people get lost in the beauty of Sapa, then find the way out without knowing which trails or which paths they originally took. However, there are some recommended trek routes. Instead of the most frequented village, Cat Cat, you can consider trekking between these less visited ethnic villages in the Sapa area:
Ta Van village – 10 km from the town of Sapa
Lao Chai village – 5 km from the town of Sapa
Sin Chai village – 6 km from the town of Sapa
Hau Thao village – 10 km from the town of Sapa
Ta Phin village – 12 km from the town of Sapa
Ban Ho village – 20 km from the town of Sapa
Here is the map for these more common treks:
Tips for Trekking in Sapa by Yourself
The farther the better. The town of Sapa is frequently visited by tourists. If you want to find something less touristy, trek far away from the town of Sapa.
I get a lot of questions regarding what to do about buying things from local women and children. This is a really tough situation. They are friendly and nice people. You don't want to let them down, but if you decide to buy from them, you will have to buy from all of them. There is this one trick that sometimes works. Try to sell something of yours to them. That usually gets a good laugh out of it.
Rules to follow in a village with ethnic inhabitants:
No drugs.
Do not touch sacred objects.
No noise making and alcohol drinking (rice wine in their presence is doable).
No kissing in public.
Ask for permission when taking photos, especially of older people and children
Only walk into a house if you are invited. Gifts for kids are welcome but avoid money and sweets.
Pay for your meal if you are invited for lunch or for homestay accommodation.
I recommend buying a handmade object to show appreciation of hospitality.
What to Pack when Trekking in Sapa:
Food and water. There won't be many stores in your path. Make sure you have enough food and water because you should only rely on yourself.
Those stunning scenes need to be captured and saved.
In case you want to see a certain village or stay in a specific homestay, a map will be very helpful. If you have data from the Vietel provider; there is a possibility you can access the internet here. Other than that, you should be prepared for no signal. Make sure to load the map on your phone beforehand when you still have internet.
Sunscreen/ hat/ sunglasses. This depends on when you are trekking. If it is summer, it is necessary.
Warm clothes. In the winter, it can get really cold in Sapa. Stay warm. Sometimes homestays have limited to no heating.
Lightweight rain jacket.
Bug spray.
Good hiking shoes.