Vietnam is a strip of land shaped like the letter "S" and has borders with China, Laos, Cambodia, and the ocean. It is truly eye-opening if you travel through the whole country from the north to the south. However, it will be more rewarding for those who conquer the four furthermost points in Vietnam. Only adventurous people who have good physical strength and passion for traveling can accomplish this journey. Let's find out if you are a likely candidate for this adventure!
Lung Cu – The Northernmost Point
Lung Cu is a commune in Dong Van district, on the Dong Van plateau of Ha Giang province, Vietnam, about 200 kilometers from Ha Giang city. Lung Cu has nine villages: Lo Lo Chai, Seo Lung, Ta Gia Khau, Can Tang, Then Van, Then Pa, Si Man Khan, San Cho, and San Sa Phin. The commune is home to the H'Mong, Lo Lo, Tay, and Pu Po ethnic groups. Its border with China is more than 16 kilometers away.
You can take a bus with the route Ha Giang – Dong Van to get to Lung Cu. Renting and riding a motorbike from Ha Giang to Lung Cu is another way, and this is truly worth the journey. On the way, you will go through Quan Ba Heaven Gate, Dong Van Stone Plateau, and Hmong King Palace. Let's read this article for all the important information about Ha Giang.
Lung Cu Flag Tower
Located on the top of Dragon Mountain (Long Son), Lung Cu Flag Tower is at an altitude of 1,470 meters above sea level. It was built to mark the northernmost point in Vietnam although the farthest north point on the Chinese-Vietnamese border is actually located 3.3 kilometers farther north.
Before climbing up to the tower, notice the souvenir shop displaying labor tools, costumes, and cultural products of the Ha Giang ethnic groups. When you climb up around 30 meters, you can see two ponds on both sides of the mountain that never drain of water all year and are called Dragon Eyes. A pretty large and beautiful cave called Si Man Khan Cave is halfway up the mountain and you can also see this feature with the naked eye.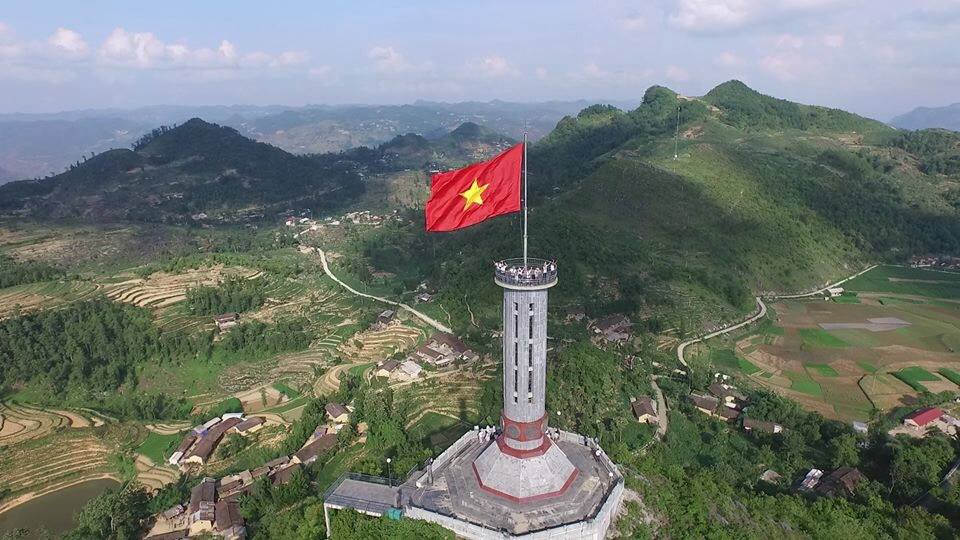 You need to climb 389 stone stairs to get to Lung Cu Flag Tower, and another 140 spiral stairs inside the tower to reach the top. The tower base is carved with patterns of the Dong Son bronze drum, one of the oldest archaeological items in Vietnam. The top of Lung Cu Flag Tower is a Vietnamese flag nine meters high, six meters wide, and 54 square meters in area, representing the 54 ethnic groups living in Vietnam.
On the top of the tower, you can feel the wind blowing in your hair, breathe the fresh air of the mountainous area, and enjoy the beautiful landscape below. Green terraces cover all the mountains, Nho Que River flows along the deep canyon, and mountain ranges extend to the horizon. This magnificent scene is truly worthy of the long journey to get here.
A Pa Chai – The Westernmost Point
Dien Bien Phu is 500 kilometers away from Hanoi. There are three ways to get from Hanoi to Dien Bien Phu. First, the Hanoi – Dien Bien Phu bus runs daily leaving from My Dinh bus station and it takes around 12 hours to get there. Second, you can ride a motorbike and it will take you one day. Third, Vasco Airlines has two flights daily for this route and it takes about one hour to get to Dien Bien Phu.
From Dien Bien Phu city, follow Highway No.12 to the center of Sin Thau commune, the starting point to conquer A Pa Chai Westernmost Point. An asphalt road for cars leads right to the center of the commune.
The border of Vietnam, Laos, and China is located in A Pa Chai village, Sin Thau commune, Muong Nhe district, Dien Bien province. It is the westernmost point, 250 kilometers away from Dien Bien Phu city. This place is recognized by a witty saying, "a cock crows and three countries hear". Located at an altitude of 1,864 meters above sea level, A Pa Chai is home to the Ha Nhi ethnic group. A Pa Chai means a flat and large land in Ha Nhi language.
A Pa Chai Landmark
Important Note: You must take your passport and register at 317 coast guard station. After you register, the soldiers at the station will lead the way and take you to A Pa Chai. This is a sensitive area and you can easily get lost in the territory of another country. Therefore, it is compulsory to have the soldiers accompany you along the way.
At night before you climb to A Pa Chai Landmark, you can find hotels or homestays in Sin Thau commune and Muong Nhe town for a stay. 317 coast guard station also has a stilt house for tourists to stay in overnight. The price ranges from 250,000 to 500,000 VND.
From the 317 station, ride a motorbike for nine kilometers to reach the starting point of the hike. It is three kilometers away from the westernmost point and takes one hour of hiking. You need to climb up steep roads and go through the primary forest. Therefore, it is quite wet, muddy and has many insects, especially in the rainy season. However, the beautiful scenery in the green forest is the highlight of this journey.
After conquering the difficult route, A Pa Chai Landmark, the fork of the three countries will appear before your eyes. It is also the zero landmark of Vietnam, coordinates 22°23'53″N 102°8'51″E. The landmark is made of granite, it's two meters high, has the shape of a hexagon, and three faces turn in three directions. Each face is carved in the national language and national emblem of each country. When you stand here, three countries are under your feet. All you can see are high mountain ranges next to each other with masses of clouds skirting the peaks. What a majestic spectacle!
Moreover, A Pa Chai market is located on the border between Muong Nhe district (Dien Bien province, Vietnam) and Giang Thanh district (Yunnan province, China). The market is held on the third, 13th, and 23rd of each month. If you are in A Pa Chai these days, don't miss the chance to visit a border market.
Mui Doi – The Easternmost Point
Mui Doi is located on Hon Gom peninsula of Van Phong Bay, in Van Thanh commune, Van Ninh district, Khanh Hoa province. It is called Mui Doi because there are two rocks that jut out to the ocean here. Mui Nghia is also known as Mui Ba Dau, which has a beautiful natural landscape with stone structures that create various rock formations. In particular, Mui Doi is also the easternmost point and the earliest spot in the country to greet the dawn.
Mui Doi is close to Nha Trang, one of the most beautiful coastal cities in Vietnam. Let's read the article All About Nha Trang to explore this city after you conquer the easternmost point of Vietnam.
Mui Doi Landmark
You can go to Mui Doi by yourself if you follow a GPS device. However, I don't recommend this because you can easily get lost on the way. The best option is to hire a local guide. He will not only show you the way to Mui Doi but also prepare the food and tent for rent (if you want to stay overnight and go camping on Mui Doi).
The journey to conquer Mui Doi will have you traversing many types of terrain. After riding from Co Ma Pass to Hon Gom Peninsula, you will encounter the hot, sunny coastline. You need to spend three hours in the forest, climbing up and down the slopes before arriving to Rang Beach. From here, you have to scamper over the big rocks to reach the stainless steel landmark in Mui Doi. Once you stand next to the landmark, you can feel as if you truly are at one with nature, like the vast ocean, big rock fields, long white beach, and blue sky.
This journey is difficult and only those who have good physical strength can accomplish it. If you want to save time when leaving Mui Doi, you can rent a boat for 1.2 million VND to get to the sand desert area. The boat can fit 10 people. There are many reefs close to the shore, so you will traverse in a basket boat before moving to the big boat.
Mui Ca Mau – The Southernmost Point
Mui Ca Mau is the land protruding from the southernmost point of Vietnam in Mui hamlet, Dat Mui commune, Ngoc Hien district, Ca Mau province, Mekong Delta.  It is 100 kilometers away from Ca Mau city and it takes three hours to get there.
All transportation options are available to get to Ca Mau city, from flight, bus, to motorbike. From Ca Mau city, you can take a sampan from B boat station to Dat Mui commune which costs 60,000 VND per person and takes five hours. In spite of the long journey, you can stand on the head of the sampan, enjoy the river scenery, and observe the activities of local people on the riverside. The sampan will sail along red alluvial rivers, small creeks in the pristine mangrove forests, and past the fishermen's houses along the river.
The other option is taking a big boat at Ganh Hao bridge which costs 125,000 VND per person and takes 3.5 hours. However, you cannot observe the landscape from this boat and therefore it might make you a little queasy. The last option is riding a motorbike to Nam Can town, then take a sampan or a boat to Dat Mui commune within one hour.
After hours on the sampan, you will finally reach Mui Ca Mau, the location of the GPS 0001 or 0th milestone of Vietnam. Right next to the milestone, a statue of a boat with a sail billowing out to the sea is the check-in location that is worth a nice photo. Mui Ca Mau is the only place in Vietnam that you can watch both sunrise and sunset on the east and west coast.
Besides Mui Ca Mau, you can visit other tourist attractions in Ca Mau province such as Hon Khoai island, Ngoc Hien bird sanctuary, and U Minh mangrove forest. Other provinces in the Mekong Delta are really interesting and you should add them to your plan in Vietnam. Read this article for more information about this river land.
Apart from the four furthermost points, Vietnam still has many beautiful sites. Keep reading other articles on our blog to find your favorite places.
Your All-in-One Trekking Guide to Vietnam
Islands of Vietnam – The Best Diving Destinations
Instagram-worthy Spots in Vietnam
The post The Four Furthermost Points in Vietnam appeared first on The Christina's Blog.