Planning your honeymoon but feel strapped for ideas? Then look no further! Here is your ultimate list of things to do on a honeymoon in Vietnam. From the top romantic destinations and activities to the best hotels to stay for newlyweds, we'll cover a bit of everything here. To make the most of coming to Vietnam, plan at least two weeks for your trip. If you have more time, that's awesome – we have plenty of suggestions for things to see and do.
Now, let's dive in and find out why a honeymoon in Vietnam is an amazing choice!
Hanoi
What to See and Do As a Couple
Vietnam's capital city Hanoi is a great place to get to know Vietnam, its people, and culture. While it's a modern city with all the amenities and comforts of an Asian metropolis, it also has a distinctive charm about it you won't find anywhere else.
Explore the Cultural Sights
As the country's main cultural center, Hanoi has plenty to see, do and experience, especially if it's your first time in Vietnam. To start out, do a walking tour of the Old Quarter in the city center. There you will find some of the city's top sights and must-visit spots. They include the Temple of Literature, which was Vietnam's first university, the ancient One-Pillar Pagoda, and of course the Ho Chi Minh Mausoleum.
If you are still looking for a romantic place to take photos as a couple, you can hire a photographer for a few hours and get some great shots at the Temple of Literature. The historic buildings and old trees make for a fabulous backdrop. Want to get the true Vietnamese feeling in your photos? Rent the traditional Vietnamese dress, the ao dai to get even dreamier pictures.
Try the Coffee
While exploring Hanoi, don't forget to stop at plenty of coffee shops! The coffee in Vietnam is nothing short of amazing, but beware, it's also quite strong. Even hardened coffee lovers will find it can keep them awake at night… For a real specialty, find a place which serves egg coffee (yes, you read that right!). It's a delicious concoction popular among locals and foreigners alike, and completely different from any coffee drink you've ever had elsewhere.
Enjoy the Sunset
To end the day on a romantic note, make your way to Hoan Kiem Lake. This is where the ancient Vietnamese emperor Le Loi returned his magical sword to the turtle living in the lake after being victorious in battle.
Here, you can enjoy the sunset and watch as the sky turns every shade of pink and purple. Sip a sugarcane juice or a young coconut to refresh after a long day of walking and get energized for the rest of the evening.
A Romantic Dinner Overlooking the City
Hanoi has some excellent places to have delicious, romantic dinner and its rooftop bars are at the top of that list. There are several spread out around the city so depending on your budget and the view you want, you can choose from a few.
MK Premier Hotels rooftop venue is in the heart of the Old Quarter and offers great views of the many little alleyways and ever-moving throngs of people and motorbikes. For the quality of the view and the food, it's surprisingly well priced too.
Another option is the Summit Lounge. It sits on Thanh Nien street which cuts right between two of Hanoi's lakes and offers stunning views of the city. The prices here will remind you more of Europe or North America, but for the amazing vistas, it's worth it to splurge.
Accommodation
Hanoi has plenty of hotels to choose from so to make research easier, here are a few that could be nice for a honeymoon stay.
If your budget is not an issue, why not opt for a luxurious room at the Sofitel Legend Metropole Hanoi. It has a wonderfully elegant French flair and spoils guests with delicious food. For a special treat, have afternoon tea here and enjoy their huge selection of macaroons.
An alternative which is easier on the wallet but still beautiful is the Hanoi Trendy Hotel & Spa. Their rooms are elegant and spacious, and the spa treatments are exactly what you need after a long day of exploring the city.
Set close to Hoan Kiem Lake in the Old Quarter, the Golden Silk Boutique Hotel is great if you want to be close to the action but stay in a quiet place with pretty rooms. Elegant décor and friendly staff make this a great mid-range honeymoon hotel where you'll be treated like VIPs on your special trip.
Ha Long Bay
As one of the world's most impressive natural wonders, Ha Long Bay deserves a spot on your honeymoon itinerary. This beautiful bay with its countless karsts and islands will make you forget the rest of the world as you cruise to hidden islets and explore ancient caves.
What to See and Do As a Couple
The best (and only) way to get to know Ha Long Bay is by cruise ship. There are plenty of options ranging from one-day tours to multi-day cruises. While you'll get to see the main area of the bay even if you go for a day trip or a one-night cruise, you will only get further into the hidden areas if you spend at least two nights on your boat. That way you'll escape the crowds and have some of the bay's most pristine areas almost to yourself.
While you're on your cruise, there will be no shortage of things to do. You can go kayaking around the karsts, hike to the top of some of the larger islands for a breathtaking view or go squid-fishing at night. Some cruise ships offer morning Tai Chi classes as well as a cooking course where you'll learn how to make popular Vietnamese dishes (spring rolls, anyone?). If you're looking to spend some quality time alone, watch the sunset from your cabin or sip a cocktail by the bar as you enjoy the scenery.
Ha Long Bay – Do It Right and Splurge!
Since this is your honeymoon, it's the best time to splurge. That's why we suggest you book the best cruise your budget will allow and enjoy this once-in-a-lifetime trip to the max. Take enough time to research this one because there are so many operators and unfortunately there are many black sheep. That's why, especially for a Ha Long Bay cruise, you should carefully read reviews on TripAdvisor or similar platforms to see which cruise will give you the best value for money instead of disappointing you with a ship in questionable condition or poor service.
Of course, the longer cruises are more expensive than the shorter ones, but again, it's worth it to get to the quieter regions of the bay and see the more untouched areas.
Cruise Options in Ha Long Bay
Many cruises offer very similar itineraries, mainly because traffic in the bay is strictly regulated by local authorities. This means that most one-day cruises will offer the same stops around the bay, regardless how much they cost. The service and facilities on the ship are where the big differences appear. There are large ships with tiny cabins where you'll feel like a sardine in a box, tiny boutique vessels with luxurious suites, a pool and an on-board spa, and everything in between.
If you are strapped for time, you can go for a one-day trip around Ha Long Bay with Onetrip. They are a reputable tour operator in Vietnam and make sure their guests have the best experience possible. On this outing, you will see the bay's main sights and get to try all the yummy local food.
Indochina Junk is another great option. They offer various packages ranging from one to three nights. Their boats are beautiful, and they take you to hidden spots other operators don't reach on their shorter tours. Here you can get a luxurious experience of Ha Long Bay and enjoy great value for money at the same time.
For a true luxury experience, try Heritage Line. They offer one- or two-night trips on luxurious boats with wonderful rooms. The price tag is quite steep, but you will have a trip that is truly remarkable. After a day of exploring, come back to the ship for a relaxing spa treatment, a dip in the pool or a sunset cocktail on their sundeck.
Ninh Binh
Also known as the 'Ha Long Bay on land, Ninh Binh is the perfect stop if you love hiking and spending time out in nature. On top of that, plenty of beautiful pagodas, cathedrals, and other important cultural sights await here!
What to See and Do As a Couple
Since Ninh Binh is such a strikingly beautiful area, plan at least two days to explore it. That will give you enough time to see a bit of everything.
Learn about Vietnam's History and Culture
You can start with the ancient city of Hoa Lu, the first capital of what was to become Vietnam. The Trang An – Tam Coc complex is also worth a stop. It's a site recognized by UNESCO and is best explored by boat. Hire a canoe and be rowed around the serene countryside, huge limestone karsts, and through the impressive caves.
You can also visit Bai Dinh pagoda, the largest recently built pagoda in Vietnam. There you'll see the large Di Lac Buddha of which the legend says he will come to life as a spiritual teacher when Buddha's original teachings are misunderstood by mankind.
Relax and Energize
For a relaxing end to your time in Ninh Binh, head out to Kenh Ga hot springs. The nearby town is visited mostly by Vietnamese guests, so it will give you a great local experience untainted by tourism. While it's not a luxurious outfit, it's a wonderful place to enjoy the beauty of nature and spend some quiet time together.
Get out into Nature
Cuc Phuong National Park is your top destination if you want to trek and be out in the greenery. Not far from Ninh Binh town, you can escape the bustle and noise of traffic and trade it for paths through a lush countryside and swarms of fluttering butterflies. Not bad for a honeymoon destination, right?
Accommodation
For a simple cozy place to stay, try the Tam Coc Riverview Homestay. There, little bungalows will welcome you and offer a quiet place to rest. Since it's close to the lake, you can easily take a stroll by the water in the evening and enjoy the sight of the town's lights after sunset.
If you want to be close to Ninh Binh's main sights and want to splurge a bit on a unique experience, try the Mua Caves Ecolodge. Their spacious bungalows with wonderfully comfortable beds are the perfect place to relax after a long day of hiking and exploring. The bathrooms here are the best though! Set right in the stone next to the bungalow, you can enjoy a bath with a completely unique view all to yourself.
The Emeralda Ninh Binh Resort is for you if you're looking for a luxurious stay. The resort features beautifully landscaped gardens and well-appointed rooms. The rustic wood finishing gives it a homey touch all while creating a great sense of place.
Sapa
Was trekking around Ninh Binh not quite enough for you yet? Then Sapa should be your next destination. Hop on the night train from Hanoi and you'll wake up in a whole new world the next morning – one of rolling hills, verdant rice paddies, and imposing mountains.
What to See and Do As a Couple
Explore Sapa Town
To start, explore Sapa town and its markets. There you can find some great souvenirs and try some of the local specialty foods you will not get anywhere else in Vietnam. Stroll through the endless lines of market booths, buy some fresh fruit to nibble on and find yourself some yummy restaurants for when hunger strikes. In the evening, you can sip a drink and enjoy views of the mountains at sunset… the perfect end to a day in Sapa.
Go for a Trek and a Homestay
If you've come all the way to Sapa, chances are, you don't want to just stay in the city. For a proper trekking experience, get a local guide and be off on your way on the many trails around Sapa.
To make the most of this trip, go for a homestay with a local family. That way you can learn more about the culture and customs of Sapa's hill tribes and spend some quality time with your host. While these homestays are usually very simple, this is your chance to see the real life of the people of Sapa. Time permitting, you can opt for a two- or even three-night homestay. That way you can explore different trails and put many miles between you and busy tourist areas.
Hike Mount Fan Si Pan
For the adventurous couples, conquering Mount Fan Si Pan, Vietnam's highest mountain is a must while in Sapa. The ascent takes anywhere from one to four days. Of course, you could also take the cable car to the top, but what's the fun in that?
While the hike is challenging, climbing to the top of Mount Fan Si Pan is a wonderful experience to share on your honeymoon. Since the hike can be quite strenuous, especially if you don't usually hike a lot or are not used to the elevation, come well prepared.
Accommodation
If you want to watch your budget or learn more about the local way of life, Chien De Homestay is a good option. Cozy cabins bring restful sleep and the friendly hosts will make you feel welcome and at home.
Just a little way outside of the city, the Eco Hills Homestay is great for couples who want to enjoy time together in a rustic setting and still take advantage of some fancy amenities. The hosts here are known for their amazing hospitality and will stop at nothing to make your stay great. Especially the homecooked dinner is something you shouldn't miss out on.
A luxurious hotel in Sapa, the Aira Boutique Hotel is the perfect place to pamper yourself after a few days of strenuous trekking. When you're sore and tired, this is the place to rest your muscles and relax while taking in the amazing views and indulging in some delicious food.
An Alternative for Adventure-seekers: Phong Nha Ke Bang National Park
Another great stop for newlyweds with a sense of adventure is Phong Nha Ke Bang National Park. While it's more expensive than many other destinations in Vietnam, it's worth it. Home to Son Doong, the largest cave in the world, this park is a wonderful sanctuary for many species of wildlife and plants in Vietnam. Spend at least two days here to make the most of this amazing place.
What to See and Do As a Couple
Explore Son Doong Cave
Of course, the biggest and most well-known sight in Phong Nha Ke Bang park is the Son Doong cave. You can go on extensive treks around the cave system complete with its own river, flora, and fauna. Since it was only discovered in the 1990s, it is still untouched and pristine. Unfortunately, only 500 people a year are allowed into the cave and a trip for one person is around 3,000 USD.
Phong Nha and Tien Son Caves
If the Son Doong cave is out of your budget, you can see other great caves in the park. Phong Nha and Tien Son are two interesting ones you should include in your itinerary. Phong Nha is huge and was used as a hospital during the Vietnam War when the Americans heavily bombed the area. Today you can get a guide to row you around one of the caves or guide you on dry land through the other. Whether you choose one or both, it'll be a fun adventure.
Trekking, Biking, and Exploring the Unique Scenery of Phong Nha Ke Bang
Apart from caves, there are plenty of other cool things to see and do in Phong Nha Ke Bang park which also come with an affordable price tag.
For example, imagine paddling along a deserted river in a canoe, trekking lonely trails in a lush green forest, discovering rare species of birds, or biking along paths which cut through this unmistakable landscape. While you can get a guide for some of these activities, it's also possible to do them on your own, if you want to spend time just the two of you. Either way, exploring Phong Nha Ke Bang will be an experience you'll fondly remember for many years to come.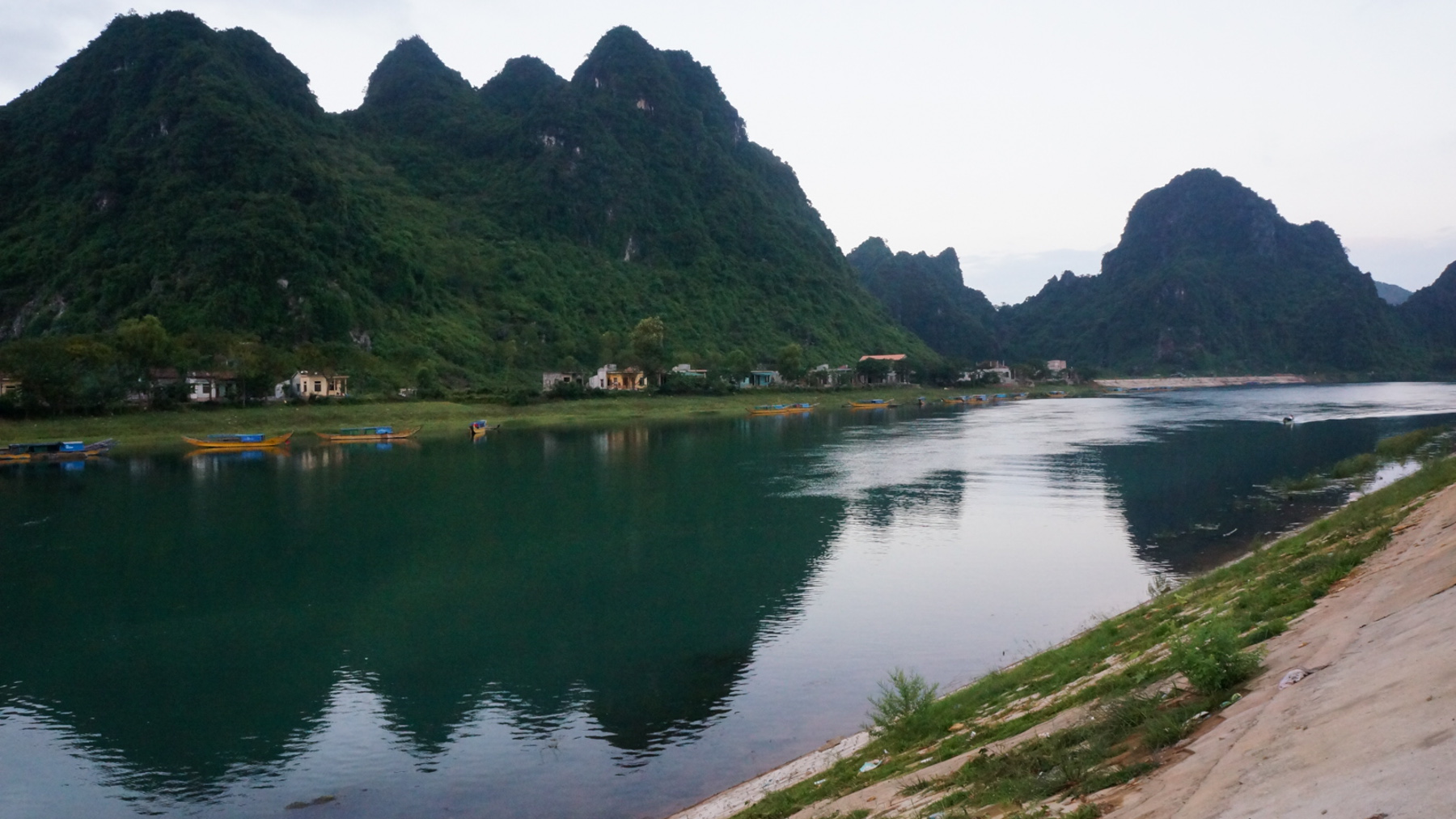 Accommodation
Phong Nha Farmstay is the perfect place to complete the experience of visiting Vietnam's biggest national park. This farmstay is set among peaceful rice paddies, close to the gates of the park. Relax here in the beautiful garden and enjoy tranquil evenings together as you take in views of the sunset and have a yummy homecooked dinner.
For a more luxurious option, stay at Phong Nha Lake House. Their rooms are equipped with all the amenities today's travelers expect and have a quiet, cozy atmosphere. For a romantic time, lounge around the garden or the terrace in the evening and enjoy the views of nature all around you.
Hoi An
One of Vietnam's most romantic places to visit is the historical city of Hoi An. Set right in the middle of the country, close to Danang and the ancient capital of Hue, Hoi An is an absolute must if you come to Vietnam, especially if it's for your honeymoon!
What to See and Do As a Couple
While the city itself isn't huge, there are plenty of things to see and do there. You can take a day to check some of the main highlights and spend one or two more days getting off the beaten path and exploring the city's great surroundings.
Explore the Ancient Town
Hoi An's downtown area is full of beautiful traditional merchant houses, old temples, quaint restaurants, and shops. You can easily spend a day here just wandering the streets, visiting some of these historical buildings, and learning about how the locals used to live in this area.
Of course, you'll want to get a photo by the iconic Japanese bridge but be aware that you're not the only one who does, so better get there early. When the sun is about to set, find yourself a rooftop terrace or a spot on one of the city's bridges to see the sun go down over the river.
Explore the Surroundings by Bike
There's no better way to explore Vietnam's countryside than by bicycle. Most hotels rent them out for free, so you can grab one for a day and be off on your way. Cycle through villages around Hoi An, go through the green rice paddies and have a picnic by the roadside while enjoying the beautiful view and tranquil atmosphere.
Do a Cooking Class
In Hoi An, there are plenty of cooking schools which will teach you how to make your favorite local dishes. Do some research to find one which best suits you, especially if you have preferences like vegetarian or allergy-friendly cooking. Many cooking schools have their own farms, so you'll get to go there to pick fresh ingredients for your meal. Spending half a day like this is a great way to explore Vietnam's diverse cuisine and learn something you can benefit from once you get back home.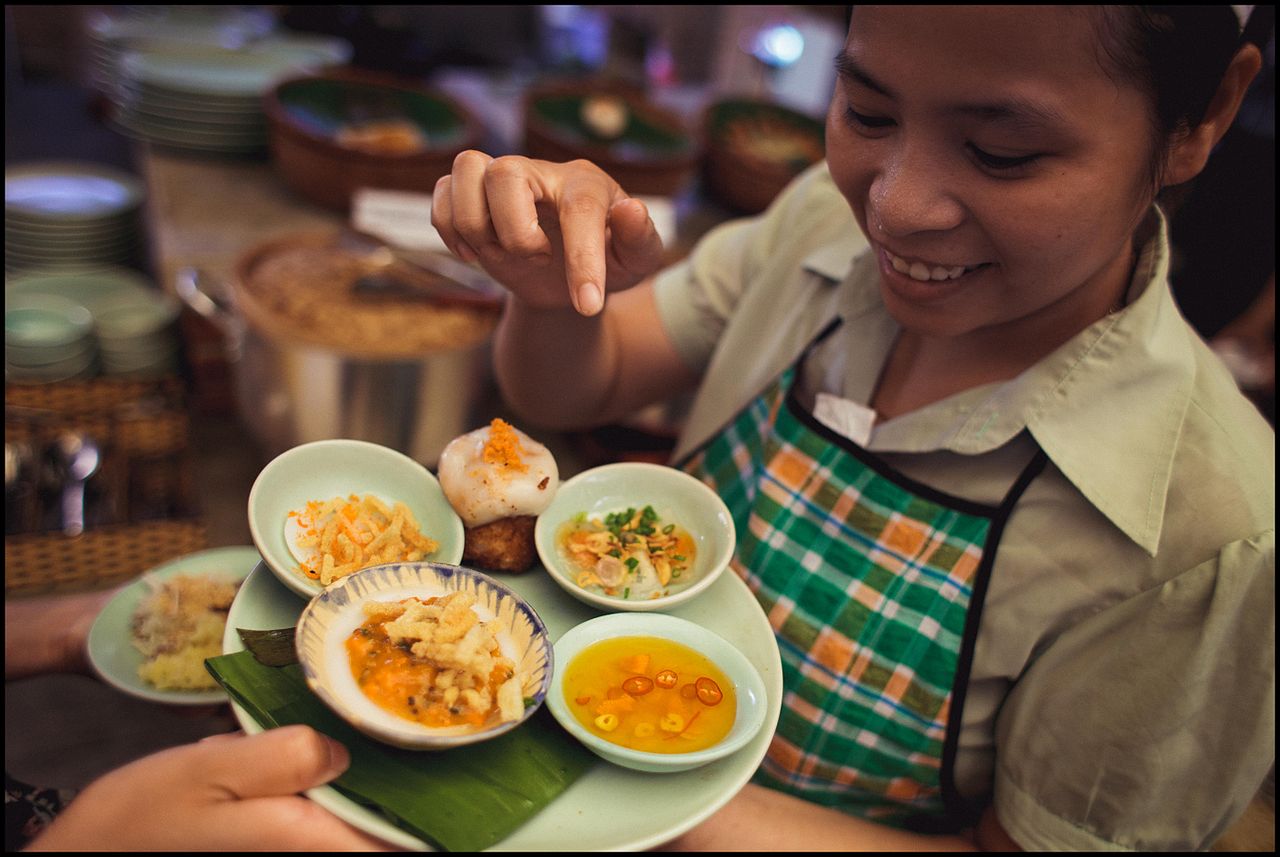 Accommodation
For a rustic yet romantic stay, the An Bang Village Homestay is great. It's close to the ocean so you can go for a dip in the morning and enjoy sunset views in the evening. Each of their villas is a bit different so depending on your tastes you can get one finished in wood, overlooking the ocean or designed in a modern style. When you book, check with the host to see what's available so you get the one you like best.
The Hotel Royal is part of the MGallery collection and offers elegant design, spacious rooms, and great service at surprisingly affordable rates. Spend a night or two here to pamper yourself and enjoy sweeping views of the river from your balcony as you watch the sunset after another wonderful day.
If you really want to splurge, the Anantara Hoi An Resort is your number one choice in the city. It's beautiful rooms and friendly staff will make your honeymoon stay unforgettable. And after a long day of exploring outside in the sun, the great spa here is the perfect place to relax and reenergize.
Cham Islands
Just off the coast of Hoi An, the Cham Islands are the perfect place to spend time on the beach while you are honeymooning in Vietnam. Hop on the boat for an 18-kilometer ride to this cluster of eight islands and get ready for some amazing beaches and delicious seafood.
What to See and Do As a Couple
Enjoy the Beaches
There are many beaches to choose from around the Cham Islands and depending on how easily accessible they are, you'll find them more or less busy. Usually, the further you go from an island's main docks, the more likely it is you'll get the beach all to yourself. Imagine spending a tranquil afternoon on soft white sands, looking out over turquoise water, just the two of you…
Go Snorkeling
The Cham Islands are part of a huge marine park which is protected by the government. That's why diving and snorkeling are limited in many areas but you can still find diving schools which will take you to terrific diving spots where you can see many colorful fish, corals, and other marine life.
Explore the Island
Like in most other places around Vietnam, even the small Cham Islands are home to some interesting pagodas, temples, and other historical sights to visit. Stroll around the town to find most of them or get a bike to cover the distances to the more remote locations faster. Having a bike will also help you get to the secluded beaches so it's a good investment for the day.
Accommodation
On the islands themselves, you will find only hostels and homestays. If you prefer a five-star resort, it's best to stay on the mainland and travel to the islands during the day. Even though the idea of a rustic homestay might not be your favorite, staying with a local family who will cook delicious food for you and share anecdotes about their daily life is a wonderful way to create a personal connection and make the whole experience more memorable.
Some great homestays to check out are Tam Hien's Homestay on Bai Ong Beach (+84 120 618 3516), Bich Van's Homestay (+84 169 500 7779) which is just around the corner, or Huynh Van Tri's Homestay Lang Beach (+84 974 994 189).
Ho Chi Minh City
The cultural capital of the south, Ho Chi Minh City should make it on your list if you have two to three days to spare. With its countless coffee shops, eclectic alleyways, museums and restaurants, it's hard to get bored in this city.
What to See and Do As a Couple
Explore the Historic Downtown Area
Start by exploring downtown Saigon on our first day here. The Independence Palace is an interesting architectural landmark and history comes to life here when you see how the president of South Vietnam used to live and work during the war. Of course, a stroll past the cathedral and a visit to the historic post office is also a must.
A visit to Chinatown is also interesting since it is home to plenty of ancient pagodas and restaurants which serve a tasty blend of Vietnamese and Chinese cuisine. It's also a great place to see everyday life in Saigon and practice your street photography.
Get Photos Taken in Traditional Clothing
A wonderful way to remember your honeymoon in Vietnam is to get photos taken in front of local landmarks while wearing traditional clothes. This is popular among both Vietnamese couples and visitors.
You'll easily be able to find great photographers on Facebook or Instagram and book them for a few hours for your photoshoot. They will also be able to help you rent an ao dai (the traditional Vietnamese dress for ladies) and suggest the perfect spots for photos. Some places to include on your list are the ornamental city hall, the river promenade as well as the post office.
Eat and Drink Like a Local
Saigon is known for its fun lifestyle. Here, every street has several restaurants, coffee shops, and bars. When you know where to go, Saigon is a true haven for foodies with its many themed international eateries, amazing Vietnamese food, strong café sua da, and homebrewed craft beers.
Accommodation
Saigon has many great hotels to choose from, so you'll have an easy time finding one you love. A unique place close to the river and walking distance from the downtown area is the beautiful Myst Dong Khoi. Its rooms are decorated with traditional fabrics and wood and offer all the luxurious amenities you can imagine. Their bar and restaurant are also a great place to have a romantic dinner and drinks after being out and about the whole day.
If you want to treat yourself to a truly extravagant hotel stay, the Park Hyatt Saigon is great for you. Their classy décor, amazing service, and sophisticated atmosphere will make your time there unforgettable. Their afternoon tea in the elegant lounge is a nice option for a lazy day and their bar serves up excellent cocktails at night, so the place has got you covered from dawn till dusk.
Finally, another good option for a hotel in Ho Chi Minh City is the Caravelle Hotel. They not only have beautiful rooms but also a spectacular rooftop terrace with amazing views of the opera house and the rest of downtown Saigon. This is a legacy hotel as it's been around for quite a while so maybe you can ask the staff for some fun anecdotes about past celebrity guests.
Mekong Delta
Just a stone's throw away from busy Ho Chi Minh City, the Mekong Delta awaits with its beautiful waterways, tropical forests, and countless markets. Here you'll have a great time exploring and getting to see the daily life of locals.
What to See and Do As a Couple
Get the Local Experience with a Homestay
For a truly local experience, book a homestay and tag along with your hosts as they go about their day. Join them on their trip to the market to shop for groceries, make local specialty dishes together, and learn from them where to go to get closest to nature.
Explore the Delta by Bike
Many homestays provide bicycles, so take them up on the offer and cycle around the beautiful villages, through rice paddies, and past blooming orchards. The fresh fruit in the delta is amazing, as are the seafood specialties there. Be sure to bring your appetite and try as many things as you can! If you want to get around faster, rent a motorbike.
Chill out with a Tour or a Cruise
Alternatively, you can go for an organized tour. There are options from one to four days which take you to plenty of different villages, markets and places where local treats like rice paper and coconut candy are made. To make sure you have a great time, do careful research and only book with a reputable company like our partner Onetrip. There are plenty of tours where large groups are herded from shop to shop, so try to steer clear of them!
Liked the cruising experience in Ha Long Bay? Then why not do a cruise around the Mekong Delta? That way you can sit back and enjoy the view from your cabin's balcony as you sail along the river and get off at interesting stops every so often.
Accommodation
Depending on which town in the Mekong Delta you will be staying in, you will have a larger or smaller choice of accommodation. In Sa Dec Maison de Bambou Phuong Le Vent is a popular homestay because of its cute bamboo bungalows and its proximity to markets and plant nurseries.
The Island Lodge in My Tho is a hotel which offers more comforts and amenities than homestays. There you'll find a pool for a morning dip and a restaurant with a beautiful view, perfect for a candlelight dinner.
Just outside of Ben Tre, Quoc Phuong Island Homestay offers a true homestay experience. They only have four rooms, so you really feel like you are part of the family here. The hosts are known to take guests along to the market and happily share family recipes for local treats.
Whether you are looking to go on an exciting adventure or want to spend your honeymoon relaxing on beautiful beaches and chilling out in cool cities, Vietnam has a bit of everything for you. The best thing is, that even on a budget you can have some truly unforgettable experiences that will make your honeymoon a trip of a lifetime.
If booking this many stays and figuring out where to go seems exhausting, think about staying with Christina's throughout your journey. Our hosts will give you great itineraries. We also have tours and newly launched Joi restaurants to fit your every hungry need.
The post The Ultimate Honeymoon Itinerary for Vietnam appeared first on The Christina's Blog.