Deserted beaches, quaint towns, breathtaking landscapes and vibrant cities… all that and more makes Vietnam an amazing country to travel to. And since it's not as popular as some of its neighbors yet, it is still more original and less touristy. Especially if you're looking to recharge and get off the beaten path, Vietnam is for you. To make sure your trip to Vietnam is a success, we've put together a list of 24 travel tips for you, so you can avoid common pitfalls, be prepared for whatever may come your way and fully enjoy your time here.
Before Your Trip
As Vietnam has become more open to travelers from around the world, it has become much easier to get a visa as well. Depending on where you're from, you might qualify for a visa on arrival or you have to register for one before your trip and pick it up when you arrive at the airport.
There are many online agencies who are happy to help you get all that sorted but beware of scams and exorbitant fees. Do a bit of research and read online reviews to know which companies you can trust. While you're looking into the whole thing, you can also check the website of the Vietnamese embassy in your country. They will have the most recent information about which kind of visa you need for your trip.
Also, know how long you can stay in the country. Depending on your nationality, your visa can be valid anywhere from seven to thirty days. To avoid an unpleasant surprise (and a fine) when you leave the country, check your visa's expiration date and apply for an extension in time if necessary.
Check Your Vaccines and Travel Insurance
Before you grab your bags and hop on a plane, remember to check your vaccines and get good travel insurance. While this point might not be the most fun part of preparing for your trip, it's one of the most important.
When traveling to Vietnam, having all the standard vaccines is a good idea. Shots against Tetanus, Hepatitis A and Typhoid are recommended for all travelers. If you plan on going trekking or want to spend a lot of time in rural areas, vaccinations against Diphtheria, Hepatitis B and Rabies among others are suggested. For more information about vaccinations, check what the Tropical Medical Bureau says about Vietnam.
Apart from vaccines, it's important to use bug spray to protect yourself from mosquito bites.
Having a good travel insurance plan is key to ensure you're taken care of in the unlikely event of something happening. Insurance doesn't even have to be expensive but it's great for peace of mind. Shop around a bit and check whether activities you're interested in are covered. This could include hiking, diving and driving in a foreign country. And believe me, once you see how 'creatively' people drive in Vietnam, you'll be more than happy you spent a few dollars on insurance.
Learn A Few Basic Words of Vietnamese
In most places tourists go, you will find people who speak at least some English, French or even German. But don't rely on that or use it as an excuse not to learn a few words of basic Vietnamese. It's something locals will greatly appreciate and of course, it will help you too.
Here are a few simple phrases to memorize before you go:
Hello – Xin chao
Thank you – Cam on
Excuse me/Sorry – Xin loi
What's your name – Ban ten gi
My name is… – Toi la…
Where is… – O dau…
I'm hungry – Toi doi
I'm thirsty – Toi khat nuoc
I'm vegetarian – Toi an chay
Restaurant – Nha hang
Downloading Google Translate and having the Vietnamese dictionary available offline is also a good way to communicate. It can also help avoid misunderstandings and make things go a lot more smoothly, so write a little cheat sheet and get someone to help you master the pronunciation (which can be quite challenging).
What to Bring
Pack for All Seasons
Seasons in Vietnam can differ from region to region. While it might be snowing in Sapa, Ho Chi Minh City will have what most western countries would describe as pleasant springtime weather. And while it's dry and sunny in Danang, another province might be experiencing their rainy season.
To be ready, bring a mix of clothes. Working with layers is the best since it offers flexibility. A must for everyone is a set of shorts, t-shirts, long pants, a hoodie or two and a light rain jacket.
If you're planning on exploring the north during the cooler part of the year (November – March), bring a warmer jacket, a scarf, a hat and maybe gloves. Don't want to haul all that stuff around during your whole trip? No problem, you can buy everything at the hill stations as long as you've budgeted for the extra expense.
Bring Your Own…
In Vietnam's major cities like Hanoi, Danang and Ho Chi Minh City, you will find many brands you're familiar with from back home. That includes fashion, cosmetics and even medication. However, to be sure you have exactly what you need when you need it, bring the most important things with you.
Stomach trouble is quite common among travelers, unfortunately, so carry some Imodium, probiotics or whatever else you know works for your body. Maybe some mineral supplements are a good idea in case you fall sick with diarrhea for a few days.
Sunscreen and other skincare products are also something you should bring from home. Of course, you can buy them in Vietnam, but many products you'll find will proudly proclaim to be 'whitening'.
Dress Appropriately
Vietnam is forward-thinking and modern, but some care should still be taken when visiting certain sights. Have a long pair of pants or a shawl with you to cover up for temples to show respect. Many temples will not require this but dressing appropriately will show that you appreciate and honor the local culture, something which can go a long way with locals.
Dressing conservatively can also help protect against the sun. Don't underestimate its power! Even in winter, you can easily get burnt if your skin isn't used to it.
Travel and Transportation
Do Your Research
There is so much to see and do in Vietnam that you need at least a month to visit and explore all of the main points of interest. If you want to get a better feel for the country or would like to spend extra time diving, hiking or just chilling by the beach even more time would be necessary.
Of course, many travelers can't spend a month or more traveling. This is why it's important to do your research before your trip. Find out what all there is to see, pick your favorites and plan around that. This way you'll see everything you want without the stress of running from one place to the next just for the sake of it.
Plan Ahead
Even if you prefer to wing it, getting a few things lined up before you arrive is a good idea. For example, booking domestic flights well in advance is a great way to cut travel time and it's cost-effective. Last-minute reservations can quickly cost you double what it would have two weeks before. If you're flexible, check flights at off-peak times. During the week they are usually cheaper than from Friday to Sunday.
In hotspots like Ho Chi Minh City and Hanoi, you will usually have an easy time finding a hotel or hostel even without a reservation. However, if you're going to a smaller city or are traveling during high season, booking ahead is the safer option.
Especially if it's your very first day in Vietnam, having a room waiting for you is great. You're less prone to getting scammed into staying at your taxi driver's 'friend's' hotel and can gather your bearings and settle in.
Tours Can Be A Good Option
Traveling around Vietnam on your own or with a group of friends is a great experience. You get to explore so many fun and interesting places and even simple things like going for a trek or finding your way to some hidden temple ruins can feel like a fabulous adventure.
Since people in Vietnam are generally very friendly and helpful, nothing speaks against organizing your own trip around Vietnam. In some places, tours can be a good option though. Provinces like Ha Giang, where you need your own transportation and few foreign tourists go, is a good place to visit with a guide. That way you have a local pointing you to the best spots and you don't risk missing out on the best places.
When booking tours, it's important to do research on the company so you don't end up on a huge tourist bus and get herded from one souvenir shop to the next. The good thing is though, that in recent years many small operators have popped up who work closely with local communities, share the profits with them and make sure guests have a customized, unforgettable experience.
Allow Time for Travel – Vietnam is Long
There are many options to get around Vietnam on a budget. If you don't want to fly, you can opt for night buses, minivans or trains. Overnight trips usually start at only a few dollars and are surprisingly comfortable, safe and reliable. Buses are way cozier than most travelers would expect, especially if you are coming from Europe.
But as comfortable as transportation can be, it takes a while. Roads are often busy or crowded with a variety of vehicles including cars, trucks, motorbikes, bicycles and oxcarts which significantly reduce the speed at which you can travel. That's why it's wise to plan your longest trips at night. This way you avoid losing time on the road and you save money on a hotel.
Rent A Motorbike (with A Helmet!)
Many places in Vietnam are much easier to explore if you have your own transportation. The big cities are easy to get around with taxis and Grab (the local version of Uber) but once you get to smaller towns or rural areas, having your own set of wheels makes a world of a difference.
Luckily, renting a motorbike is easy in Vietnam. Every spot frequented by tourists has numerous shops renting out bikes and gear for very reasonable prices, usually starting at 3-5 USD per day plus gas. The only thing you need is a copy of your passport and a driver's license. While most shops won't ask for a license, you should still carry it with you in case you ever get stopped by a police officer.
When renting a bike, make sure you're getting it from a reliable partner. Shops recommended by your hostel or hotel or a place you've read good things about online are usually a good option. Since there are quite a lot of scams, it's important to keep your eyes open and pay attention. Check your bike carefully before leaving the shop. Note any scratches or other damage beforehand so you don't get busted for it later.
And most importantly, always wear a helmet. It's the law and it's just so much safer than riding without one. Here, bicycles, motorbikes, cars, buses, all kinds of carts and trolleys share the road in a chaotic, yet somehow organized way. Newbies can have a hard time understanding at first. It can all feel a bit overwhelming at the beginning, so give yourself some time, go for a few slow test rides around the block and soon you'll get the hang of it!
Go for A Bike Ride
Getting around cities like Hoi An, Hue or the province of Ninh Binh is super fun on a bicycle. Especially when you leave town and explore the surrounding countryside, doing so on a bike is easy and it gives you a whole new perspective. You can stop anywhere you want, go through the smallest streets or bike right along the narrow paths by the rice fields.
When you're the only one going down a deserted road on your bike with breathtaking landscapes all around you, you'll feel like the first person ever to come and discover this place.
Finding bikes to rent is very easy. Some hotels and hostels offer them for free or can point you to a place where you can rent them for as little as 2-3 USD per day. Check them well for any issues, grab a helmet and be on your way!
Vietnam – A Foodie's Paradise
Try Street Food
Like other countries around Southeast Asia, Vietnam has a vibrant street food culture. Trying a couple of dishes from the many carts lining the streets in every city and town is an absolute must!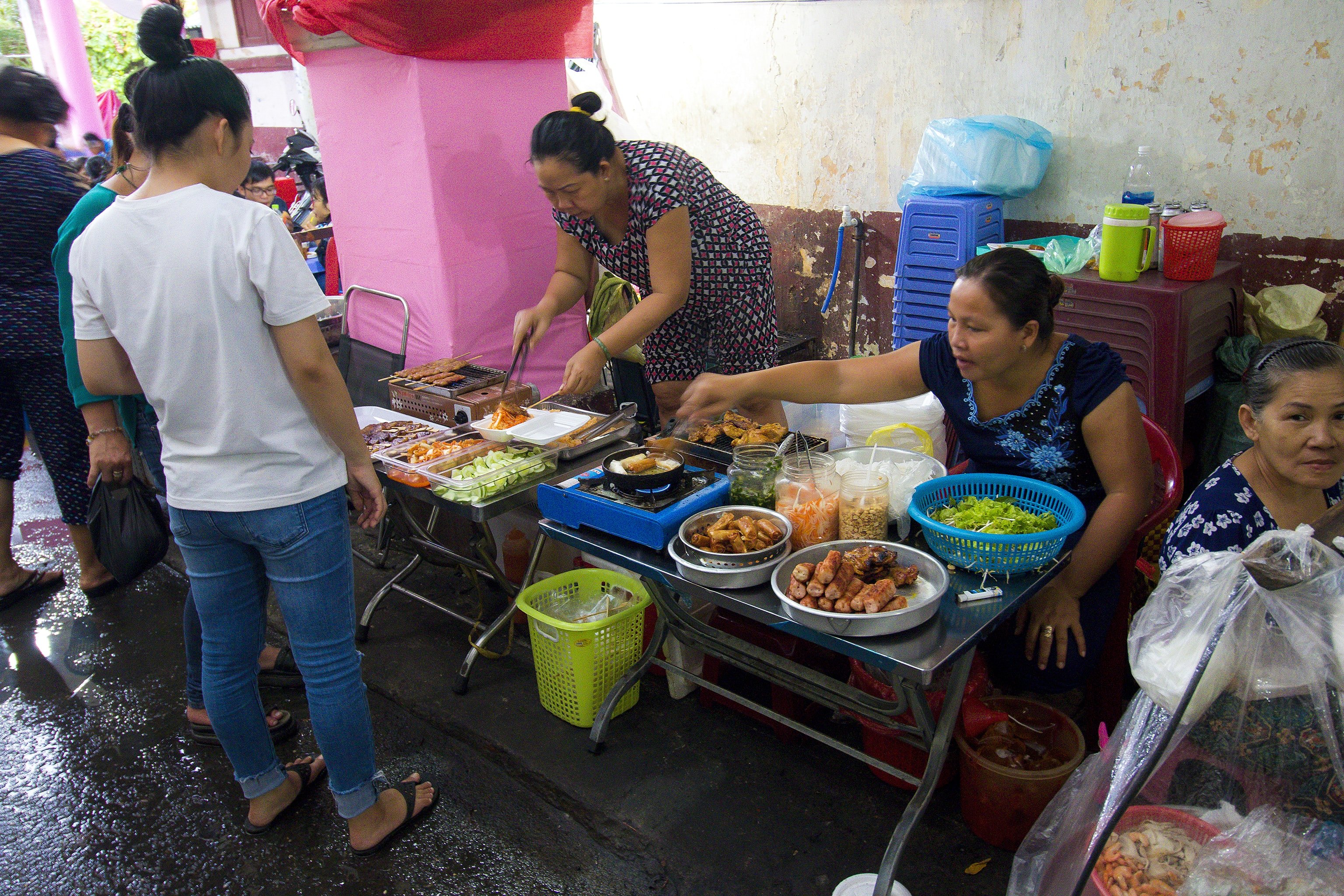 My favorite dishes include banh mi, a Vietnamese sandwich, banh xeo, a fried pancake stuffed with veggies and meat, various noodle dishes, bun cha, barbecued meat with rice noodles, bot chien, crispy fried rice flour patties with egg and many more.
Understandably, some travelers feel a bit skeptical about getting food at stalls right by the road. Many have questionable hygiene and no refrigeration. The secret to enjoying as much street food as possible and not falling sick is to choose the right stall and the right dishes.
One thing to check is whether food is freshly prepared. If you can watch the vendor making your dish right in front of you, that's already a good sign. Another rule of thumb is to go for hot food. Trying Vietnamese noodle dishes on the street is quite risk-free as everything is cooked and boiled. To be on the very safe side, you can avoid using the fresh herbs as condiments if you don't trust how well they are washed.
Another tip is to go for a busy booth. There, the turnaround is high. Food doesn't have time to sit out and spoil because there are so many guests. A lot of customers is also a sign that the food is good.
Finally, while you can't control how well things are washed or how long food sits out, the one thing you can always do is wash or sanitize your own hands before eating. If there's no sink use hand sanitizer to reduce the risk of catching a stomach bug.
Enjoy Vietnam's Countless Noodle Dishes
What would a trip to Vietnam be without having some of its world-famous noodle dishes? Whether you try them by the side of the road or in a restaurant, get ready to have your mind blown by the richness of flavors, textures and the crazy number of different noodles you'll come across!
Some must-try noodle dishes are:
Pho bo – the best-known noodle soup made with flat rice noodles and thin strips of beef, is known for its strong aroma and distinctive flavors brought on by aniseed and cinnamon. Condiments include sawtooth herb, basil and lime for an extra dash of flavor and freshness.
Bun bo Hue – the specialty dish of the ancient capital, this rich soup is made with a tasty beef broth, lemongrass and thick round rice noodles. As condiments, you'll get shredded banana blossoms, bamboo shoots and fresh herbs which add a whole extra layer or flavor.
Bun rieu – perfect for seafood lovers, this soup is made from freshwater crabs and served with thin rice noodles and pork or tofu. Tomatoes and tamarind give it a unique tartness.
Mi quang – served with broad rice noodles often dyed yellow with turmeric, Mi Quang is a specialty from Hoi An. The broth is served with pork, shrimp or tofu and fresh rice crackers which taste great when dipped in the soup.
This is just a short list of Vietnam's many noodle dishes, so you'll probably discover many more once you get here and start wandering the streets.
Taste Local Specialties
Vietnam is known for being culturally diverse. This is reflected not only in local traditions but of course also in the food you will eat in the different regions. While some dishes can be found around the country (like pho and banh mi) they will still be prepared differently depending on whether you're having them in the north, center or south of Vietnam. Some other specialties are harder to find outside of their native region, like Ninh Binh's tasty goat dishes or some of the seafood treats you'll find around Phu Yen.
To really discover and get to know local cuisine, try to eat in places where you see a lot of locals. That way you can be sure the restaurant is good. Maybe learn how to say, 'what's the local specialty?' in Vietnamese so you can ask around for foods you must try.
To give you a head start, here are some regional dishes:
Pho ha noi – pho made in the classical northern style
Cha ca – the famous northern Vietnamese turmeric fish with dill
Bun cha – Hanoi's famous pork patties served with rice noodles
Mi quang noodle soup – Hoi An's specialty dish
Cao lau – Hoi An's rich rice noodle soup with crispy pork
Bun bo hue – the classic from the ancient capital of Hue
Com tam – a popular breakfast dish of rice and pork from the south
Banh khot – sweet and savory fish cakes served in Vung Tau
Clay pot dishes – a southern specialty, rich in flavor and prepared with meat, seafood or tofu
Eat Vegetarian on The 15th and 30th of Every Month
With beautiful temples on every other street corner, it's not surprising that Vietnam has a rich Buddhist heritage. And while that might not be so different from other countries in the region, there is one very unique way it manifests itself. Every month on the 15th and 30th, many Buddhists in Vietnam eat vegetarian (chay) food. That means no meat, fish or even eggs!
On these two days, you'll see vegetarian restaurants get super busy as people seek out places to eat their favorite dishes, minus the meat. Some temples will also be serving food on these days, sometimes even for free. If you happen to stumble upon one, see if you can join the feast. People serving food there are usually happy to welcome guests and tell you about their culture and traditions. Talk about the perfect way to make local friends and experience Vietnamese culture and hospitality!
Money and Shopping
Feel Like a Millionaire
If you've done research at all about Vietnam, you'll know they use the Dong as currency which is valued at around 22,000 VND to the US Dollar. No, that's not a typo. That means that a 10 USD restaurant bill is around VND 220,000. Feels weird, right?
It's definitely something you need to adapt to. When you first change money, take some time to familiarize yourself with it. Get used to the smallest bill being 200 VND (it hardly ever gets used) and the biggest being 500,000 VND. Try to remember which bills are which color, and how much they are worth in your currency.
This will help you count your change while shopping and make it easier to spot errors. While an honest mistake can happen even to locals who are used to the money, often vendors in tourist places will try to get an extra few bucks out of you by giving back wrong change. By knowing the money and counting it right in front of them (before you turn away) you protect yourself from this.
Also, many things in Vietnam are probably a lot cheaper than in your home country. That doesn't mean that's true for everything though. Many travelers simply assume prices are low and don't go to the trouble of converting them into their own currency to check. Don't make that mistake as you'll just end up depleting your vacation fund way before you go home.
Shop Your Heart Out
As we mentioned, many things are quite cheap in Vietnam, so you can go crazy with shopping. Local markets offer a plethora of cool products that friends and family will love. Examples are the colorful lanterns you'll find in Hoi An, beautiful cinnamon boxes and lacquerware, filters to make Vietnamese drip coffee, ornamental chopsticks or the famed tiger balm.
Vietnam is also a great place to buy specialty foods like the fragrant lotus tea, Vietnamese coffee or cooking ingredients which are hard to find in Europe or North America.
If you're looking for something fancier, get some clothes tailored. Hoi An is a great place for that, but you can find tailors in other cities as well. Getting something stitched usually costs the same or even less than if you'd buy it at a big-name store back home, so why not have something custom-made for once?
While you can get a good deal on souvenirs and foodstuff, international brands are quite expensive here. Import fees drive up the price so many labels you know from home are actually pricier in Vietnam.
Get Ready to Bargain and Haggle
If you're in a store in a mall, prices are fixed. But in most markets and street booths, you can haggle and get a good deal. Especially markets, they're a great place to negotiate prices and practice your bargaining skills.
A rule of thumb is that you cut the asking price in half and slowly move up from there. If you set your own limit on how much you are willing to pay, you'll know when to walk away. Often turning away helps, as vendors who are afraid of losing the sale will offer a better deal. Got a decisive 'no' several times in a row? Maybe it's time to change the price you're giving.
If you are not offered the price you want, it's alright to walk away, as long as you keep it friendly. Smile, say thank you and be on your way. Getting upset with the salespeople won't do any good and probably only get the owners of the stalls around you to avoid you.
Finally, if a vendor accepts the price you asked, you should buy from them. If you don't, it's considered very rude and the shop owner might get very upset with you.
Watch Out
Don't Get Scammed
Unfortunately, Vietnam has a reputation for scams. Especially if you're an unsuspecting visitor, you might fall prey to some of them, so be a little wary.
Taxis are one area to be careful. Try sticking with the major companies like Vinasun, Mailinh and VinaTaxi or simply use Grab (the local version of Uber). That way you'll always pay a fair price and travel safely.
There are fake taxis in some of the big cities. Once you know about them, they are easily recognizable though. Often, they are white cars with only a phone number and small logo taped to the side.
Another thing to know is that people you take photos with might ask for money. A good example of this are the fruit ladies in Hanoi. They carry beautiful baskets of fruit on their shoulders and often happily pose for photos or ask if you would like a picture with them. If you go for it, be ready to pay them. For a free photo of beautiful fruits, try local markets. Buy something at a stand and then ask if you can click a picture.
Overcharging is another common problem travelers face. In restaurants where no prices are listed on the menu, ask before you order otherwise the bill might offer an unpleasant surprise. Also, check the bill carefully. 'Mistakes' happen a lot, so verify both the original and edited versions.
Finally, there are many black sheep among tour companies, especially in popular places like Halong Bay. They might only give you very limited time to do certain activities (like snorkeling or swimming) or severely overbook their trips, neither of which are fun. Also, make sure you book a return trip as a one-way journey leaves you vulnerable to extortion since you only have one option to go back home.
On a happier note, don't let all this worry you too much. If you keep your eyes open, do a little research and use common sense, you'll be fine!
Be Wary of Pickpockets
Pickpocketing is an issue in many busy places all around the country. Especially if you are using your phone while walking outside, someone might just drive by and snatch it. The same goes for small purses with delicate straps.
To avoid this, use your phone only when you're far from the street and hold on to your purse. Pickpockets target people who look distracted and are not paying attention to their bag. Even by just holding it close, you'll become way less attractive to them.
When interacting with the aforementioned fruit ladies or other street vendors, you should also be watchful. As they often operate in groups, your phone or wallet might disappear while you are negotiating a price.
Watch Your Stuff
This point goes along with the one above. Since pickpockets are not uncommon, always watch your belongings. Going to the bathroom? Take your backpack with you. Need to sort through your documents? Do it in a corner out of sight. And always be careful when handing your passport, driver's license or other important papers to people. Watch what they do with it and make sure you put everything back in a safe place.
Cross the Street Like A Local
As we've mentioned, traffic and driving in Vietnam are quite different from what most travelers are used to at home. For one, the crazy number of motorbikes is a surprise to many… and let's not forget that many of them drive as if traffic rules were more like optional guidelines.
As long as you're watching this bustling, chaotic dance from a café or the sidewalk, it still seems entertaining, but the first time you need to cross a road, you might feel a bit differently about it. But honestly, there is nothing to worry about!
When crossing the street, wait for the traffic to let up a bit. When the cars and bikes are still far enough away, confidently step onto the street. Always look in the direction of the traffic and walk slowly. That way approaching bikes can drive around you. Don't worry, they will! Holding out your hand will also signal to drivers that you're about to cross so they can slow down or change lanes.
If you're not sure about this, try crossing the street with a local. Just walk when they walk and stay right next to them. Then once you get the hang of it, you can do it on your own.
Talking about Politics and Culture
Today, travelers in Vietnam are warmly welcomed. Vietnamese people understand that you might act differently or don't know about certain things because you come from a different country. That's not an excuse to act disrespectfully though. Familiarize yourself with the main dos and don'ts before traveling there and you'll have an easy time connecting with locals and even making new friends.
When visiting Vietnam, without a doubt you will hear and read about the country's past. Whether it's French occupation or the Vietnam War (or the American War as they call it here), the official opinion about it all is very clear. Don't challenge it. Even if there are things you don't agree with, there's no point in starting an argument about it. As you know, talking about politics can easily turn sour even when you're at home. So, when you come to Vietnam, best avoid it altogether and focus on the many other interesting things you can learn about, see and do here.
Getting ready to travel to Vietnam for the first time? We hope these pointers help you avoid the common pitfalls and make the very most of your trip. Vietnam is such a wonderful country with so many great things to discover. By keeping your eyes open and having our tips in mind, you'll get to see it from its best side and have countless unforgettable experiences.