With more and more people moving their businesses online, the number of digital nomads is increasing drastically every year. Many decide to travel the world, work from remote places and have unforgettable experiences. To make all this a bit easier for you, we've put together a quick guide of the top three cities to visit if you are a digital nomad in Vietnam. Find the best places to stay, co-working spaces to meet like-minded businesspeople and coffee shops where you can chill out and get stuff done at the same time. Ready to start your life as a digital nomad in Vietnam? Let's go!
Hanoi
Where to Stay in Hanoi
As a foreigner coming to Hanoi, there are three districts to consider. The first and most expensive is Tay Ho. This is where most expats live, and you'll find high-quality western-style infrastructure including shops, restaurants, medical practices and schools.
Ba Dinh is more Vietnamese and consequently somewhat less expensive than Tay Ho. There you will find everything you need but in a more budget-friendly version. Dong Da is right next to Tay Ho and is almost 100% Vietnamese. Living there will give you a chance to make friends with Vietnamese neighbors and learn more about the real life of locals. And of course, it's a good bit cheaper too.
For housing, you can easily find your own apartment in one of the city's many fancy high-rises. Rent is quite manageable at around $850 for a one-bedroom or $1,000 for a two-bedroom place. Of course, you can do some bargain-hunting to find something even better or choose a more luxurious home if your bank account allows it. If you're on a budget, you can share an apartment with others. Rooms usually run at around $200 depending on their size and the location.
To start out, you could stay at a hostel or maybe one of Christina's apartments for a few days until you find something you like. The process is quick in Vietnam. Good places to look for all types of accommodation (and countless other things) are Facebook groups like Hanoi Massive or sites like the New Hanoian.
Co-working Spaces
Once you've found a place to live, it's time to get some work done. Check out the co-working places we listed below for some inspiration.
Toong Coworking Space
With three locations in Hanoi (one of which is right by the Old Quarter), four spots in Ho Chi Minh City and one in Vientiane (Laos), Toong is a great place for location-independent entrepreneurs and freelancers.
The modern spaces offer a variety of seating options ranging from desks in open-plan areas to private booths or offices of various sizes. After a long day, join Toong's cool events to meet your fellow co-workers or learn more about business and lifestyle-related topics at their regular workshops.
Day pass: 120,000 VND
Hot desk for one month:
For one location: 1,500,000 VND
For all locations: 2,000,000 VND
Addresses:
25T2 Hoang Dao Thuy, Hanoi
8 Trang Thi, Hoan Kiem, Hanoi
98 To Ngoc Van, Tay Ho, Hanoi
CoGo Coworking Space
One of Hanoi's top co-working spaces, CoGo currently has three branches spread out over Ha Dong and Dong Da districts. While they're a bit far from the center, the great atmosphere and fun crowd make CoGo worth a try.
Their modern offices come equipped with top-notch facilities, including fixed and hot desks, meeting rooms, phone booths and a recreational area where you can sit and take a break from work. The community of local and international co-workers is made up of digital entrepreneurs, tech start-ups, freelancers in various industries and creatives. To get to know other members, join one of their regular events or start a conversation while you sip your coffee in the lounge.
Day pass: 100,000 VND
Hot desk for one month: 2,000,000 VND (this gives you 24-hour access to all CoGo locations)
Addresses:
TNR Tower, Level 16, No. 54A Nguyen Chi Thanh Street, Dong Da District, Hanoi
VIET Tower, Level 3-4, No. 01 Thai Ha Street, Dong Da District, Hanoi
HOGUOM Plaza, Level 12, No. 102 Tran Phu Street, Ha Dong District, Hanoi
Moonwork Coworking Space
Just west of the Old Quarter, Moonwork welcomes digital nomads and entrepreneurs from around the world. Its light-flooded offices are a great place to get to work, whether at a flexible desk or in your private cubicle.
What sets this place apart is that it's in the middle of the city but so full of plants that you'll feel like you're on a walk in nature, a welcome change when you're staying in Hanoi. To make sure you can take fun breaks, members have access to balconies and can benefit from a coffee corner complete with free tea, coffee and other goodies.
Hourly rate: 22,000 VND
Hot desk for one month: 1,850,000 VND
Address: No.34, Alley 28B, Dien Bien Phu Street, Hanoi
Coffee Shops
Coffee is one of Vietnam's most popular drinks and is available at pretty much every step you take. No matter where you are in the city, coffee shops are never far. While many of them are simple holes in the wall with plastic stools, there are several where you can sit for a whole day and get some work done.
To Chim Xanh
Set in one of Hanoi's many old, slightly dilapidated-looking buildings, To Chim Xanh, or the Bluebird's Nest, is hidden away from the noise and bustle of traffic and street life. Their ground floor room is spacious with plenty of big tables to set up your workstation. The internet is reliable, and the coffee is amazing. They serve simple dishes for lunch so there's no need to interrupt your work to find food. For a break, head up to their beautiful rooftop terrace and take a breather before doubling down on work again.
Address: 13/19 Dang Dung, Hanoi
Spacebar Cafe
Set in an old villa in the heart of Hanoi's expat area, Spacebar is part of Clickspace, another popular co-working office. The café is slightly less formal than Clickspace and offers digital nomads a chance to work there on a day-by-day basis, without any membership fees to worry about. This café's interior is a fun jumble of different styles but with plenty of great workstations ideal for a productive day. And what's best: the internet here is reliable and fast.
Address: Villa 15, Lane 76, To Ngoc Van, Quang An, Tay Ho, Hanoi
Tranquil
If a quiet workspace is your thing, head on over to Tranquil. This chilled out spot right next to the Old Quarter is the perfect place for anyone who wants to leave the noise behind to sit in a quiet space and concentrate on work. Big tables make it easy to set up your computer and the internet is reliable, so you can always stay connected at a decent speed.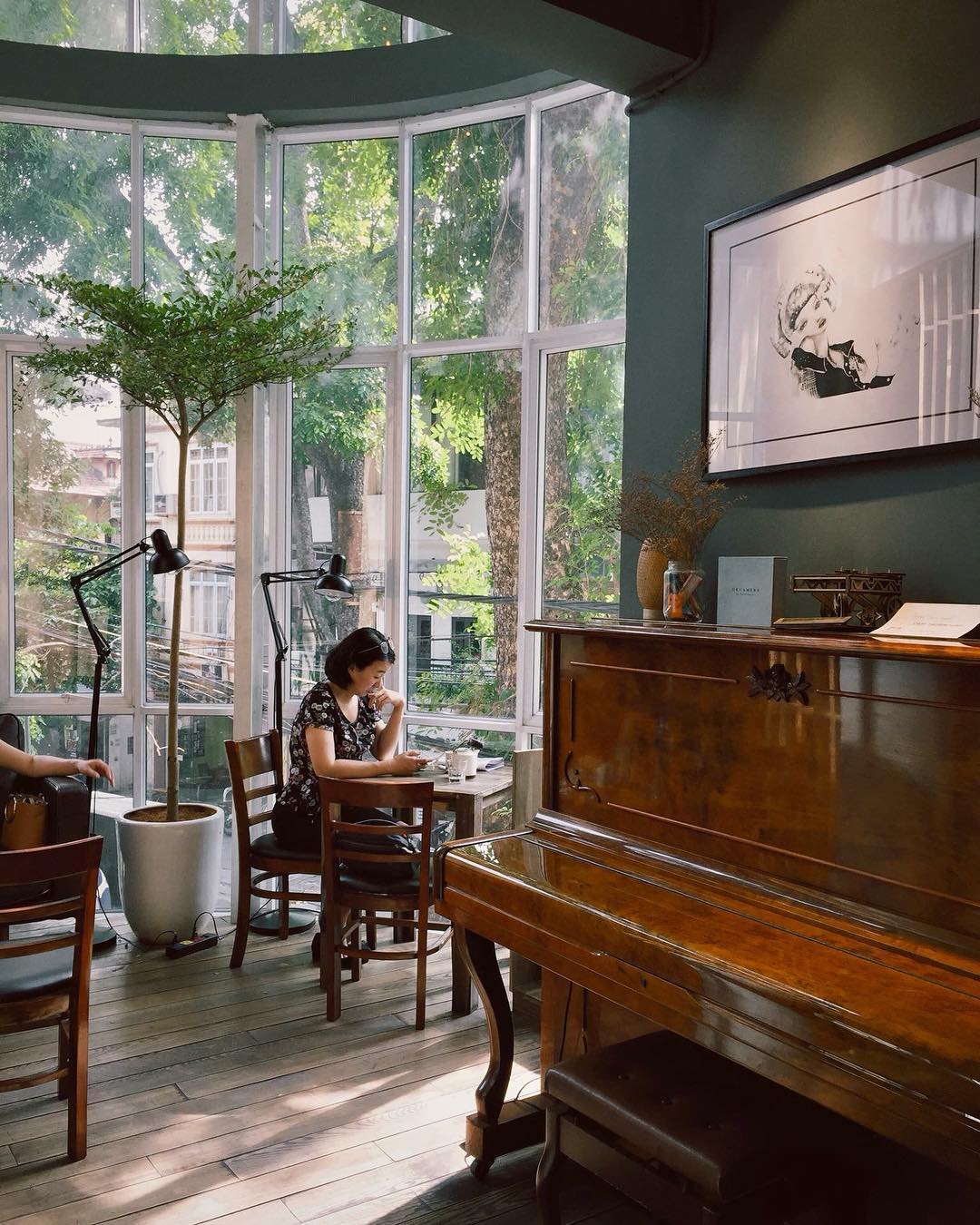 The coffee here is famous, so maybe have your morning cup of joe here before you dig into your projects. When in need of a break, explore Tranquil's little library and page through some of its many books on topics including art, music, history or fiction.
Address: 5 Nguyen Quang Bich, Cua Dong, Hoan Kiem, Hanoi
Lifestyle
If you want to explore more of Vietnam's unique culture and natural beauty, Hanoi is a great place to live. From there you can easily take buses and trains to beautiful spots like Ninh Binh, Ha Long Bay, Sapa or Ha Giang. Since you're already here, might as well throw in a few three-day weekends to experience these amazing places!
Apart from being a great home base for travel, Hanoi also has a bustling art scene. If you want to know what's happening, check out some of the cool art cafes, small galleries or scour Facebook to find out about fun upcoming events.
When moving to Hanoi, keep in mind that it is the country's capital and the busiest city in the country. It's not surprising that traffic can be a nightmare and pollution is generally quite high. If noise and bad air are something you can't or don't want to deal with, maybe consider Danang as your home base in Vietnam instead.
Danang
Where to Stay
If the hustle and bustle of Ho Chi Minh City and Hanoi are too much for you but you still really want to stay in Vietnam, Danang might be a good place to check out. Set in the center of Vietnam, right on the sea, it's home to some of the country's most beautiful beaches and clean waters.
When first arriving here, it's always good to start out at a hostel, hotel or one of Christina's apartments. That way you give yourself the time to get to know the city a bit and check out condos, shared houses or flats you might like. Usually, rates for a furnished place start at around $300 per month which often includes internet as well.
As a city, Danang is quite spread out so try to find a home with everything you need close by, especially if you don't plan on getting on your motorbike for every little thing. Since the city is developing quite quickly, you'll easily find new apartment buildings or other forms of accommodation both by the beach or in the city. There are different areas, such as the rather traditional city center and newly developing districts with a more modern touch. Both areas are great to live, it just depends on what you prefer.
For more information about living in Danang, to buy things second hand or simply get to know fellow expats, check out Facebook groups like Expats in Danang or Danang Hoi An Expats.
Co-working Spaces
Even when you live in a city by the beach, you probably still need to get some work done. Test some of the co-working spaces listed below to find an office space that will bring out your most productive side, so you can quickly head back to the beach!
Enouvo
One of Danang's most modern co-working spaces, Enouvo welcomes digital nomads from Vietnam and abroad to work on their projects and get ahead. Apart from great facilities like private offices, hot desks and a comfy lounge area, Enouvo also offers members excellent service. For example, they have an in-house IT specialist who is happy to help you improve your project's online presence. How is that for amazing customer service!
Day pass: 90,000 VND
Hot desk for one month: 1,800,000 VND
Address: 15 Ta My Duat, An Hai Bac, Son Tra, Danang
IoT Coworking Space
Danang's IoT Coworking Space offers digital nomads everything they need to stay productive throughout the day. From fast internet and spacious desks to natural light and high-quality facilities, this place provides you with all the amenities you want in your office.
Apart from a comfortable office environment, IoT also has great areas for taking a break and catching up with other co-workers over free coffee and tea provided in the little kitchen area. Events are held on a regular basis as well, so you can learn more about starting and running a business in Vietnam or simply meet other members.
Day pass: 80,000 VND
Hot desk for one month: 1,300,000 VND
Address: 63 Phan Dang Luu, Danang
Hub Hoi An
If you want to get out of the city for a day and try something special and unique, the Hub Hoi An is the place for you. Set between Hoi An's World Heritage city center and An Bang beach, the Hub's offices overlook Hoi An's rice paddies and offer you a serene place to work which is wonderfully close to nature. On top of that, they offer facilities any digital nomad will love. From solid internet to comfortable chairs and cozy chill-out areas, there's a little bit of everything.
Day pass: 210,000 VND
Hot desk for one month: 4,000,000 VND
Address: 105 Le Thanh Tong Hoi An, Quang Nam, Hoi An
Coffee Shops
Not keen on co-working spaces or looking to switch things up a bit? Then check out Danang's lively café scene. There are plenty of places where you can get great coffee, a tasty dessert and some high-speed internet to keep you productive.
To Café
In the heart of the city, To Café welcomes guests to a cool, living-room style atmosphere. Here you'll find shelves upon shelves of books and cool pop-art style artwork as well as some great coffee and good eats. Internet here is fast and stable, so if you're planning on getting stuff done, this is your spot. Just note that there are not too many plugs around so best choose a table close to one from the start, so you never have scramble when your battery light starts flashing.
Address: 46 Ngo Gia Tu, Danang
Wonderlust Café and Bakery
This bright and spacious café is great to sit down and get some work done. Its huge windows let in a lot of natural light and make it easy to concentrate on your tasks. The food here is good and inexpensive, but mainly on the sweet side. For savory dishes, you'll have to look elsewhere.
If you need good internet, you're in luck here because it's generally fast and stable at Wonderlust. This place also has a cute shop where you can find fun gifts like jewelry, handmade purses or organic dried fruit from Dalat, so poke around while you take a break from work.
Address: 101 Tran Phu Street, Danang
Danang Souvenir and Café
Another cool place to get things done in Danang is Danang Souvenir and Café. While you might be surprised that we suggest you work from a gift shop, this place has quite a lot to offer digital nomads working in Danang. While it might be hard to walk past all the cute gifts and souvenirs at first, once you reach the seating area, you'll be able to concentrate on your job perfectly. Especially if you like working with a bit of background noise, this is a great place. The natural lighting gives the café a lively and energetic vibe that will hopefully keep you on track.
Address: 34 Bach Dang Street, Danang
Lifestyle
Set in central Vietnam, right on the water, Danang is a great place to stay for a while if you love the outdoors and want to explore more of Vietnam's amazing sights but don't want to give up on the comforts of modern Asian cities.
A quickly developing coastal town, Danang is busy and bustles with activity. With new hotels opening left, right and center to welcome tourists from around the world, Danang is home to an international crowd and you'll quickly find like-minded people to share your adventures with.
Especially if you are into water sports, Danang is amazing. From diving and snorkeling to surfing you will find a bit of everything here. Beautiful places like Son Tra Peninsula, the My Son sanctuary with its ancient Cham ruins and the picturesque town of Hoi An are all just a short drive away.
Ho Chi Minh City
Where to Stay
As Vietnam's city with the most foreign businesses, it's no surprise that Ho Chi Minh City has a lively community of expats. They include everything from c-level executives and company owners to English teachers and digital nomads. You will find a lot of them in a suburb known as Thao Dien. There you will feel as if you're in a European town with Vietnamese flair.
For a more authentic experience (and cheaper rent) get a place in District 1, 3 or 4. If you love going out and want to be close to the action, these three areas are also better for you. Another cool part of town is District 7 but it's a bit far from the rest of the city and not exactly budget-friendly either.
Condos and modern apartments are easy to find and for a one-bedroom flat, you can get places as cheap as $500. Those usually come with all the good stuff including pools, gyms and sometimes even a park. If you're trying to save and don't need all the fancy amenities, a shared house is an excellent option. You can find places starting at $200 depending on their size and location.
Like in Danang and Hanoi, we recommend you start your time in the city at a hostel, hotel or one of our apartments to find your bearings and arrange to meet some real estate agents or people who are looking for an extra roommate. The best places to search for listings are Facebook groups like Expat – Saigon and Ho Chi Minh City Expats.
Co-working Spaces
Saigon has a host of co-working spaces, so it might be hard to choose one. To make it easier to get started, we've put together a list of the top choices you should check out.
The Hive
Located on one of Thao Dien's busiest streets, the Hive is a great place for freelancers, digital nomads and small business owners to work. The Hive occupies its own building and offers plenty of different seating options and office spaces to fit a variety of needs. Members have access to phone booths, office equipment like printers, scanners and fax machines as well as meeting facilities.
The lounge area and rooftop terrace are great to take a quick break and sip a coffee or tea from the free coffee station. If you're around for longer, check out the events they host regularly. They include art workshops, movie screenings and presentations about business-related topics.
Day pass: 150,000 VND
Hot desk for one month: 1,200,000 VND
Address: 94 Xuan Thuy, Thao Dien, District 2, Ho Chi Minh City
Officespot Coworking
One of the city's newest coworking spaces, Officespot sports the most modern equipment and best facilities around. From comfortable office chairs even for hot desks to classy meeting rooms, this place has it all. Especially if you need to meet clients, the Officespot is great as it will immediately make you look professional.
Located in District 7, you can reach it easily from District 1. To add to the convenience, the space has its own little café which prepares small dishes you can have for lunch while you chill out in the lounge or on the spacious terrace.
Day pass: 140,000 VND
Hot desk for one month: 1,800,000 VND
Address: 1st floor, Building B, Incubation Center, Tan Thuan, District 7, Ho Chi Minh City
CirCo Coworking Space
When you first step into CirCo Coworking Space, you feel like you're walking into a living room/office space hybrid. The elegant furnishing and light colors make it a perfect place to concentrate thanks to a lot of natural light and open space.
The ergonomic seats are another thing which makes CirCo a great choice. If you've got a lot of work to do, sitting well is probably going to help you stay more focused and productive. Other good things about this place are the private lockers every member gets, the variety of large and small meeting rooms you can book and the proximity to downtown areas full of restaurants and bars.
Day pass: 150,000 VND
Hot desk for one month: 1,800,000 VND
Address: 1st – 2nd Floor, H3 Building, 384 Hoang Dieu, District 4, Ho Chi Minh City
Coffee Shops
On days when you want to break your routine and immerse yourself in Ho Chi Minh City's cool café scene, you might want to stop by the spots below, so you can enjoy your coffee all while finishing your work.
The Workshop
Ho Chi Minh City is full of amazing coffee shops but only some of them are good for a full day of work. One which absolutely stands out from the rest is the Workshop. Located on the third floor of a slightly run-down looking building, this place is a wonderfully open, airy and light-flooded space, perfect for an afternoon of focused work. Big tables, good internet and plenty of plugs make it all the more convenient.
What attracts many people to the Workshop though is their specialty coffee. Whether you want cold brew coffee or a specific coffee creation, their baristas are highly skilled and get the absolute best out of their equipment and their beans. If you really like it, you can even take some home!
Address: 27 Ngo Duc Ke, Ben Nghe, District 1, Ho Chi Minh City
L'Usine
One of Ho Chi Minh City's coolest restaurants/cafes is L'Usine. With three locations in the heart of the city, it offers plenty of options for digital nomads wanting to get in a full day of work. Find yourself a comfortable spot and get going while you sip their delicious coffee or nibble on some of their homemade treats. The chocolate cake is to die for!
Even if you don't have a sweet tooth, L'Usine is still great as it offers plenty of healthy juices and smoothies as well as savory dishes and salads too.
Addresses:
70 B Le Loi, District 1, Ho Chi Minh City
151/5 Dong Khoi, District 1, Ho Chi Minh City
19 Le Thanh Ton, District 1, Ho Chi Minh City
M2C Café
With the many hip cafes and cool spots to work remotely, it can be hard to pick a favorite spot in Ho Chi Minh City. M2C Café might just compete for this title. With its cozy interior, its good lighting and stable internet, it's every digital nomad's dream.
It gets even better though as M2C offers great drinks and food, so you don't even need to leave come lunch or dinner time. M2C is also very close to Ho Chi Minh City's bustling center and makes it easy to reach one of the many bars for a sundowner to reward yourself for a day well-spent.
Addresses:
44B Ly Tu Trong, District 1, Ho Chi Minh City
230 Nguyen Thi Minh Khai, District 3, Ho Chi Minh City
Lifestyle
Ho Chi Minh City is known for its cool, chilled-out vibe, so if you like to enjoy the good things in life, this is the place to be. With countless bars, restaurants, cafes and clubs, there's no limit to how much you can go out and the best thing is that every budget can be accommodated.
On top of all that, you're close to some of Vietnam's famous destinations like the Mekong Delta, Vung Tau and Mui Ne. Even within the city, there is so much to see and do, you won't easily get bored.
Finally, Ho Chi Minh City is great to meet other digital nomads. Thanks to the high quality of life and the low cost of living here, modern entrepreneurs flock to this city and have built a fun community you will fit into perfectly.
Vietnam is developing quickly, and more and more people are discovering it as a temporary or even permanent home while managing their online business. Of course, other countries in the area might be further developed or easier to navigate in some ways, but Vietnam offers a bit more of the adventure people seek when they set out to explore the world as digital nomads. If things keep moving as they are now, all this might change soon, so check out Vietnam as soon as possible and enjoy it while you can. It's an experience you don't want to miss. Check out these articles for more information about Vietnam traveling and living:
The Ultimate List of Things to Know When Traveling to Vietnam
Visit the Home of Vietnamese Coffee – Dak Lak Province
Useful Mobile Apps for Traveling in Vietnam
The post Vietnam's Top Three Cities for Digital Nomads appeared first on The Christina's Blog.