First of all, Pleiku is the capital of Gia Lai, which is regarded as the most central province of the Central Highlands, making it the best starting point for exploring the area. Pleiku is only about 50 kilometers away from Kontum – the ethnic cultural center of the highlands and 200 kilometers away from Quy Nhon – another underrated beachfront holiday destination of Vietnam.
As a matter of fact, Pleiku is pretty much unknown among tourists. It shares many similarities with the infamous Dalat – the city of beauty. Pleiku is a place for those who enjoy natural mountainous scenes, with endless lakes and refreshing breezes coming from the forests. It is the ultimate destination for those with artistic souls, a place where you can enjoy chilling, writing, having a coffee, and taking photographs indiscretion.
General Things You Need to Know about Pleiku
Pleiku currently does not attract a lot of tourists. It is more a niché place for those who enjoy being alone. It's widely known among the Vietnamese and expats as a quiet place to escape for a few days. There aren't hundreds of sightseeing destinations in Pleiku compared to Dalat, but these several points of interest are grandiose in scale! Grab a wooden chair, a sketch board or your camera, some local amazing coffee, and craft some art at these pristine natural sights, such as Bien Ho (Ocean Lake), Yaly and Phu Cuong waterfalls.
In addition to the raw and picturesque views of nature, you can also do some hiking excursions to local ethnic villages such as Banhar and Jarai, provided by the local tour operators. These adventures can take you on a boat trip or an elephant ride across the lakes and rivers to some hidden waterfalls. Later you will enjoy cultural folk shows and cuisine in the villages. Another spot-on cultural and recreational place that you should not miss is the Cong Vien Dong Xanh or Fossil Tree Water Park. The park features cultural spotlights of the local ethnicities in the Central Highlands, together with a spectacular garden of fossilized trees, a water park, a zoo and even a crocodile pond.
In general, the vibe of the town itself is rather gentle, calm, and extremely relaxed. The accommodations here also carry these same characteristics. They are sufficient, basic and provide an unrivaled solitude. Since Pleiku is not yet popular and lacks tourism services, your stay is going to be extremely affordable – ranging from 10 to 45 USD on average for a night!
Small tip: The best time to visit Pleiku is between November and April and avoid coming during the wet season from May to October. It is just utterly impractical to explore around the Central Highlands during the wet season due to excessive rains, dangerous landslides, and flash floods.
Hotels in Pleiku
Since Pleiku is not developed as a major tourist destination yet, everything is highly affordable and offers a great deal. Even the best hotels are reasonable, from 20 to 50 USD only. But this does not limit your convenience at all, every service is available for the best experience possible. Let us check out the three best hotels.
Hoang Anh Gia Lai Hotel
Hoang Anh Gia Lai is the most luxurious and modern hotel in Pleiku, famously known for its central location and offering the most professional leisure services in the area. It is also the top choice for Vietnamese business people and families looking for an off-the-beaten-track, peaceful holiday away from those crowded tourism cities.
There are 117 keys to choose from, ranging from Superior, Deluxe, and Suite for the prices of 50 to 180 USD/night. All of these options are exceptionally spacious and luxuriously designed, featuring free on-point amenities and built-in balconies overlooking great scenery. In addition, there is a fully-fledged spa with everything that you are craving for the best vacation – massage, sauna, skin care – and also a recreational center with a tennis court and a gym.
Together with a good deal of accommodation, HAGL hotel will also spice up your stay with amazing cuisine in Acacia Restaurant, from remarkable Thai dishes, Western choices and exotic surf-and-turfs with weasels or pangolins. The hotel also possesses the best nightlife venues, including a nightclub and karaoke lounges.
Hoang Anh Gia Lai Hotel, 1 Phu Dong Street, Pleiku City, Gia Lai
Website: HAGL Hotel
Rooms start at 50 USD for a Valley View Superior.
As a matter of fact, HAGL is the best hotel that you can find in Pleiku, and other hotels will offer a steep decline in price and quality, and usually they will offer only the basic services, such as included breakfast buffets. The next choices that I recommend, Green Bamboo Hotel and Duc Long Hotel #2, are on par with their services, some pros and cons, but all sit in good locations.
Green Bamboo Hotel – Khach San Tre Xanh
Green Bamboo Hotel is among the series of three-star good quality hotels in Pleiku with a very affordable rate, located just in the city center. From here, you can easily access every fun thing Pleiku has to offer. As a typical comfort-level hotel, you will find almost everything that you need: LCD TV, fridge, air conditioning, and a makeup table. Green Bamboo Hotel also provides an on-the-house exceptionally good breakfast buffet, together with attentive staff that is truly worth your investment.
Other than the breakfast buffet, this hotel does not have any extra leisure services. But as a matter of fact, everything is located just a few steps away from Green Bamboo. Wake up early for an out-of-this-world coffee from the nearby local market or enjoy a tasty smoothie from late night stalls, just right outside your hotel door.
Green Bamboo Hotel – Khach San Tre Xanh, 18 Le Lai Street, Pleiku City, Gia Lai
Tripadvisor: Tre Xanh 
Rooms start at 20 USD for a Deluxe Twin Room.
Duc Long Hotel #2
Would you like to stay in a condominium-like room that is affordable? How does a huge apartment for your big family right in the center of Pleiku for roughly 20 USD per night sound? Duc Long has you covered!
After you first arrive in Pleiku city, you will never miss this hotel, as it is one of the tallest buildings in town. Even though it is classified as a hotel, it feels more like a high-standard furnished apartment, with separate bedrooms and living rooms with a comfy sofa, LCD screen, and a dining table. The only drawback is that the hotel does not serve breakfast.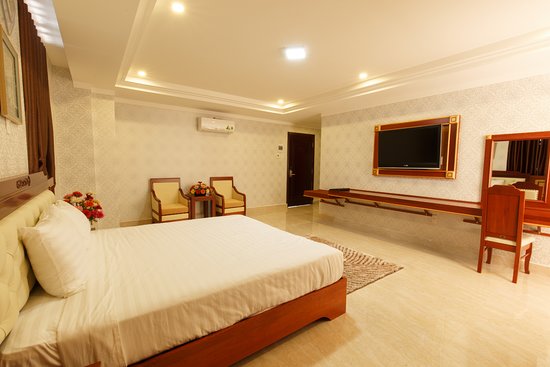 But why to bother with that, there are plenty of great restaurants just around the corner! There is also an excellent vegetarian/vegan food stall that is just five minutes walking from Duc Long Hotel #2, which is called "Tiem Chay Thanh Thao". 
Duc Long Hotel #2, 117-119 Tran Phu Street, Cu Chinh Lan, Pleiku City, Gia Lai
Tripadvisior: Duc Long #2 Hotel 
Rooms start at 16 USD or 450,000 VND for a flat. You should ask for the highest flat possible for the best view of the city!
Apart from these three recommended hotels, if you are looking for any place to just sleep for the night and stay active from dawn to dusk, any guesthouse or hotel along the streets of Pham Van Dong, Hung Vuong, Tran Hung Dao, or Le Loi will do the trick. They start at more or less 10 USD or 250,000 VND per night. And especially if you love to live, eat and enjoy actively like a local, get a basic accommodation on Tran Phu Street, Dien Hong Ward to be within the most exciting marketplace in Gia Lai province.  
Homestays in Pleiku
Since Pleiku is not a big city and peaceful most of the time, it is not hard to interact with the local people. Whether you would like to visit Pleiku for a relaxing time just for you or maybe you want to make new friends whenever possible, you can't go wrong staying with a lovely local family.
As a matter of fact, Pleiku does not have the Vietnamese crazy trend of "a new homestay every two weeks" like in Da Lat that offers endless options for you to consider thoroughly before booking one. There are maybe just a couple to choose from, and they are pretty basic and simple: stay with the locals in their family home. The only option I can find is Mrs. Loan's Homestay on Hoang Quoc Viet Street.
You will surely get the most heart-warming experience during your stay in Pleiku.
Hoang Quoc Viet Homestay (Mrs. Loan's)
This was the first homestay opened in Pleiku, back in 2016. The host is Mrs. Loan, who traveled a lot when she was younger and stayed in many homestays around Vietnam during her journey, before coming back to her hometown – Pleiku to set up the first homestay establishment here.
Being a backpacker herself, she understands how a homestay should be run: affordable, close to the locals, it should foster an environment to share stories, and it's a place that encourages an exchange of culture and food between the host and the guest. To her, a homestay doesn't have to be unique and artistic, it just needs to be a second home for the guests, where they can cook for themselves, make their own breakfast tea and coffee. It is a place to live, if only for a few days or a few weeks.
Following this principle, Mrs. Loan's Homestay on Hoang Quoc Viet Street offers guests everything so they will feel comfortable in Pleiku. In addition, there is also a backyard filled with vegetables you can use to cook. Mrs. Loan also loves to share local cultures, foods and to experience these as well. Not to mention that she will introduce you to the local ethnic people living in the nearby village – don't hesitate when she offers to do so!
Mrs Loan's Homestay, 135 Hoang Dieu Street, Ward 5, Da Lat
Link booking: Mrs Loan's Homestay
Prices start at 7 USD to 16 USD for a night
Settled down already? Experience Pleiku!
To be honest, Pleiku is not a central hub bustling with luxurious options and five-store resorts. If you wish for a tip-to-toe experience where everything is right within your reach, Pleiku is not the place for you. It is rural compared to many of the tourism destinations in Vietnam, yet it's extremely rewarding if you put some effort into seeing things around you and trying everything!
So, what is there for you to explore in Pleiku? A LOT, but you must venture into the wild! Here is just a list:
Trekking to Yaly Waterfall – one of the most magnificent waterfalls in Vietnam.

Conquering the peak of Ham Rong Mountain – or Dragon Jaw Mountain in English, an old inactive volcano. Walk among the clouds and take some mesmerizing photos from above!

Having a picnic near Bien Ho Lake ("Sea" Lake – so called the Eye of Pleiku). A sea on top of a mountain with crystal clear water and a stunning landscape.

Discovering Phu Cuong Waterfall – a 200-meter-tall waterfall in the midst of a jungle, and it has its own permanent rainbow when looking from below. Proceed at your own risk.

Experiencing local mountainous cuisines – such as

Pho Kho

(mixed pho with soup on the side) and

Ga Nuong Bazan

(chicken grilled with basalt rock).

And many more, featured in our other articles about Pleiku. Check these out:
Stay tuned for more with the Christina's Blog. Check out our new experiences in Vietnam that we are unveiling continuously every week, just for you!