Together with the flourishing tourism industry, there are more and more mobile apps that are designed and programmed to support travelers. These apps allow users to find useful information, book a room, order food, or get a taxi in just a few swipes. In this article, I will introduce you to the popular mobile apps in Vietnam that will have you experiencing the country like a local and discovering its landscapes and cityscapes with ease.
Apps for Booking Rooms
Booking.com
This app will make your reservations more convenient and faster. Nowadays, Booking.com is one of the most popular online booking services in the world. On average, Booking.com deals with about more than one million bookings a night. Booking.com accepts many currencies, including Vietnamese dong.
The biggest advantage of Booking.com is most of the time it allows you to book a room without requirement of payment by credit card in advance. You just have to pay when you check into your room so be sure to have Vietnamese currency with you. One more plus is that the procedure to book a room takes you just about two to five minutes.
Please do review the attached requirements and conditions of the room you booked regarding cancellation and refunds.
Link to download Booking.com for iOS and Android.
TripAdvisor
Founded in 2000 by an American group, TripAdvisor is now considered the world's biggest online travel resource. A recent statistic estimates that TripAdvisor has more than 315 million users and about 500 million reviews of travel data.
You can discover a lot with TripAdvisor. Get access to millions of reviews, ideas, and photos of travelers. You can also make your own reviews and add your own photos to help other travelers like yourself. Find and make reservations for hotels, restaurants, tourist attractions, and other travel-related businesses. You can even compare airplane tickets and find good promotions. And finally, get advice on TripAdvisor's forums from experienced travelers.
Not only is TripAdvisor used for booking a room or seats at a restaurant, it also works as a guide book that leads you to the best way to explore a new land.
Link to download TripAdvisor for iOS, Android and Window Phone.
Mytour.vn
Booking.com and Agoda do not have offices in Vietnam. If you need a booking service that is available 24/7 to answer and solve your problems with just a call, the two above apps are not smart choices. Mytour.vn is a Vietnamese prestigious branch, belonging to Recruit Holdings Group of Japan.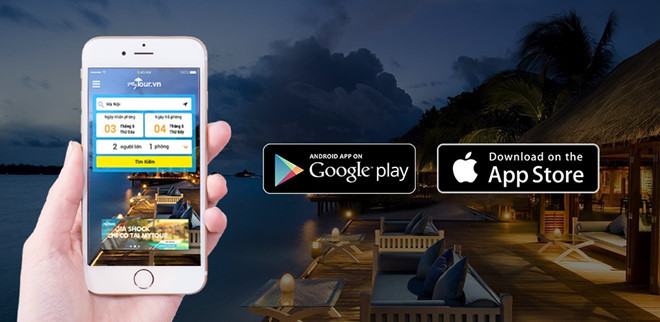 With a network of more than 5,000 hotels, hostels, resorts, and homestays within Vietnam, Mytour.vn always offers promotion programs for its members. Besides cash and banking payment, you can also pay for your room at partnering stores (B's mart, Mini stop, Citimart, Circle K, Family Mart, and so on).
Link to download Mytour.vn for iOS and Android.
Vntrip.vn
This is another Vietnamese app, but the biggest difference that sets this app apart from Mytour.vn is that Vntrip.vn also allows you to book a room in other countries. Vntrip.vn is the official partner of Booking.com and Expedia with more than 8,000 domestic hotels and one million foreign hotels.
In addition to a basic booking app with the functions of finding rooms, booking, paying, and displaying reviews, Vntrip.vn also provides useful travel tip articles and lists. You can also find information about banks and ATMs.
What makes Vntrip.vn special is after you book your room, the Vntrip.vn staff will call you to remind you, talk to you, and share guest experiences related to their stay and exploring the area.
Link to download Vntrip.vn for iOS and Android.
Apps for Finding Food
Foody
Foody is the most famous food app in Vietnam. Besides the website Foody.com, this company also provides a mobile app for iOS, Android, and even Windows phones. Foody has a large network with tens of thousands of restaurants and food stalls. But don't worry, you won't get lost in all that data. The search engine allows you to keyword search with words such as, street names, dish names, addresses, areas, and types of food.
If you are using an Android cellphone and have installed Google Maps, Foody will find restaurants nearby. Foody also allows users to comment, review, and upload photos about the restaurants. That means users can read other comments and reviews as well.
Foody has also established Now.vn, a shipping company, to deliver food directly to your location.
Link to download Foody for iOS, Android, and Window Phone.
Lozi
Lozi is a social network that shares food and drinks, focusing on sharing photos of dishes. You will be impressed by the beautiful photos displaying options of dishes you will want to try while in Vietnam. Lozi was created by the Instagram user community. Like other social networks, Lozi allows users to share photos and reviews of food. You can even follow your friends!
Lozi can also recommend dishes that are close to your location. One more advantage of Lozi is that you can chat with other users. This helps you chat with your friends to plan for your next food tour or you can chat with vendors to order food instantly. I'm sure that your eyes will be "full" with Lozi before your stomach is!
Link to download Lozi for iOS and Android.
ClingMe
ClingMe is not only a food app, but also a smart app for any consumer. Besides giving recommendations for nearby restaurants and food stalls, ClingMe uses your GPS to find the closest petrol stations, ATMs, parking lots, spas, and even pharmacies all over Vietnam. At present, there are more than 500,000 users with more than 4,000 stores and enterprises on ClingMe.
By analyzing consumer behaviors, ClingMe personalizes the user interface. It will recommend restaurants and food stalls that are fit for your consumption habits, favorite spots, weather, and budget. There is even a "cashback" function: when you check your spending on the app, it will discount anywhere from five to 70 percent off your bill. Follow these steps:
Find the special deals on the app. Some shops will post their promotion on ClingMe.
Click on the shop and go shopping.
Take a photo of the bill.
Wait for confirmation from ClingMe and receive your cashback!
Link to download ClingMe for iOS and Android.
Vietnammm.com
Vietnammm.com is the most popular food ordering app in Vietnam with the biggest market share in this business. Vietnammm.com is the first company in Vietnam offering this kind of service with thousands of restaurants and food stalls in its network. With Foody, you can only access photos and reviews made by users. But with Vietnammm.com you can read the introduction of each dish, which is presented by the restaurant.
What makes this app a cut above the rest is its speed because it uses advanced technology to quickly process your order. This system aids the restaurant in receiving your order as fast as possible, then food will be delivered within the shortest time. This app, along with Vietnamese and English, also supports Korean and Japanese.
Link to download Vietnammm.com for iOS and Android.
Apps for Transportation
Grab
Grab is not an unfamiliar brand in the taxi industry of Vietnam. Since April of 2018 when Grab purchased Uber Southeast Asia, it has become the biggest company in this industry in this part of the world, including Vietnam.
After you input the destination, the app will automatically find the nearest driver. Grab offers many types of vehicle, such as motorbike, car for four or car for seven, and taxi from other brands. This app will help you calculate the corresponding price of each type of vehicle, which helps you manage your budget better.
Link to download Grab for iOS and Android.
VATO
The acquisition of Uber Southeast Asia created a big change in the taxi industry. Phuong Trang Transportation Company, a famous Vietnamese transportation firm, renamed its app Vivu into VATO and invested more money to compete with Grab. VATO app offers services related to transportation like VATO Car, VATO Bike, and VATO Ship.
You can also request luxury brands of car and motorbike. This app will help you estimate the time of travel as well. Another cool function is the budget control, VATO lets you set your price so you don't go over budget.
Link to download VATO for iOS and Android.
BusMap
Today, in Ho Chi Minh City, or so-called Saigon, there are more than 100 bus lines with more than 2,000 stops spread throughout the city. If you want to save money and experience local life, the bus is a great idea. This app will show you the shortest way to catch the bus. You can also access information about bus systems in Ho Chi Minh City such as bus stops, stations, routes, and time.
BusMap is integrated with the Ho Chi Minh City Department of Transportation, so the information you receive is highly precise. BusMap also display the plate of the coming bus, so you can catch the correct line. The prices range from 5,000 to 7,000 VND per ride. Take a bus and travel around the city with the smallest budget you can expect.
Link to download BusMap for iOS and Android.
Apps for Navigation
Maps.me and Google Maps
A map is an indispensable tool when traveling in a foreign country. What was the world like before we had phones? It was difficult to position yourself in the sprawl of places like Hanoi and Ho Chi Minh City. Now, a digital map on your smartphone can solve these problems. Maps.me and Google Maps provide offline mapping. If you are unfortunately lost in an area which doesn't have mobile connection, these apps will help a lot.
Link to download Maps.me for iOS and Android.
Link to download Google Map for iOS and Android.
App for Translation – Google Translate
Despite the lack of precision, we cannot deny the usefulness of Google Translate when traveling abroad, especially to a country with an unfamiliar language. Vietnamese is a difficult language, so not everyone can learn it. A translation app like Google Translate can help a lot when communicating with locals.
Google Translate operates based on the reviews of users. The translation of a word or a phrase becomes more and more accurate. The voice detection function can make Google Translate an interpreter, hastening the conversation.
Link to download Google Translate for iOS and Android.
I hope this article helps you travel easily in Vietnam. Bring along your smartphone and explore this amazing country, but be sure to put it down once in a while and talk to the locals.
Follow our Christina's blog to get more information about traveling in Vietnam. Some recommended articles for you:
Travel In and Around Vietnam
Must-Visit Spots in Vietnam if You're Short on Time
Vietnam Traditional Costumes
The post Mobile Apps Essential to Discovering Vietnam appeared first on The Christina's Blog.