Hoi An is a city that sits next to Thu Bon river, administered by Quang Nam province, in central Vietnam. Hoi An used to be an active harbor during the 16th and 17th century, which attracted many commercial ships from Europe, Japan, and China. Nowadays, Hoi An's old architecture draws international crowds, making the city a famous tourist attraction of our country. Together with the flourishing tourism industry, the hospitality industry has developed rapidly. You will have a large plethora of places to choose from, from homestays, crisp hostels, and fancy resorts on the water. Now I will show you the outstanding accommodations in Hoi An that will satisfy you and your travel plans.
Luxury Resorts
Hoi An now has many luxury resorts offering several high-quality amenities and services, which are very suitable for vacationers. In a resort, besides staying in a wonderful room in a large area, you will have access to other privileges such as sports, restaurants, bars, pools, entertainment, and so on.
Anantara Hoi An Resort
This resort is located next to Thu Bon river, very close to the ancient town, so you can enjoy the fresh breeze from the river and access the exciting activities of Hoi An easily. Cua Dai beach is just five kilometers away from Anantara Hoi An Resort, you can quickly reach it in a few minutes by motorbike or bicycle. Besides the luxury services offered, Anantara Hoi An also holds Vietnamese cooking classes, Vietnamese language classes, and lantern making classes. If you have time, you should think about joining a class in order to get an in-depth look into our culture.
This resort offers rooms facing the river. Imagine in the morning, waking up, opening the door, and taking a deep inhale to embrace the cool air from Thu Bon river. It sounds like a wonderful beginning to a new day!
Address: 1 Pham Hong Thai Street, Cam Chau Ward, Hoi An
Contact: +84 235 3914 555
Price: 4,500,000 – 6,500,000 VND
Sunrise Premium Resort Hoi An
With Sunrise Premium Resort Hoi An you just need one second to reach Cua Dai beach, because this resort is located right on its pearly sand! The best part is because this resort has rights to the beach, you can stay at the beach as long as want or you can also hold an outdoor barbeque as the sun sinks behind the ocean!
Sunrise Resort has 222 rooms all with different options, from double rooms, suites, to grand villas.
Address: Cua Dai Beach, Au Co Street, Hoi An
Contact: +84 235 393 7777
Price: 4,300,000 – 28,000,000 VND
Comfortable Hotels
With a smaller area in comparison to the resort, a hotel is a better choice for travelers if you want to save a little money and spend some time outside your accommodation. You will have restaurants, bars, and pools at your disposal. But hotels focus on your room, making it a comfortable place for you to recover after a long day of traveling.
Hotel Royal Hoi An – MGallery by Sofitel
Inspired by the love story of the Vietnamese princess Nguyen Phuc Ngoc Hoa, an adopted daughter of Lord Nguyen in the early 17th century, and Araki Soutaro, a Japanese businessman of a Sumurai family, Hotel Royal Hoi An – Mgallery by Sofitel was built based on the subtle architecture of Japan and the luxury design of an Indochinese building. This is the first and the only five-star boutique hotel in Hoi An, located on the bank of Thu Bon river.
This hotel offers more than 100 rooms, classified into six types. The spotlight of this hotel is the authentic Japanese restaurant, Wakaku Restaurant, named after the princess Ngoc Hoa when she followed her husband to Japan. You can enjoy the fantastic dishes from the land of the rising sun right in Hoi An.
Address: 39 Dao Duy Tu Street, Hoi An
Contact: +84 235 3950 777
Price: 2,500,000 – 3,300,000 VND
Hoi An Historic Hotel
Hoi An Historic Hotel is a perfect place if you don't want to travel a long distance to visit the Hoi An historic center. It's only 100 meters away from the ancient town! This four-star hotel is the most beautiful in the evening, when it's dark and the building is lit up colorfully.
The Oaks Terrace Restaurant of this hotel serves delicious European dishes in a classical Brasserie-style space. If European food is too familiar and you want to try other types of cuisine, the Indochine Corner Restaurant will solve that problem. With the traditional design of East Asia, Indochine Corner Restaurant will treat you well with their tasty food.
Address: 10 Tran Hung Dao Street, Hoi An
Contact: +84 235 386 1445
Price: 1,500,000 – 4,000,000 VND
ÊMM Hoi An
With a location close to Hoi An ancient town and other tourist attractions, ÊMM Hoi An provides a service to rent bicycles so that you can cycle around this beautiful city and experience the slow pace of life in Hoi An. ÊMM Hoi An is designed based on the combination of Vietnamese and French architecture with the theme colors of emerald green yellow.
The spacious yard of this hotel is shaded fully by trees, bringing a refreshing feeling and harmony with nature. There are 92 rooms with the areas ranging from 23 to 56 square meters, including 83 Superior rooms, eight Deluxe rooms, and one Suite. Every room has a view to the garden or the pool. Yen Restaurant and Chao Bar within ÊMM Hội An are always ready to serve you.
Address: 187 Ly Thuong Kiet Street, Cam Pho Ward, Hoi An
Contact: +84 235 626 9999
Price: 1,700,000 – 3,000,000 VND
Cozy Homestays
If you want to experience a homey feeling while traveling, there's no better choice than a homestay. Usually, the homestay is an economical way to stay during your travels. And the best part is, you can interact with the local hosts and really get to know Vietnam. There are a few homestays with high prices, but you won't regret choosing them due to their quality.
An Bang Seaside Village Homestay
With a wonderful location close to the ocean, An Bang Seaside Village Homestay is an excellent new home in Hoi An, which gives you all the advantages of having a seaside house: swimming, sunbathing, or enjoying the sea breeze when you desire. This homestay will win your heart at first glance because of its lively and vibrant design with vivid colors.
There is a total of 16 rooms distributed among five distinct villas. The Tonkin villa offers an old northern Vietnam style, bringing you the experience of living in Sapa, a beautiful town in the northern highland of Vietnam. The Boathouse villa is furnished with wood accents and decor, the bathroom is especially appealing. The Tropical Garden villa has a garden by the seaside. The Ocean Cabin villa is extremely close to the beach so you can explore the mysteriousness of the water at any time of day. Finally, the Lighthouse villa transports you back to a prehistoric time, since it's built only with stone and rock.
Address: An Bang beach, Cam An Ward, Hoi An
Contact: +84 905 236 122
Price: 1,200,000 – 2,000,000 VND
The Hoi An Hippie House
The Hoi An Hippie House is a colorful homestay very close to An Bang beach, which just takes you a few minutes on foot to reach. This homestay offers a tranquil place for those travelers who want to hide away from the hustle and bustle of the cities. The most outstanding feature of this homestay is its lively and colorful decoration. Everything is painted with bright colors and the whole combination is energetic and cool.
There are four double rooms in The Hoi An Hippie House with a common big bathroom. The common space is a living room, a kitchenette, and a dining table. In addition, you can access the back garden and relax on the hammock in the front yard.
Address: Group 5, An Bang block, Cam An Ward, Hoi An
Contact: +84 125 348 3356
Price: 380,000 – 500,000 VND
Heron House
About 2.4 kilometers away from the ancient town, this homestay is chosen by many travelers because of its paddy field surroundings. Heron House is a perfect choice if you want to find a peaceful space to rest after a long trip. On the way to Heron House, you will go through village paths with the green paddy fields on both sides, farmers are often seen bent over their precious plants with hats shading their faces.
This homestay is designed in the old style of an Indochinese house, an unrivaled combination of old Vietnamese architecture and French villa. This wise house located in the countryside brings you back to the vibrant life in the early 1900's, you don't even have to make your way to the ancient town to experience this feeling. Even better is the swimming pool with great views to the paddy fields!
Heron House has only three double rooms, but each room is quite spacious with an area of 65 square meters. There are four bathrooms in total and a kitchen with full utensils.
Address: An My village, Cam Chau Ward, Hoi An
Contact: +84 165 476 1790
Price: 2,500,000 – 3,000,000 VND per room
An Bang Beach Hideaway Homestay
It takes just a few minutes to walk along the village path with ranges of beefwoods on both sides to reach the untouched and wild beach of An Bang from An Bang Beach Hideaway Homestay. This homestay is decorated with many subtle colors like pure white, the brown of wood, and the green of bamboo. The furniture in the house is also painted and decorated with fresh colors, mimicking the surrounding fresh, pure, and peaceful landscape.
There are three rooms named after their characteristics: Sunrise, Sunset, and Beach Front. Each room is set up with a queen-sized bed to relax and other essential amenities. If you book the Sunset room, you can access a cute kitchen and prepare your own meal.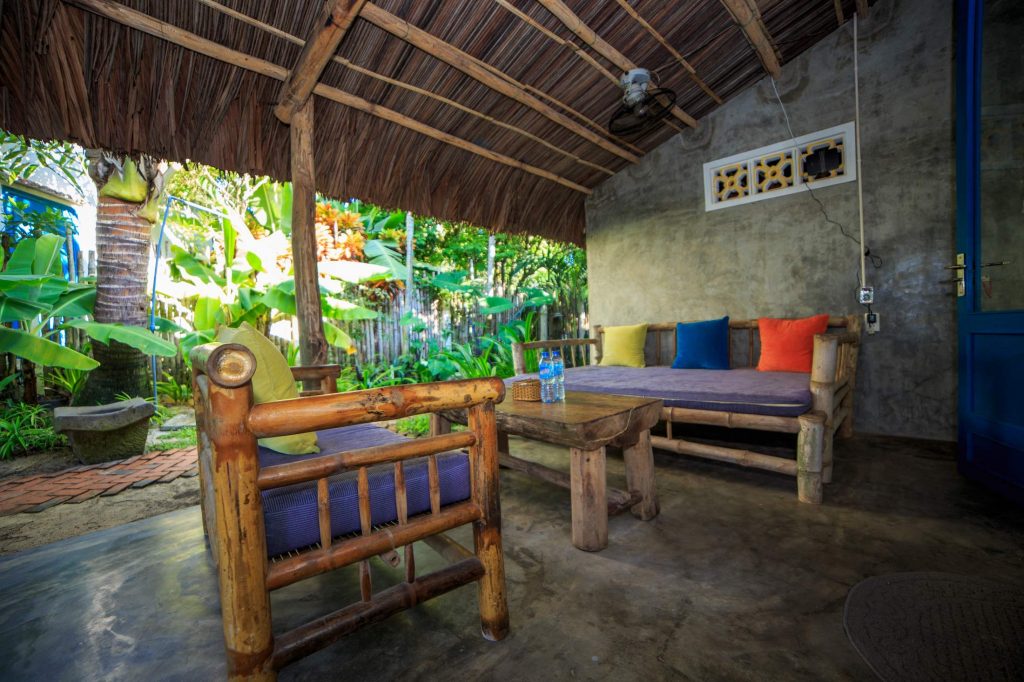 Address: Hamlet 7, An Bang village, Cam An Ward, Hoi An
Contact: +84 917 698 970
Price: 1,500,000 – 2,000,000 VND
Christina's Hoi An – Tra Que Villa
One of our slogans is "Home is where the hearts are". Yes, we treat our guests with all our heart and make you feel truly at home. Located in Tra Que village, a famous organic vegetable garden in Hoi An, Christina's Hoi An is very close to An Bang beach and Hoi An ancient town. So you can easily change your environment, from the countryside village with green fields, to the beach with white sand and blue waters, or to the old land of the ancient town.
With the four-star standard, we design based on the rule "simple, functional, and beautiful". We care about the smallest of details. Once you enter Christina's, you will receive the warmest welcome from our hosts, who will be your true friends during the time you stay with us.
If you don't know how to discover Hoi An, our Onetrip tour guides will help you with that problem. You will have a chance to explore Hoi An by the characteristic means of transportation in Vietnam: motorbike! We even have a restaurant ready to serve you, and nothing makes us happier than to see a smile on one of our guests' faces after they take a bite. So why don't you spend some time tasting some central Vietnamese dishes?
Address: Tra Que village, Cam Ha Commune, Hoi An city
Contact: Website Christina's Hoi An
Price: 1,500,000 – 1,800,000 VND
I hope my article covered at least one place that you are interested in. Make Hoi An your home and discover what this famous city has to offer.